After going through a long lull period during the March to May lockdown, Indian e-commerce retailers are pinning their hopes on the upcoming festive period when Indians tend to splurge on their non-essential purchases such as electronics, smartphones, and home appliances.
And their hopes might turn into reality, according to a report by local market researcher RedSeer Consulting.
The Bengaluru-based consultancy expected that the combined e-commerce sales during the festive period leading up to November could reach USD 7 billion, up from USD 3.8 billion last year, recording a growth of 75%.
Both, Amazon India and Flipkart hold their five-day-long flagship sales known as Flipkart's Big Billion Day and Amazon's The Great Indian Shopping Festival in November. RedSeer said these sales events are expected to generate the gross sales of USD 4 billion, a jump of 50% over their last festive period gross sales.
In addition to these flagship sales, e-commerce companies also hold smaller sales events before and after the Indian festival Diwali as the period between September-end to January is dotted with other local festivals.
The report said the pandemic has accelerated tech adoption among users and that the festive season is expected to see 45 to 50 million new users shopping online. Of these, it said, 50% of online shoppers would come from tier 2 cities and beyond.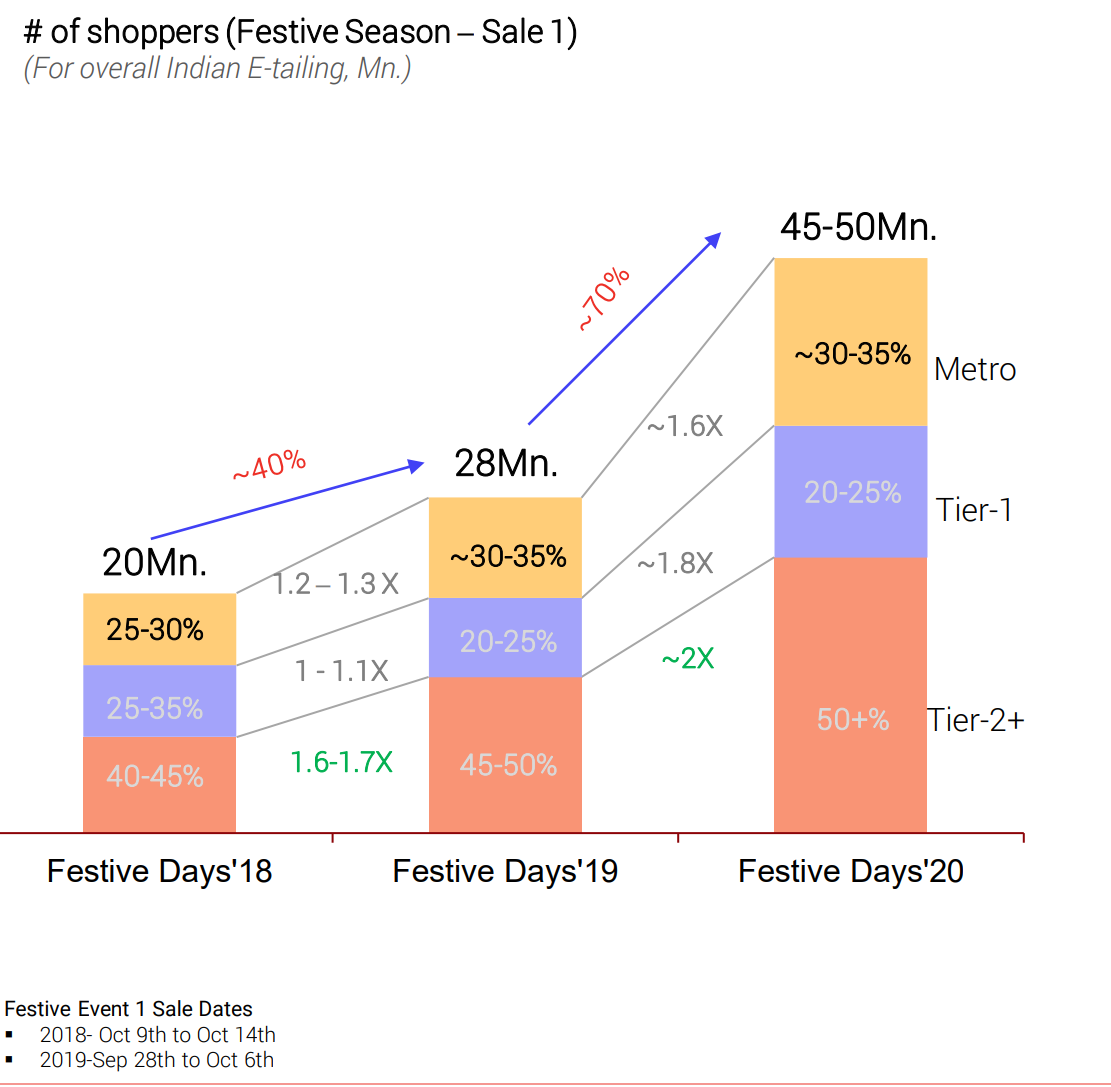 This year, in their fight to chase the bigger chunk of market share during the festive period, e-commerce majors Amazon India and Walmart-owned Flipkart would also have a third and equally bigger contender JioMart. Reliance's new e-commerce venture JioMart, plans to leverage WhatsApp and its existing chain of stores to push online sales during the festive period. However, it hasn't announced any mega sale event for this year.
For the last two months, Amazon and Flipkart have been ramping up their capabilities to manage the expected rise in online orders. While Amazon has added new fulfillment centers across India, Flipkart has taken over Walmart's six wholesale stores as its fulfillment centers.
The report said while smartphones, electronics, and appliances are going to lead the sale, categories such as groceries, FMCG, and general merchandise would also drive higher sales volumes.