Digital payments startup MobiKwik is looking to raise INR 19 billion (USD 255 million) through an initial public offering (IPO), the company said in its draft red herring prospectus (DRHP) filed with the market regulator Securities and Exchange Board of India on Monday.
Of the total, INR 15 billion will be raised through a primary share sale, while the rest will come from existing investors selling their shares. The backers who will offload their shares as part of the offer for sale include Sequoia, Cisco Systems, Bajaj Finance, Treeline Asia, and American Express. Meanwhile, the husband-and-wife duo, Bipin Preet Singh and Upasana Taku, who co-founded the startup in 2009 and together own a 34.5% stake in the company, will sell shares worth INR 1.9 billion.
A report by local media Economic Times, citing sources, stated that the Gurugram-based company, which was valued at USD 700 million when it raised USD 20 million from Abu Dhabi Investment Authority in April 2021, is eyeing a valuation of USD 1 billion for its public market listing. The company will list its shares on BSE  (formerly Bombay Stock Exchange) and NSE (National Stock Exchange).

The development comes at a time when bigger rival Paytm is gearing up for an INR 166 billion (USD 2.2 billion) IPO in a bid to raise INR 120 billion through a fresh issue of shares and INR 46 billion from the secondary share sale. It is reportedly planning to file its IPO documents with SEBI over the next few days. Racing past its largest competitor, MobiKwik has become the first digital payment startup to file a DRHP and joined a growing list of startups like Zomato, Paytm, Nykaa, and PolicyBazaar that are looking to go public this year.
The 12-year-old platform, which offers mobile payments, payment gateways, and credit products including "buy now, pay later" (BNPL), insurance, and wealth tech services, has raised over USD 165 million via equity and debt so far. With more than 101 million registered users as of March 31, 2021, it trails behind SoftBank-backed Paytm and Walmart-owned PhonePe, which claim to have over 450 million and 300 million registered users, respectively.
The company plans to utilize 40% of the net proceeds toward funding organic growth initiatives, including customer and merchant acquisition and retention and investments in product and technology, up to 25% for general corporate purposes, and the rest for driving inorganic growth through acquisitions.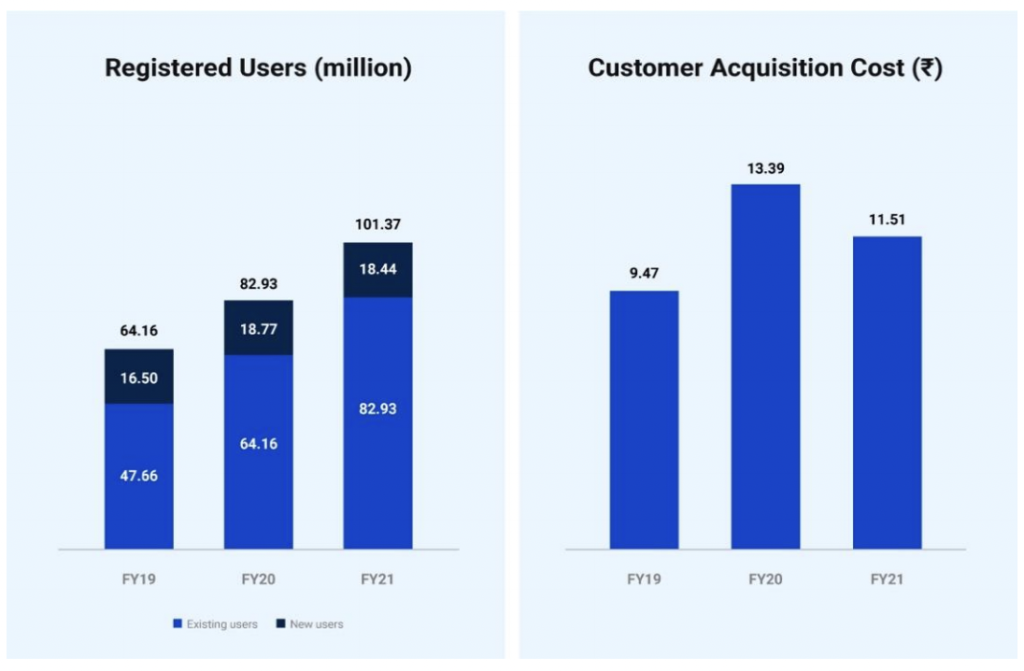 An uphill battle
While India has witnessed a massive digital adoption, including a surge in online transactions, due to COVID-19, the pandemic has dampened overall consumer spending and severely impacted offline transactions. This has led to widened losses for MobiKwik.
For the financial year ended in March 2021, MobiKwik's total income dipped 18% to INR 3.02 billion (USD 40.5 million) over a year-ago period, while losses widened to INR 1.1 billion (USD 14.7 million) from INR 999 million in FY 2020, the DRHP showed. In comparison, before the pandemic, the company's revenue had surged 130% to INR 3.7 billion in FY 2020 from INR 1.6 billion in FY 2019, while losses narrowed 32.4%.
MobiKwik's consolidated gross merchandise value (GMV) fell almost 30% from INR 212.3 billion (USD 2,850 million) in FY 2020 to INR 149.3 billion in FY 2021. GMV refers to the aggregate value of transactions.
The increase in online transactions was "not enough to offset the decline in certain specific categories, particularly in offline spending," the company said in the filing. "Lower levels of consumption, particularly in the first and second quarters of FY 2021, negatively impacted the use of the MobiKwik Wallet, particularly for offline merchants."
"The COVID-19 pandemic has adversely impacted and is likely to further adversely impact the operations of our users, merchants, lending partners, and other partners, and may adversely impact the results of our operations in the future," the company noted. "Our business depends on consumer spending, which has been, and may continue to be, impacted by the outbreak of COVID-19."

The company also said that its losses over the years have resulted from user acquisition costs and substantial investments that were required to grow the business.
"We expect these costs and investments to continue to increase as we continue to grow our business," it said.
Citing RedSeer data, the company said while India's online transacting users have rapidly grown from 180 million in FY 2018 to over 250 million in FY 2021, the country had only 30–35 million unique credit card users resulting in a low credit card penetration of 3.5% (of the population above the age of 15) as of March 31, 2021. The increasing number of online shoppers and low credit card penetration in the world's second-most populous country are expected to boost the country's BNPL market. RedSeer estimates that India's BNPL market has rapidly grown to reach USD 3–3.5 billion in disbursals in FY 2021 and is on track to grow to USD 45–50 billion by FY 2026.
"We are focused on addressing the unmet credit needs of fast-growing online transactions," the company noted. "We have experienced rapid growth in our BNPL products since their introduction, with our BNPL segment GMV increasing from INR 2.3 billion in FY 2019 to INR 4.8 billion in FY 2020, and despite the impact of COVID-19, amounted to INR 2.9 billion in FY 2021."