Indian companies raised a record USD 62.7 billion from venture capital and private equity firms in 2021 across 1,202 deals, up 57% from USD 39.9 billion they attracted across 913 deals a year ago, a new report by Chennai-headquartered research firm Venture Intelligence said on Sunday.
Of the total amount raised by local firms, venture capital investments—classified as seed to late-stage funding in companies less than ten years old—stood at USD 34.7 billion across 1,070 deals, 200% more than USD 11.4 billion across 795 rounds in 2020.
2021 witnessed eight investments worth USD 1 billion or more, led by Flipkart's USD 3.6 billion pre-IPO round in July 2021, which marked SoftBank's return on the e-commerce firm's cap table. The Japanese conglomerate invested USD 2.5 billion in Flipkart in August 2017 but sold its shares a year later when American retailer Walmart acquired the e-retailer. Another notable billion-dollar-plus deal in the Indian startup ecosystem was edtech decacorn Byju's USD 1.4 billion fundraise led by Prosus Ventures.
Furthermore, there were 97 mega deals—rounds over USD 100 million—worth USD 24 billion last year, compared to 28 such investments worth USD 5.5 billion in 2020, the report noted.
The massive capital inflow in the country minted 44 unicorns, or billion-dollar companies, in 2021, of which 15 entered the elite club in the last quarter of the year, including D2C companies Mamaearth, Good Glamm Group, and Licious; online brand aggregators Global Bees and Mensa; and fintech startups Slice, Upstox, and Acko, as per Venture Intelligence.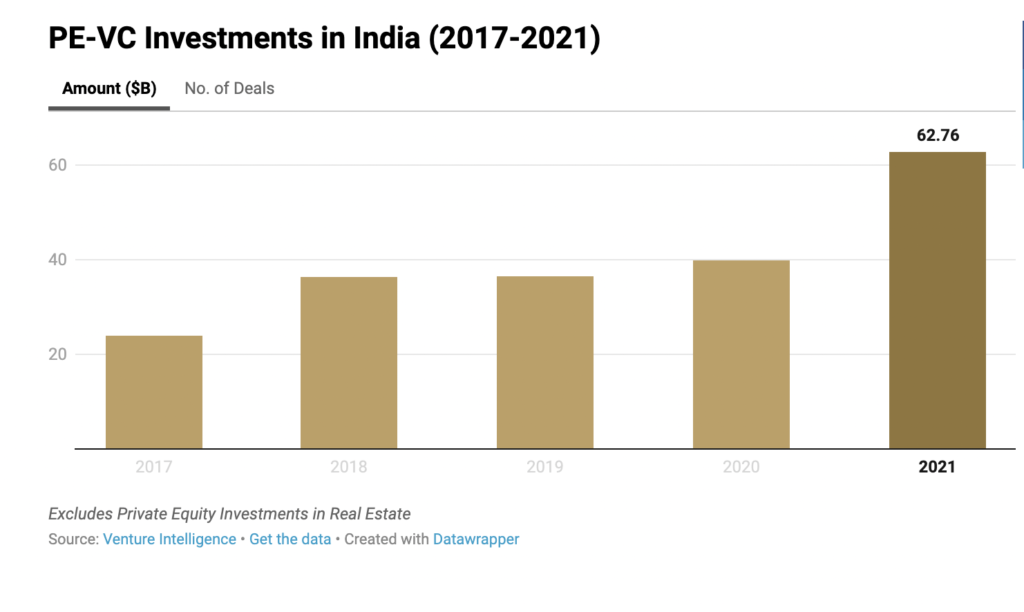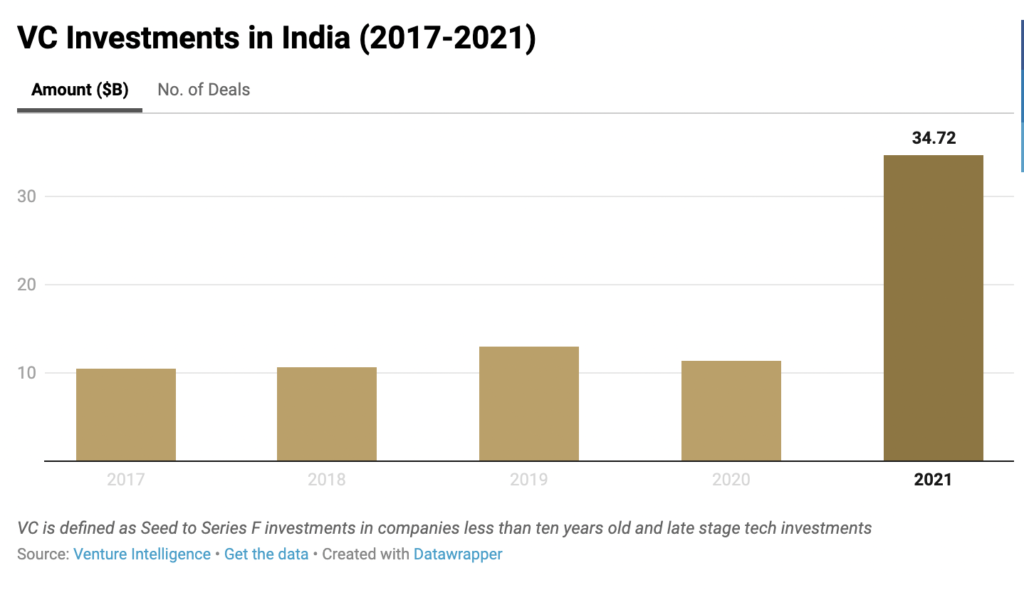 Going by industry, the report said, IT and IT-enabled services companies raised USD 40.7 billion during 2021 from VC and PE investors. Overall, the tech industry witnessed 85 USD 100 million-plus investments last year, totaling USD 31.8 billion.
The BFSI (banking, financial services, and insurance) industry raised USD 4.7 billion during 2021, a 74% jump from the USD 2.7 billion they raised during the previous year. Healthcare and life sciences industry received about USD 3.2 billion from investors, up 28% compared to 2020.
The education industry came in fourth, attracting USD 3 billion in 2021, the report noted. Edtech firm Byju's raised the highest amount of capital—about USD 1.9 billion—during 2021, followed by the higher education company Eruditus, which raised USD 650 million from investors. PE major Blackstone's buy out of upskilling platform Simplilearn for USD 250 million was the third-largest deal in the country's rapidly growing education technology sector. Meanwhile, as millions of Indians began transacting online last year, investments in online commerce companies shot up, totaling USD 10.3 billion.
Sequoia Capital India emerged as the most active investor in 2021 with 105 transactions across 91 companies, followed by Tiger Global, with 60 investments across 47 companies, the report said. However, in terms of check size, Tiger Global has been the most aggressive, participating in one-third of USD 100 million rounds during the year.
"While the mega-sized investments and the unicorn rush hogged the headlines, a key highlight for the Indian PE-VC industry during 2021 was the successful IPOs of several investee companies, including Zomato, Nykaa, and PolicyBazaar on the domestic bourses," said Arun Natarajan, founder of Venture Intelligence in a statement. He added that IPOs, along with a string of successful exits will help the Indian startup ecosystem attract more capital from global investors.