One is Meituan, deeply rooted in China's lifestyle services sector for many years. The other is Douyin, which started with short videos before expanding into livestreaming services. These two seemingly unrelated players have converged on the battleground of China's internet economy, launching attacks into each other's territories.
Despite being the undisputed "big brother" in the local lifestyle sector, Meituan faces challenges of its own. Cognizant of the threat from Douyin, the platform giant with over 700 million monthly active users has chosen to bolster its livestreaming business in response. While Douyin lags behind Meituan in terms of traffic volume, the latter has encountered a bottleneck, where acquisition of livestreaming traffic has become a challenge yet to be resolved.
As a newcomer in the local lifestyle sector, Douyin has seen rapid growth. In 2022, its gross merchandise volume (GMV) for lifestyle services grew sevenfold year-on-year. However, despite its massive user base and substantial traffic pool, Douyin's traffic is less centralized than Meituan. Additionally, due to its focus on social interactions over consumption, and its less developed supply chain and fulfillment capabilities, challenging Meituan's dominant position in the local lifestyle domain won't be easy.
There are more players targeting a stake in this sector apart from Meituan and Douyin. According to Leida Finance, new and established players such as Kuaishou, Alibaba Group, Xiaohongshu (also known as Red internationally), and Pinduoduo have already made inroads into the domain. Some believe, however, that the local lifestyle sector has not yet reached the stage of competing for market share. Nonetheless, with more players stepping up their efforts, Meituan's position as industry leader is not unassailable.
Meituan makes big push into livestreaming
In this era where nearly anyone can host livestreams, numerous players including the likes of Taobao, Douyin, and Kuaishou have demonstrated the potential of livestreaming e-commerce. Douyin and Kuaishou, in particular, have narrowed the gap with leading e-commerce platforms through their livestreaming business. Meituan is also following suit, although its focus remains primarily on local lifestyle services.
As early as 2020, Meituan began testing the effectiveness of livestreaming services on a small scale. At that time, the company successively launched several live broadcasts based on a variety of themes, including travel, education, medical aesthetics, among others.
However, due to Meituan shifting its focus to retail businesses like Meituan Select (now rebranded as Mingrida Supermarket) and Meituan Maicai, the company's investment of resources and effort in the livestreaming business remained limited, and it didn't create much of a splash in the market.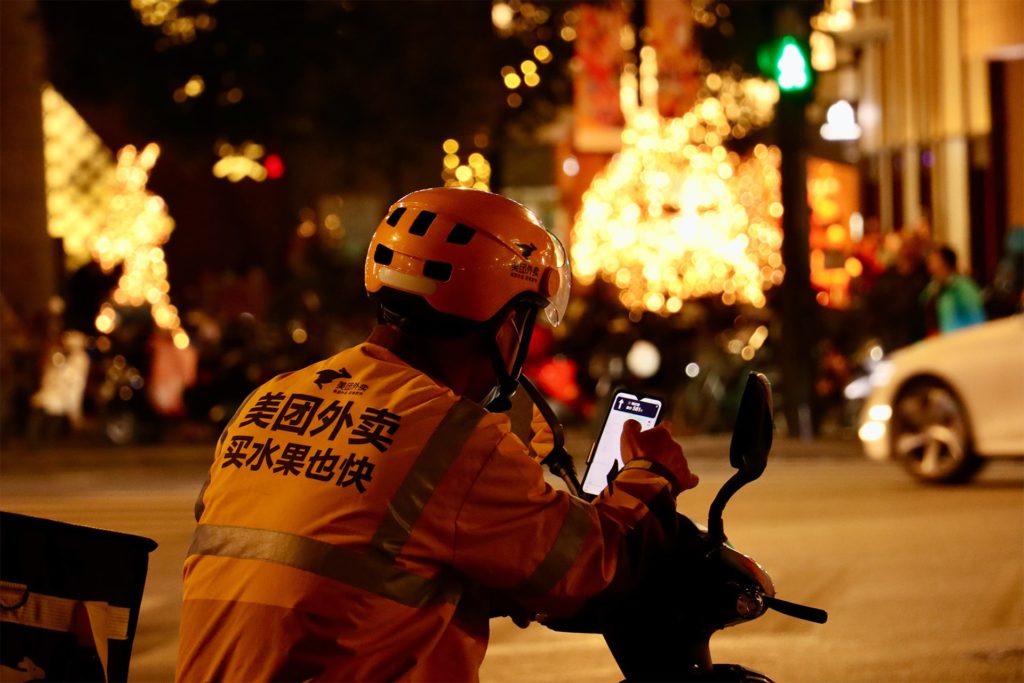 Things took a turn recently when Meituan significantly increased its support for the livestreaming business. According to media reports, in March this year, the company added a livestreaming technology platform to its organizational structure. This team was led by Meituan's vice president and senior executive Li Shubin, with a total size of less than a hundred team members. This platform is aimed at providing tool support for Meituan's livestreaming and participating merchants, while the operations are managed by its in-store and delivery business lines.
In April, Meituan announced internally for the first time that livestreaming will become a regular feature and cover core local business segments like delivery, group-buying, travel, and groceries. Participating merchants only need to provide details about products and group-buying vouchers to be utilized during the livestreams, while entrusting Meituan with the actual live selling process. The term "livestreaming" was also mentioned at least three times in Meituan's second-quarter and half-yearly financial report for 2023.
In March, Meituan launched a promotion named "Sharpshooter" for its takeaway business in Shenzhen, combining livestreaming, short videos, and other activity formats to sell discounted high-quality products. On April 18, it was upgraded to a platform-wide marketing event titled "Divine Voucher Festival" which utilized livestreaming elements as well. The same month, on April 27, Meituan started a pilot group-buying livestreaming event.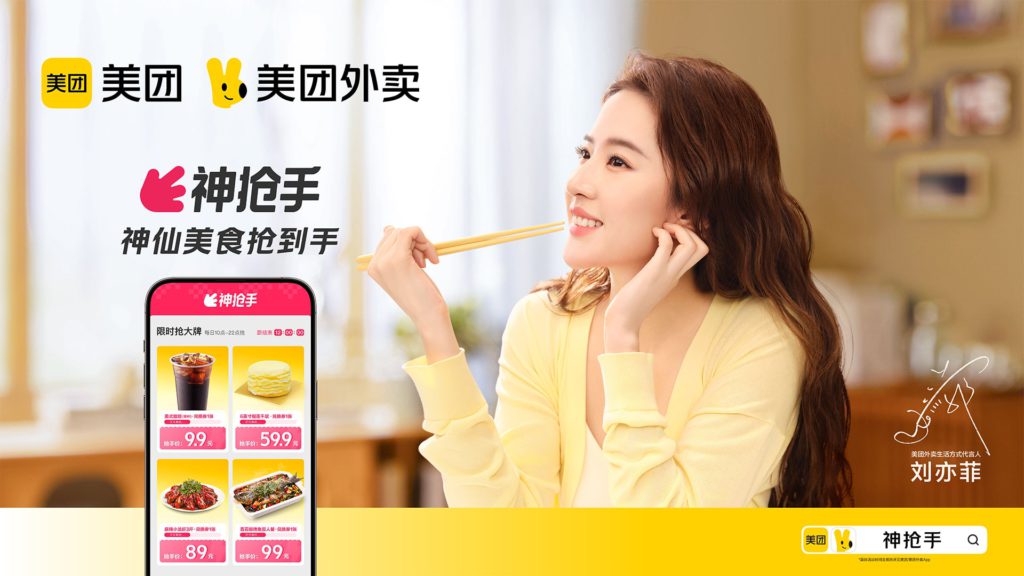 These activities are not the sole indicators of livestreaming's newfound importance for Meituan. Other telltale signs exist. While the homepage of Meituan's app did not originally have a dedicated placement for the livestreaming function, a permanent button was added in July this year for gray box testing among 50% of its users. Gray box testing is usually conducted to gather feedback and assess how a feature or product is utilized, making the appropriate changes to improve its quality before an official release.
According to Leida Finance, in the latest version of the Meituan app, its livestreaming aggregation page showcases not only officially supported livestreams but also self-broadcasts by various brands such as Chimelong Tourist Resort, McDonald's, KFC, and Lefit. It is reported that Meituan has sought to attract more merchants to host livestreams on its platform by waiving placement charges and not sharing a cut of the participating merchants' revenue. Simultaneously, it is providing guidance to merchants for self-broadcasting and content-related operations.
Although Meituan is relatively new to livestreaming, years of accumulated expertise running its platform plus its recent marketing efforts have helped it achieve some early success. According to data provided by Meituan, several livestreams on its platform have achieved a trading volume of over RMB 100 million (USD 13.7 million).
The performance of Meituan's livestreaming business has also been quite impressive in terms of redemption rates.
According to reports by Leopard Change, the redemption rate of several items showcased during a takeaway livestream by Meituan on April 18 reached 75%. Based on an analysis by Zhongtai Securities, the conversion rate of push-based group-buying activities conducted by traffic-based platforms, based on GMV, is around 50–60%. Meituan's leisure and entertainment livestream on August 22 had a conversion rate of over 30%.
While content used to be a weakness for Meituan due to its positioning as a consumer platform, recent developments of its livestreaming business will, to a certain extent, enhance its content creation capabilities, potentially improving the stickiness of businesses and consumers, thereby completing more orders. Nonetheless, there remains ample room for improvement before Meituan can come close to matching the likes of Douyin.
To fend off competition, Meituan has also invested significantly in sales and marketing. According to its latest financial report, its core local businesses, including food delivery, flash sales, in-store services, hotels, and travel services have achieved a combined revenue of RMB 51.2 billion (USD 7.02 billion), growing 39.2% year-on-year.
Specifically, Meituan fulfilled 5.4 billion food delivery and flash sale orders in the second quarter, 31.6% more than the previous year, while transactions for in-store services, hotels, and travel services saw a year-on-year growth of over 120%. However, Meituan's sales and marketing expenses surged by 61.95%, rising from RMB 8.98 billion (USD 1.23 billion) in the same period last year to RMB 14.55 billion (USD 1.99 billion).
Douyin's rapid growth in the local lifestyle sector
Meituan's decision to expand into livestreaming services is, to a certain extent, part of its strategy to compete with Douyin, countering the latter's aggressive expansion into the local lifestyle sector.
During a conference held by Douyin in April, Zhi Shiyu, head of its local life business, said that lifestyle services constitute a vast market worth trillions of yuan, and the current proportion completed online remains small and far from reaching saturation.
Douyin's foundation in local lifestyle services is not as deep as Meituan at present. It began delving into the business of local life services in March 2020, launching group-buying and food delivery services. Toward the end of the same year, ByteDance's commercial department established a center for local direct business, marking its official expansion into local lifestyle services.
In July 2021, Douyin tested its food delivery service with a name that loosely translates to "Touching Takeout," garnering widespread attention from both the industry and the public. In August of the following year, it collaborated with Ele.me, allowing users to place orders directly through Ele.me's Douyin mini-program. In December 2022, Douyin strengthened its delivery capabilities by partnering with logistics platforms Dada, Shansong, and SF Express. At the end of 2022, Douyin's food delivery service entered the pilot phase and opened up for merchant registrations.
However, challenging Meituan's dominant position in the food delivery domain won't be an easy feat. According to reports in June this year, Douyin's food delivery unit abandoned its initial goal of achieving a GMV of RMB 100 billion (USD 13.7 billion) for 2023 and will no longer prioritize GMV as its main performance indicator after the second half of the year.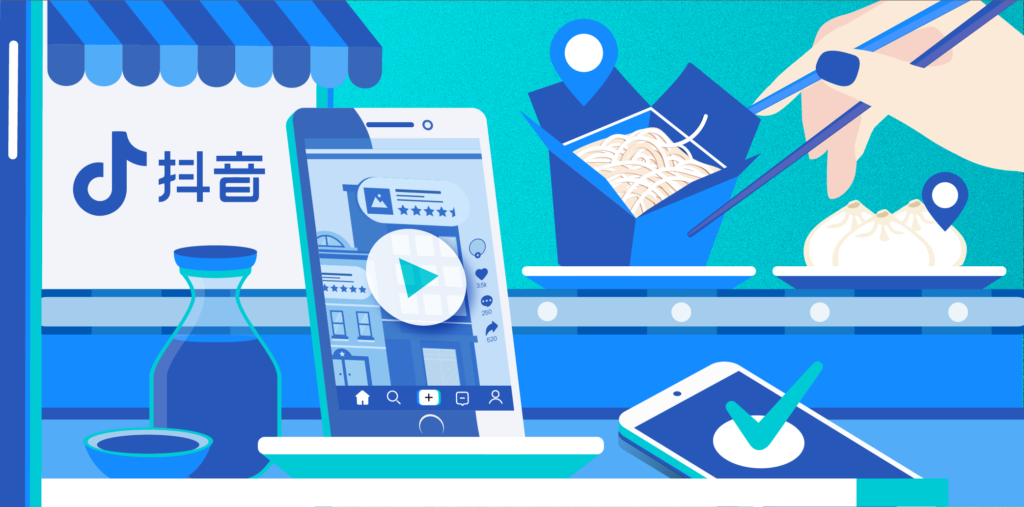 Some analysts believe that for new players, breaking into the food delivery business is more challenging than establishing in-store operations. Facilitating fast-paced or even instant food deliveries necessitates significant support from a sizable delivery team, which undoubtedly increases the platform's burden in terms of cost and management. Meituan, with years of experience and a well-established presence, possesses a stronger combination of riders, merchants, and operational capabilities.
Compared to the challenging food delivery business, in-store businesses including group-buying have become relatively easier domains for Douyin to showcase its capabilities in the short term. As of April this year, Douyin's lifestyle service business covers over 370 cities, collaborating with over two million stores. In 2022, its GMV for lifestyle services increased sevenfold compared to the same period in the previous year.
While Douyin has not disclosed the exact GMV numbers for its lifestyle business, LatePost reported that, in the first half of this year, Douyin's GMV for lifestyle services exceeded RMB 100 billion (USD 13.7 billion). However, this is less than half of Meituan's equivalent, and is primarily contributed by in-store and travel-related businesses.
According to LatePost, Zhang Lidong, chairman of Douyin Group, began to pay more attention to local lifestyle business starting from July this year. Meanwhile, Douyin upgraded its travel business to a primary department, running in parallel with in-store businesses.
Due to Meituan's long-term commitment to establishing its position in instant retail, it has already become a mature brand in the minds of consumers. Whether Douyin can successfully challenge Meituan will depend on its capability to cultivate new consumption habits that will encourage users to complete local lifestyle service-related orders through its platform.
In this process, Douyin's greatest advantage lies in its massive user base, high volume of monthly active users, and a rich content ecosystem. However, its content is also more diverse, so the traffic it gains is less centralized than Meituan. The biggest challenge Douyin faces in the local lifestyle domain will be to transition its gargantuan pool of users from passive consumers into active ones.
New waves in local lifestyle services
Meituan and Douyin are not the only ones competing in the local lifetyle sector, with other new and existing players also eyeing a piece of the pie.
At the end of 2021, Kuaishou partnered with Meituan to connect their platforms, with Meituan launching its official mini-program on Kuaishou's platform. In September last year, Kuaishou also established a local lifestyle business unit parallel to its main business units for commercialization, e-commerce, and international business. Xiao Gu, former head of Kuaishou's e-commerce business unit, was appointed to lead the newly established unit. The company also launched a pair of branded services centered around trust in purchases and price comparisons.
Kuaishou has made progress in the local lifestyle sector. According to its financial report for the second quarter of this year, Kuaishou achieved a net profit at the group level for the first time since its listing, with a profit of RMB 1.48 billion (USD 202.9 million) within the stipulated period, equivalent to an adjusted net profit of RMB 2.69 billion (USD 368.8 million). According to Cheng Yixiao, founder and CEO of Kuaishou, the company's local lifestyle business is in the early stages of rapid growth, with a quarter-on-quarter GMV growth of 200% in the second quarter.
Alibaba Group is another player that has recently made adjustments to its local lifestyle business. In March this year, Alibaba merged AutoNavi with its local lifestyle service business Koubei. Concurrently, all local lifestyle in-store businesses under Alibaba's umbrella were integrated into the landing page of AutoNavi as well.
According to Alibaba's financial report, in the first quarter of the fiscal year 2024, revenue for Alibaba's local life business was RMB 14.45 billion (USD 1.98 billion), a 30% increase compared to the same period last year, when the company registered RMB 11.13 billion (USD 1.53 billion). Alibaba attributed the increase in revenue to the strong growth of Ele.me in terms of GMV and the rapid growth of orders on AutoNavi.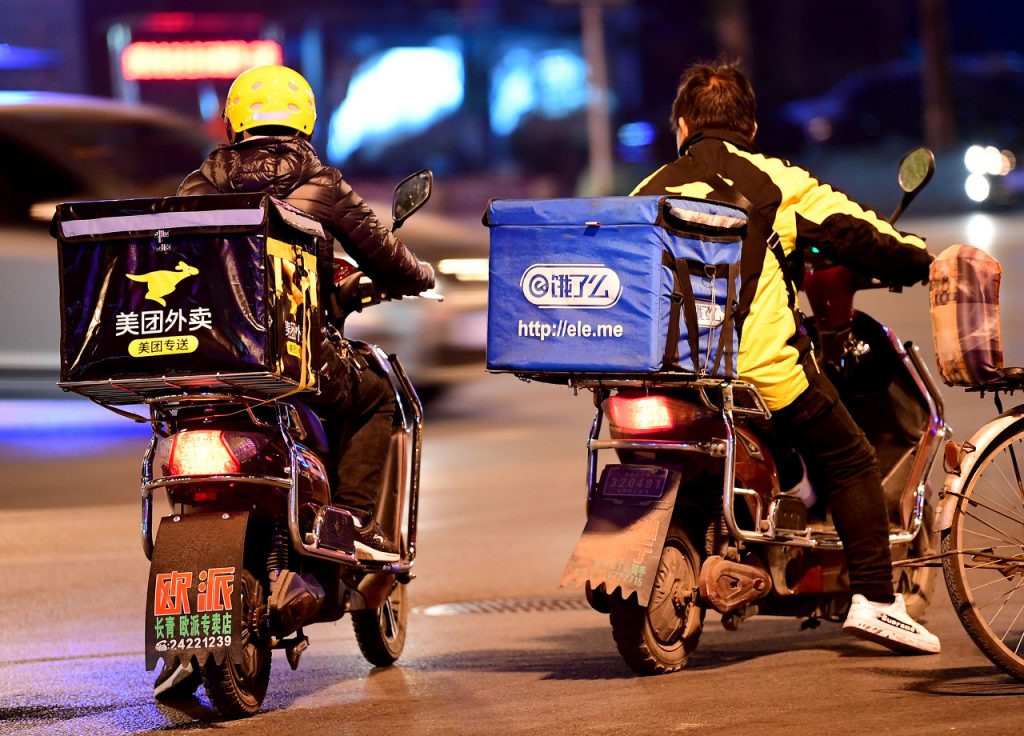 Xiaohongshu is also aiming to enter the local lifestyle sector while ramping up its livestreaming and e-commerce efforts. In April this year, it established an official local life account called Tuboshu, subsequently launching plans to recruit in-store dining merchants and service providers, and to nurture local food bloggers. Concurrently, it conducted group-buying functionality tests in some cities, attempting to close the loop from content recommendation to transactions in local dining.
Pinduoduo also intends to carve a space for itself in the local lifestyle domain. In March this year, its community group-buying platform, Kuaituantuan, quietly invited local merchants in four major categories—dining, entertainment, beauty, and accommodation—to join its local lifestyle business. However, local lifestyle services are not prominently showcased on Pinduoduo's platform, tucked away within its "Recharge Center" page.
The local lifestyle service market is incredibly vast in China. According to a report published by iiMedia Research, it is expected to reach a scale of over RMB 2.5 trillion (USD 342.7 billion) by 2025. The online food delivery market is expected to reach RMB 1.74 trillion (USD 238.5 billion), while the fresh e-commerce and community service markets will reach RMB 540.3 billion (USD 74.07 billion) and RMB 345.5 billion (USD 47.37 billion) respectively.
While the local lifestyle domain holds massive scale, excelling in it won't be an easy task even for major companies. As a diverse field with varying customer demands, merchant characteristics, operation models, and competitors, each scenario requires carefully planned and executed operations to manage accordingly, increasing the complexity and difficulty of business operations. As competition intensifies, companies will also need to invest more heavily in technology, utilizing artificial intelligence, big data, cloud computing, and a variety of solutions to improve their operational efficiency, recommendation algorithms, user experience, among others.
This article was adapted based on a feature originally written by and published on Leida Finance (WeChat ID: leidaplus). KrASIA is authorized to translate, adapt, and publish its contents.