The Mobile World Congress being held in Spain is turning into a stage for tense exchanges between Chinese telecommunication infrastructure supplier Huawei and a US delegation attending the event.
Huawei's current chairman Guo Ping at  a keynote speech earlier this week praised his company for its great security and said it "has not and will never" plant backdoors, or technical loopholes that can be exploited for spying purposes, in its equipment. He emphasized that Huawei has a strong track record in security for three decades and that the US accusation of security issues with Huawei's 5G equipment lacks evidence.
Meanwhile, a US delegation did its part to convince European partners to avoid working with Huawei. The US warns that Huawei's 5G equipment, which some telecoms experts see as more vulnerable to attack than previous technology, could be exploited for spying because of the firm's close ties to the Chinese government.
The US has yet to provide evidence to back up its claims, while a British report says that it had found potential risks in the technology and supply chain, but that it is able to manage these. Several telcos including South Korea's LG Uplus and the UK's Vodafone are already working with Huawei's 5G gear in trials.
In his MWC speech, Guo said that 5G is safer than 4G, although he did not further explain his point. He invited third-party experts to evaluate whether the networks are safe.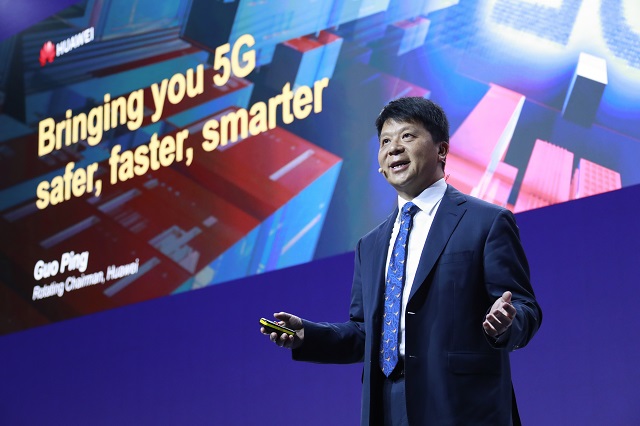 Guo Ping, Huawei's Rotating Chairman, made a keynote speech at Mobile World Congress 2019.
Guo also fired a warning shot at the US by reminding the audience of the country's Prism surveillance program which was exposed by Edward Snowden in 2013.
Under the program, the National Security Agency collected intelligence through major US Internet companies including Google, Microsoft, Facebook, and Apple. Guo also referred to the US Cloud Act as irony as it allows government entities to access data across borders.
The spat between Huawei and the US government has a long history, and against the backdrop of current Chinese-US tensions, concerns are finding new fertile ground to grow.