Every November 11 marks Singles' Day—a day celebrating singledom. Originally known as Bachelor's Day, this occasion has been commemorated since its inception in 1993. However, it wasn't until 2009 that it gained widespread popularity, thanks to Daniel Zhang, then CEO of Alibaba Group, who co-opted the occasion and gave it newfound significance by tying it to the company's promotional events. A decade later, Singles' Day has evolved into one of the world's largest shopping festivals, a global commercial extravaganza akin to Black Friday.
For e-commerce companies, this annual event not only illustrates how consumer behavior has shifted with time but also serves as a global battleground to acquire new customers and seize market share. According to statistics from Data.ai, as of Q4 2023, there have been 1.75 billion shopping app downloads globally, representing a 9.3% increase quarter-over-quarter. This surge is driven by both Black Friday and Singles' Day.
While China's GDP exhibited a 4.9% growth in Q3 2023, surpassing Reuters' projected 4.4% growth, this figure marked a slowdown from the robust 6.3% growth in the previous quarter. The country's policymakers face multiple challenges, including equilibrium amidst domestic property crises, high youth unemployment, subdued private sector confidence, a global economic slowdown, and geopolitical tensions, particularly China-US disputes over trade and technology.
In response to these challenges, major players like Pinduoduo, Alibaba, and JD.com have adapted their strategies to captivate consumers in this dynamic economic landscape.
Pinduoduo
Pinduoduo has largely been attracting China's price-conscious consumers through aggressive pricing strategies, resulting in notable sales growth, especially in lower-tier cities. During the early days of Singles' Day, Pinduoduo reported a 167% year-on-year sales surge in fourth and fifth-tier cities, surpassing its growth in first-tier cities. This trend reflects a shift toward practical, need-based purchases over extravagant spending.
The company's recognition of the noticeable change in consumption behavior within its user base reveals intriguing insights. Mothers and the younger generation in third- and fourth-tier cities show a preference for local brands, particularly in beauty, home appliances, and sports products. This differs from the buying patterns of white-collar workers and middle-class consumers in first-tier cities, who prioritize daily essentials like fruits, digital products, and pet supplies.
Furthermore, Pinduoduo's focus on agricultural e-commerce aligns with its commitment to offering a diverse range of products that cater to various consumer needs and preferences. Campaigns that highlight seasonal agricultural products, such as apples and citrus fruits, have achieved immense success, with orders exceeding one million units during the initial stage of the promotion.
The Chinese online retailer has made significant strides in appealing to China's cost-conscious consumers with its aggressive pricing strategies, leading to a surge in sales, particularly in lower-tier cities. The upcoming Singles' Day is unlikely to be any different.
Alibaba Group
Alibaba Group's Taobao and Tmall have established themselves as providers of cost-effective products that offer excellent value. Anticipating over a billion consumers, they plan to showcase over 80 million products and sell them at their lowest prices. The platforms have introduced comprehensive discount venues and innovative artificial intelligence tools to engage consumers, along with a surge in store registrations, particularly from Chinese manufacturers and new consumer demand-oriented brands.
The integration of AI and other technology capabilities has been instrumental in optimizing customer experiences. The introduction of free AI tools for merchants and consumers, including creative production platform Wanxiang Lab and embedded generative AI application Taobao Wenwen, has transformed the consumer decision-making process.
In preparation for Singles' Day, merchants have been registering new stores in record numbers, with Tmall's new store registrations experiencing a 105% year-on-year growth for the three months ending in September. Notably, 42% of these new registrations are D2C brands from Chinese manufacturers offering value-for-money products, while 18% are newly created brands tailored to evolving consumer demands.
The platforms have pledged an unprecedented level of investment toward encouraging consumer engagement. Through a large-scale direct discount virtual venue, along with a 15% price reduction and real-time price comparisons for tagged products, Alibaba's platforms aim to deliver unmatched value to consumers.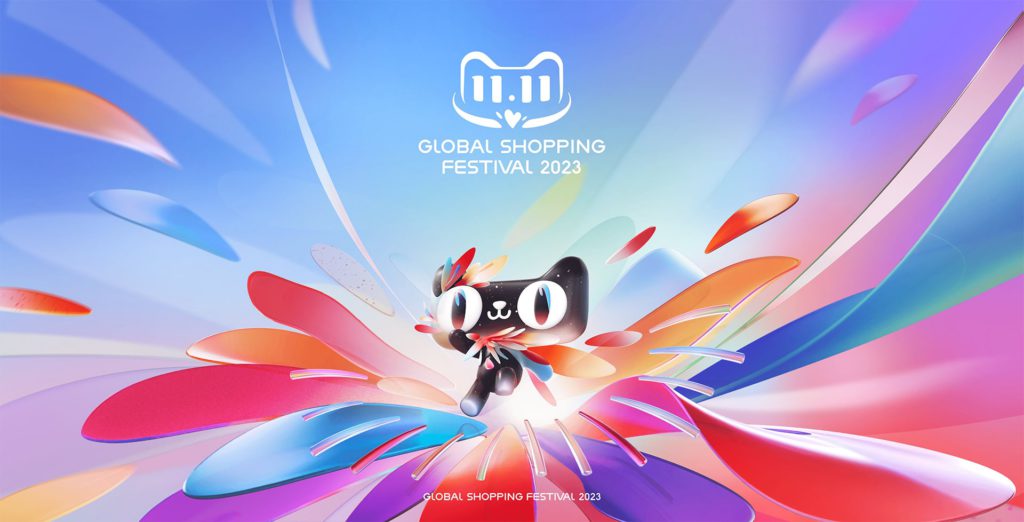 JD.com
JD.com has unveiled its "ten-billion discount" campaign, which scored notable results in a mere four minutes, achieving a transaction volume of over RMB 1 billion (USD 137 million). This swift turnover was supported by JD Logistics' delivery infrastructure, supporting same-day or next-day delivery for over 95% of JD.com's self-operated orders.
A key differentiator for JD.com has been the transformation of its product managers into livestreaming hosts. These individuals, responsible for procurement and sales across all categories, have transitioned from behind-the-scenes roles to engaging over 140 million viewers with insightful product presentations and tailored recommendations. This approach eliminates the need for traditional advertising costs and influencer commissions, relying solely on the acumen of JD.com's procurement and sales teams.
Fueled by this innovative strategy, the evening of October 31 witnessed significant transaction volumes within just 30 seconds of the promotion's commencement. Notably, various segments experienced substantial growth in transaction volumes, including travel, outdoor activities, and lifestyle products, among others. In particular, transaction volumes for overseas vacation products increased more than five times compared to the previous year, demonstrating a shift in consumer behavior towards experiences and travel.
Furthermore, JD.com's one-hour delivery feature ostensibly set a new standard in customer service, ensuring swift delivery across over 1,000 counties and districts within the first ten minutes of the promotion.
China's economic landscape, influenced by a variety of internal and global factors, including a slowdown and disruptions resulting from the post-pandemic scenario, has heightened the emphasis on affordability and value in consumer spending. Within this context, e-commerce players are compelled to adjust their strategies ahead of Singles' Day to align with changing market demands and economic conditions.