Indonesian healthtech startup Halodoc has launched an online vet consultation feature, allowing pet owners to get advise on possible health issues from the app.
"We observed that pet owners are facing difficulties to consult with vets, as social movements are restricted due to the pandemic," chief marketing officer Dionisius Nathaniel told KrASIA. Furthermore, the number of vets and pet clinics are still limited, with most of them located in large cities such as Jakarta or Bandung.
Available since the end of October, Halodoc has onboarded licensed vets to ensure service quality and safety. Users can submit pictures or videos for the specialists to assess. A session costs IDR 25,000 (USD 1.70).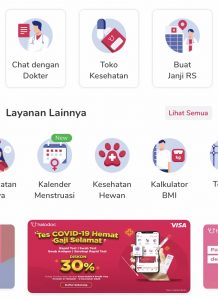 The feature will be useful especially for first-time pet owners who don't have a regular vet yet, along with those who live far from pet clinics. Nathaniel said that so far, they received positive feedback, together with enthusiastic comments on social media.
The company points out though that the service is only a consultation and not actual treatment. For more serious cases, owners are still urged to bring their pets to the clinic.
Halodoc plans to expand the offer and considers to launch an online pharmacy for pets.
A growing market with few players
Changing consumer lifestyle and increasing disposable income in Southeast Asia fuels the growth of the pet care industry. For 2020, research firm Future Market Insights expects the market to reach USD 1.4 billion. A report from Global Market Insights also predicts an increase in animal healthcare spending.
There aren't yet many Indonesian tech startups operating in this sector. One of the most well-known examples is Peto, which runs a mobile app that provides various on-demand professional services ranging from grooming, social networking for pet owners, and pet-related essentials delivery service.
As for in-app online vet consultation, so far only Halodoc is offering that feature—as a company that is not primarily focused on pets. There are still opportunities to explore for other startups in this market.