About two weeks ago, Grab announced its plan to work with video streaming platform Hooq—a Netflix competitor in Asia—to deliver video content to its users in the region. Today the feature went live in Indonesia.
Grab started as a taxi aggregator app in 2012 but has gradually evolved to become a "super app" with many services, including ride-hailing, mobile payments, and food deliveries. Now, people can use Grab for entertainment on the go.
This move is part of Grab's strategy of giving customers more reasons to spend time using the app and opening new business avenues in content production. For Hooq, it's a new customer acquisition channel. All Grab users will receive a three-month free trial, but then will have to upgrade and pay for Hooq's premium content. Hooq has previously used a similar tactic by bundling up with telecommunications mobile data packages. Collaborating with a ride-hailing and local services app, however, is a first.
It might sting rival Go-Jek a little that Grab pulled ahead in delivering video content through its app. Go-Jek had announced similar plans a while back but has yet to deliver.
How it works
Grab's app in Indonesia now contains a "video" alongside its other core services. You can watch movies and tune into TV channels through the app.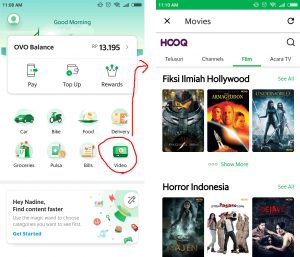 Hooq has a freemium model, where some shows and channels can be streamed for free, while others are available after users pay for a subscription. Through Grab, at least during the three-month trial, users seem to have access to Hooq's full library of films without having to sign up separately. The feature will be rolled out in Singapore, Thailand, and the Philippines next.
Editor: Brady Ng