After launching its hotel booking feature, Grab Indonesia has quietly introduced the option for the company's users to reserve shuttle bus tickets by partnering with online ticket site Lorena and shuttle bus service providers Aoshuttle and AgraMas. The feature is currently only available in a number of areas in Greater Jakarta.
The feature is accessed by tapping on the "bus" icon in Grab's app. Users can fill in their departure and arrival points, select the departure time, choose the available travel routes, and indicate the number of seats that are needed. The fare is settled by using Ovo credit. After the transaction is completed, passengers just need to show their e-ticket when boarding the bus.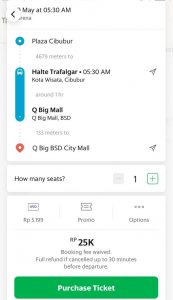 There is also the option of renting a GrabCar by the hour through this new feature. This service is available for inner-city trips in Greater Jakarta and trips from Jakarta to its suburbs. Overnight trips carry an additional cost.
Like Go-Jek, Grab consistently adds new features and services for its user base. The two companies are in a race to become Southeast Asia's most popular super app. Yesterday, Grab and Indonesian developer Sinar Mas Land also launched a pilot project called GrabWheels, which lets users rent eco-friendly scooters that can be used in several locations in BSD City. The initiative's trial period will last until mid-2019.
GrabWheels is a standalone app that is available for iOS and Android devices. Scooters are unlocked by scanning a QR code, and users are expected to return their rentals to the docking station that is closest to their destination. It is not clear whether Grab will integrate this service with its main app after the trial period.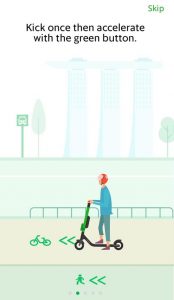 GrabWheels is the first electric scooter service in the country. The project is part of the collaboration between Grab and Sinar Mas to build digital infrastructure in BSD City, which is expected to be Indonesia's first smart city. Through the partnership, Grab will also support the growth of micro and small businesses, as well as drive technological developments within the community.