Southeast Asian super app developer Grab launched its initial public offering on the Nasdaq on Thursday, trading under the ticker symbol GRAB. The company went public via a SPAC merger with shell company Altimeter Growth Corp, raising gross proceeds to the tune of USD 4.5 billion in the largest US market debut by a company based in Southeast Asia. The amount includes USD 4 billion in private investment in a public equity arrangement, led by USD 750 million from funds managed by Altimeter Capital Management.
This IPO marks a new milestone in Southeast Asia's digital economy as Grab co-founders Anthony Tan and Hooi Ling Tan rang the Nasdaq opening bell remotely in Singapore. Grab is the second regional tech firm to be listed in New York after Sea Group's IPO in 2017.
"We brought this event to home ground to celebrate this milestone. Today, we shine a spotlight on Southeast Asia, and how its homegrown tech companies are powering new possibilities for the region's 660 million people," Grab CEO and co-founder Anthony Tan said. "Grab is now a leading super app enabling consumers to eat, ride, and pay in eight countries and in over 400 cities."
Grab runs operations in 465 cities in eight Southeast Asian countries—Singapore, Malaysia, Indonesia, Vietnam, Thailand, the Philippines, Myanmar, and Cambodia. Its services span ride-hailing, last-mile courier delivery, food delivery, payments, insurance, and lending.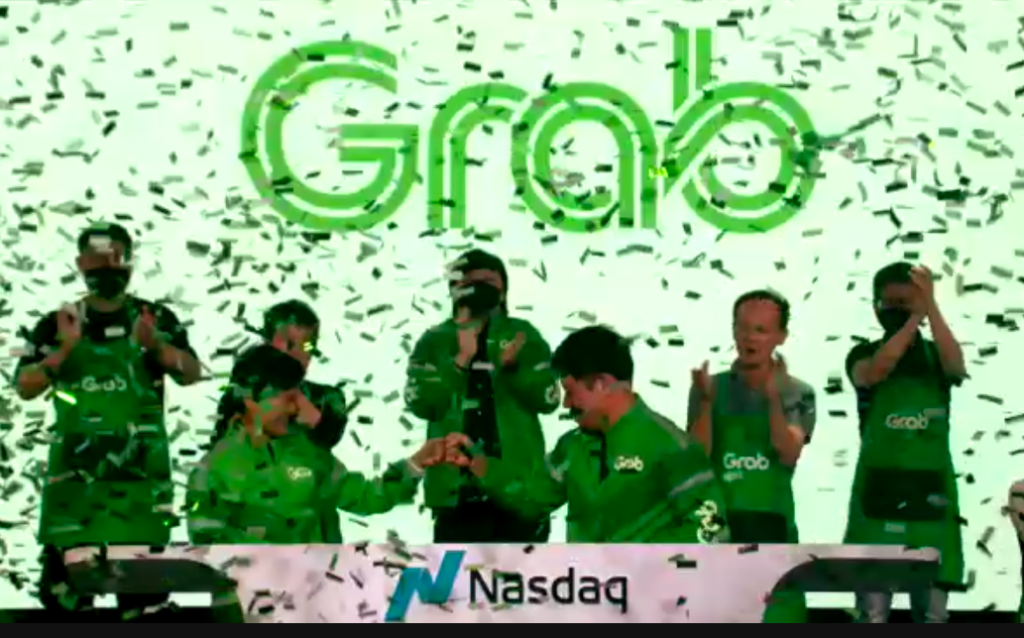 The firm is a leading ride-hailing player in nearly all of the markets it operates. However, the pandemic has weighed down the company, especially its mobility business. Grab's net losses widened in the third quarter of 2021 to USD 988 million, a 59% increase from USD 621 million in the same period last year, according to the firm's Q3 results. Its overall gross merchandise value (GMV) grew to USD 4 billion in Q3 from USD 3 billion last year, but revenue fell from USD 172 million in Q3 2020 to USD 157 million this year.
Nonetheless, Grab has a bullish projection for the future. In the company's prospectus filed with the Securities and Exchange Commission, Grab expects that its GMV will increase from an estimated USD 16.7 billion in 2021 to USD 34.2 billion in 2023, while its adjusted revenue is expected to grow from USD 2.3 billion this year to USD 4.5 billion in 2023.
Southeast Asia's internet economy is one of the fastest-growing in the world. The region's GMV is projected to reach USD 360 billion by 2025, according to a report by Google, Temasek, and Bain & Company. Multiple tech unicorns are ready to follow Grab's footsteps to go public in the coming years.
In Indonesia—the region's largest economy—Grab faces tight competition with GoTo, whose businesses cover ride-hailing, e-commerce, logistics, and fintech. GoTo expects to go public in Indonesia in the first half of 2022, possibly followed by a listing in New York.