As the COVID-19 pandemic continues to impact more people, Indonesian President Joko Widodo called for his nation's citizens to maintain social distance and work or study from home. The move is meant to mitigate the spread of the disease.
With millions of people remaining indoors, many are relying on delivery services for their meals. In response, Gojek and Grab have implemented new measures in Indonesia to prevent community transmission between drivers, merchants, and customers.
"We are extremely grateful for our drivers and delivery-partners, our everyday heroes, for continuing to serve Indonesians in these trying times. We've put together additional precautionary measures as well as support packages to safeguard their health and well-being, and livelihoods," said Grab Indonesia managing director Neneng Goenadi in a statement.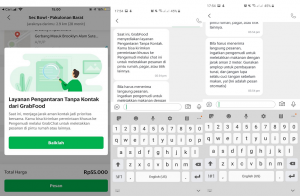 Grab has introduced contactless delivery for its GrabFood and GrabExpress services to minimize physical contact between persons. Using the in-app chat function, customers can direct drivers to drop off their orders at specific locations.
Drivers will then notify the customers of their arrival and wait for them to pick up the order. Grab has advised all parties to stand up at least two meters away from each other.
The Singapore-based company also encourages users to opt for cashless payment, such as Ovo. However, if payment by cash is unavoidable, they can place the money inside an envelope and leave it where the order was deposited.
Grab provides a GrabCare package that covers both financial and medical support for drivers in case they are placed under quarantine by public health authorities or are even tested positive for the virus. "We enforce additional preventive measures and support packages to protect the health, well-being, and survival of partners," said Goenadi.
Gojek has put into action similar policies for their food delivery service, GoFood. They added quick reply options for users in the platform's chat system detailing where to leave the items, such as in front of the gate or leave them with the building's receptionist or security guard. The driver will then provide the customer with a photo of the order after it is left for pick-up. However, if contact is necessary, all parties are advised to maintain a distance from each other for health and safety reasons.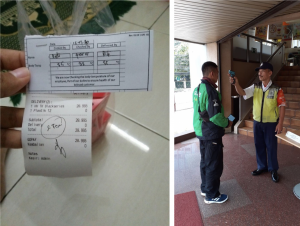 The Indonesia-based decacorn also provides body temperature marker cards for food merchants to ensure that their staff are not running fevers. (At the moment, there is no evidence of COVID spreading through the ingestion of food.)
Gojek has an income support scheme for drivers diagnosed with COVID-19. The company will temporarily suspend installment payments—such as for insurance premiums and vehicle loans—until the driver returns to work. In addition, Gojek will deactivate the accounts of drivers under observation for COVID-19, until they are cleared by an official medical test at a referral hospital.
"Gojek strives to keep people living as normal as possible amid the challenges of COVID-19, including partners in our ecosystem," said Gojek CEO Kevin Aluwi.
Both companies also provide drivers with face masks and hand sanitizer that can be collected at specified offices in Jakarta.
Helping others during outbreak
During the outbreak, some people are able to work from home, but many service industry workers cannot do so. They must venture outside for their tasks, as delivery couriers, retail workers, or in other fields.
Recognizing this issue, some Indonesians have been providing material support to these frontline workers. One of the most common forms of contributing is to order food for the drivers.
Ligwina Hananto, a resident of South Jakarta, is very vocal in encouraging people to buy food for the drivers. Initially, she thought that their livelihoods might be heavily impacted by the outbreak because people might be reluctant to order delivered meals out of fear of being infected.
Udah pada order makan siang buat driver ojol yg sepi order? Kita makanan bisa nyetok, siap dirumahkan, dana darurat aman, nyerok saham jg hayu. Org lain sarapan aja gak bisa. Silakan laksanakan gaes ❤️❤️❤️ pic.twitter.com/ywLCCvrzUH

— Ligwina Hananto (@mrshananto) March 18, 2020
"This is not my original idea. I was talking about this in a WhatsApp group with my friends, then my husband ordered food this way [for drivers], and I posted it (on Twitter)," she told KrASIA.
Her tweet amassed more than one thousand retweets and likes, and hundreds of positive responses. Many users shared their own stories, accompanied with screenshots of their chats with drivers.
"I just do what I can. For this week, I have an unused food budget because I mostly eat at home. I and my husband decided to buy lunch for several drivers every day with the money. This way, orders for the food stalls will increase and the drivers get more points and lunch," Hanato said.
Kokok Dirgantoro, a resident of Jakarta's satellite city South Tangerang, went further by giving away bottles of hand sanitizer and lunch to drivers in his area. He plans to help at least 60 drivers this week.
"During social distancing and the work from home period, their traffic decreases significantly, so does their income. They still need to make a living in a situation that puts them at risk of contact with the virus. I am obligated to do something for them," he said.
His actions received positive reactions as the drivers thanked him and attempted to shake his hands—an action that should be avoided to prevent viral spread. Dirgantoro needed to tell them not to shake hands and maintain a physical distance.
Other than Grab and Gojek drivers, Dirgantoro thought blue-collar workers such as vegetable vendors, street vendors, garbage collectors, and garden workers also need similar forms of support. "Please give them extra if you have the money," he said.
As of March 18, Indonesia has 227 confirmed COVID-19 cases, with 19 confirmed deaths and 11 discharges. The number has skyrocketed in just two weeks after the first case was acknowledged by Widodo. Indonesian State Intelligence Agency predicted that the pandemic will reach its peak in May 2020, when the country's majority Muslim population enters the fasting period.