Gojek's financial service app GoPay is the most used e-wallet in Indonesia, according to a recent study by iPrice and App Annie. It has been consistently on top since Q2 2019 in terms of monthly active users (MAU) and downloads. GoPay is part of Gojek's superapp.
The survey found that GoPay is the first choice for 60% of new e-wallet users and has also the most organic users—those who visit the platform without having a discount or cashback promotion.
Behind GoPay are following Ovo and Dana, for MAU as well as downloads. Both platforms retained their positions from Q2 2019. Government-owned e-wallet LinkAja came in fourth.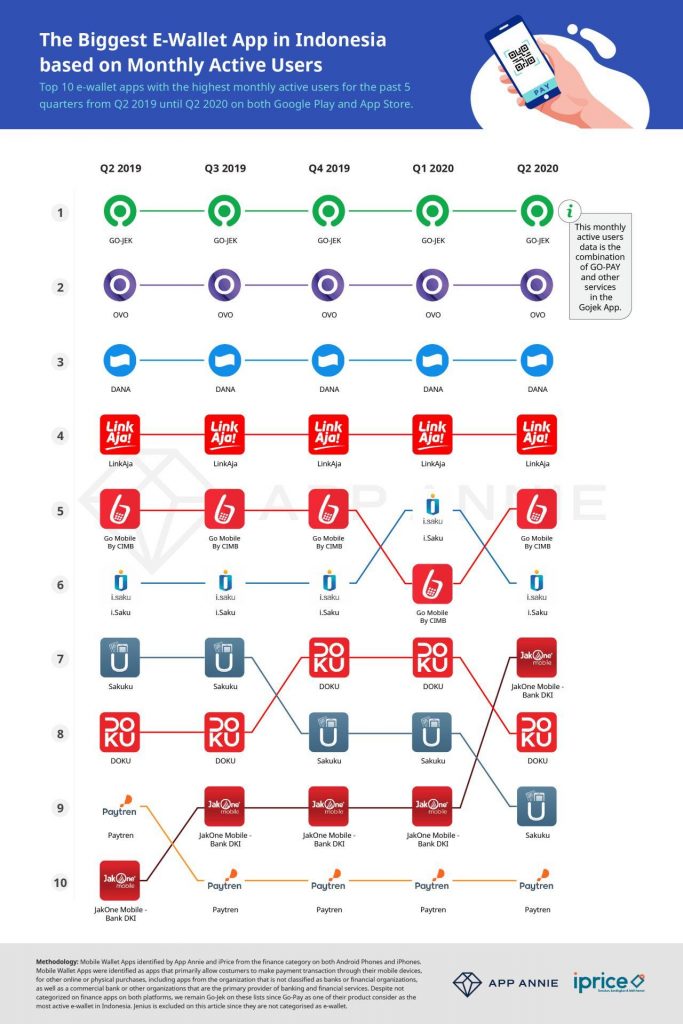 In line with this result, an earlier survey by market research firm Ipsos showed in February that GoPay is the "most familiar" wallet service for 58% of the respondents, while Ovo ranked second with 29%, trailed by Dana with 9% and LinkAja with 4%.
According to iPrice and App Annie, the use of financial apps in Indonesia has been increasing by 70% year-on-year. The total number of sessions surged from 1.67 billion in the month of June 2019 to 2.83 billion in June 2020, which indicates that e-wallets have become a preferred payment method for online shopping.
During Q2, with social distancing and a partial lockdown implemented in Indonesia, consumers were relying on online stores to fulfill their needs. Many platforms encouraged users to avoid cash transactions for their orders, requiring a form of electronic payment. Most of the platforms in Indonesia have exclusive e-payment partners such as Gojek and GoPay. Grab and e-commerce giant Tokopedia are working with Ovo, Shopee has its own ShopeePay.
Boost for government apps
An interesting finding is the rise of Jakarta government-owned e-wallet JakOne, which rapidly climbed the ladder from ninth in the first quarter of the year, to fifth in Q2, in terms of MAU, and from ninth to seventh with regards to downloads.
The app is commonly used by customers receiving government aid, such as an educational grant called Kartu Jakarta Pintar (Jakarta Smart Card). The local administration recommended recipients to monitor the payment on JakOne instead of a bank office or ATM, to minimize physical contact and travel during the pandemic.
Even though the top four have been solid in maintaining their market position, there appears to be room to grow for other players, such as JakOne. In Indonesia, 47% of e-wallet users already have at least three wallets on their phones. The interest is unlikely to subside soon.