Gojek's financial arm, GoPay, is the most popular digital wallet in Indonesia based on a poll conducted by global marketing research and consulting firm Ipsos between December 20, 2019, and January 5, 2020. In a survey involving 500 millennials and Gen-Z Indonesians living in five major cities, 58% said GoPay is the first e-wallet to come to mind when they need to perform cashless transactions. This was followed by OVO (29%), Dana (9%), and LinkAja (4%), according to the Ipsos report titled "The evolution of the digital wallet: Driving the next wave of growth."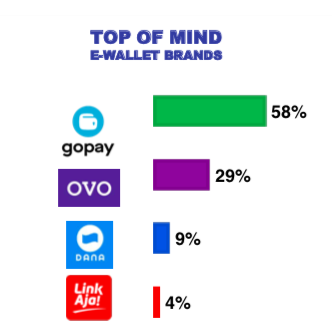 Among the four biggest mobile wallet players in the country, GoPay is most frequently utilized (55%), followed by OVO (28%), Dana (11%), and LinkAja (6%). For most consumers, GoPay is their first digital wallet (60%).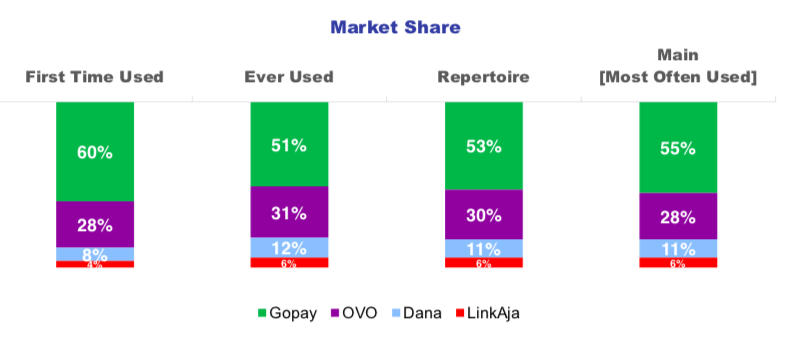 The majority of respondents said they use mobile wallets for on-demand transportation and food delivery service. Their switch from cash to cashless payments mostly depended on discounts or cashback promotions. Ipsos suggests that 71% of consumers were enticed into downloading e-wallets precisely for these reasons, but 68% of respondents said they now use payment platforms because they are convenient.
Meanwhile, 23% of consumers keep their wallets active to take advantage of promotions, and the remaining 9% like them for security reasons. In all, 54% of consumers who were surveyed said they will continue to use GoPay even if there are no new promotions. Most people (68%) said they use digital wallets at least once a week, while 32% said they now use cash less frequently.
Consumers have identified several features that are crucial to e-wallet adoption. According to the report, 48% of millennial respondents want their e-wallets to be connected to their savings accounts, while the majority of Gen-Z consumers want to have installment payment options on their e-wallets.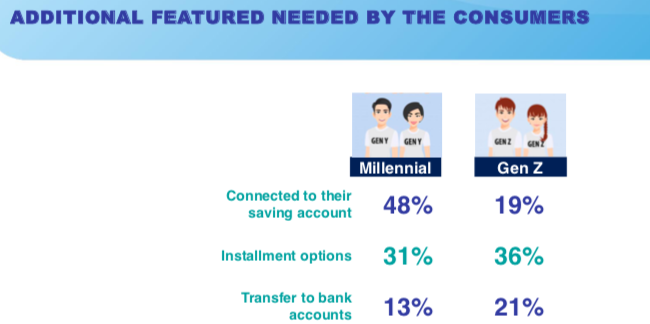 Money-burning strategies are critical for a digital wallet to acquire new users. However, it is time for mobile wallet providers to think about sustainable growth.
"With the huge potential of microtransactions in the financial sector and the convenience that consumers experience, Indonesians will continue to use e-wallets without the industry players having to burn their money," said Poltak Hotradero, business development advisor of the Indonesian Stock Exchange, in an official statement issued by Ipsos. In addition to promos, providers need to continue improving their security and adding convenient features to retain customers.
While Ipsos provided an overview of the e-wallet landscape in Indonesia, polling techniques and interpretation methods adopted by other entities may paint a slightly different picture. For example, in a 2019 fintech report by Daily Social, OVO led in mobile payment's user awareness rankings with 99.5%, slightly above GoPay (98.5%) and Dana (98%).