Gojek's financial arm GoPay is the e-wallet with the largest number of active users in Indonesia in the second quarter of 2019, according to data compiled by iPrice and App Annie in a recent report.
GoPay's position as the leading digital payment platform, both in terms of monthly active users (MAU) and downloads, has been unsurpassed since the fourth quarter of 2017, the report says. GoPay managed to reach USD 6.3 billion in transactions in February 2019 with 70% of Gojek's transactions made over GoPay.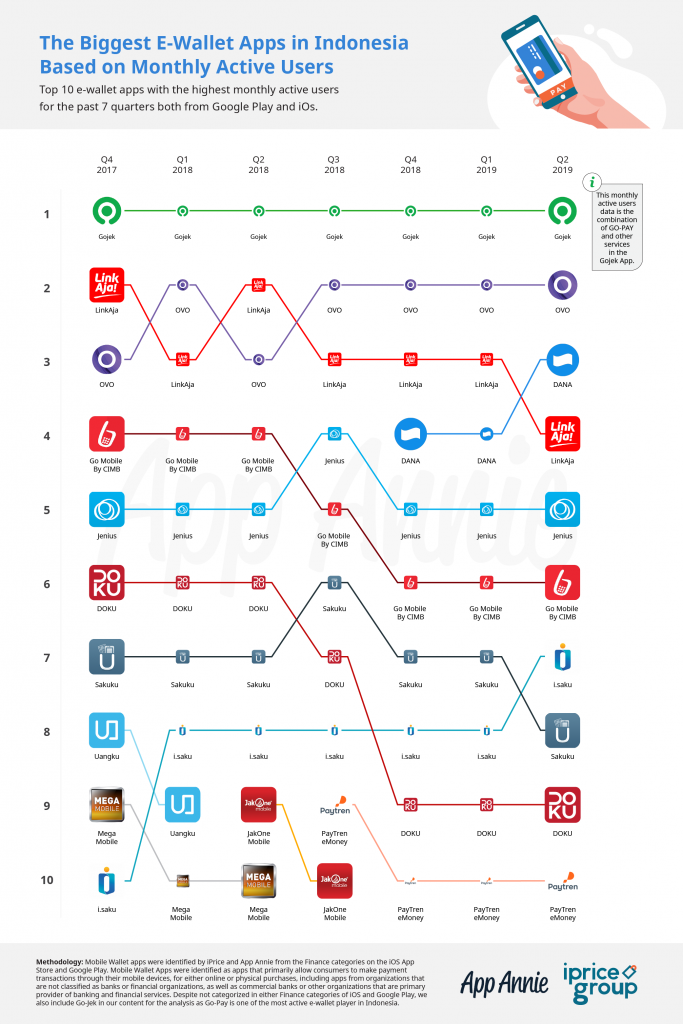 Ovo came in second place for the highest MAU, followed by Ant Financial-backed Dana, state-owned platform LinkAja, and Jenius by Bank BTPN. Meanwhile, the most downloaded e-wallet apps in Indonesia this quarter were GoPay, Ovo, Dana, LinkAja, and iSaku.
Dana and LinkAja are in a tight race to be the third player in Indonesia in terms of MAUs and downloads.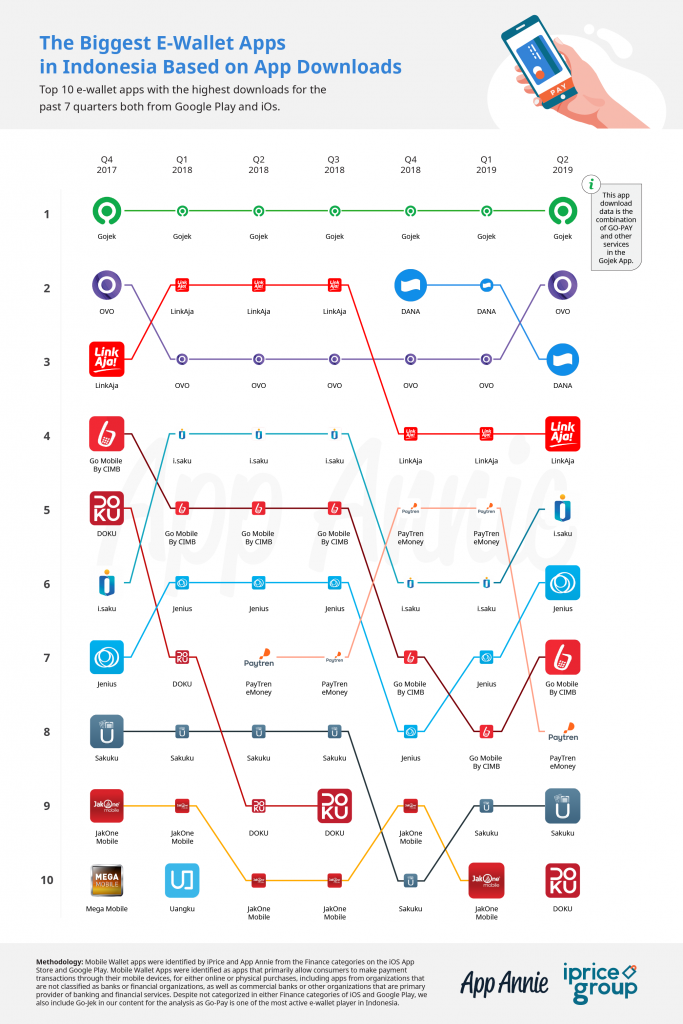 While LinkAja's MAU count was the third largest from the third quarter of 2018 to the first quarter of 2019, it was surpassed by Dana, a relatively new player in the market. Dana is the result of a joint venture between Ant Financial and Indonesian media conglomerate Emtek.
In terms of downloads, LinkAja also placed fourth in the past three quarters while Dana fell to third place.
However, it might be difficult for Dana and LinkAja to challenge GoPay and Ovo as the first two currently dominate the market and are integrated with two super-app platforms, Gojek and Grab.
Aware of the tight race in mobile payment space, LinkAja has said it is open for collaboration with other players. Shortly after its launch, LinkAja announced a strategic collaboration with Go-Jek to add non-cash payment options for various services within the Go-Jek ecosystem, adding to its chances to be among the top three e-payment players.
Citing data from the 2019 ASEAN Mobile Payment report by Nomura, iPrice concluded that e-wallet use increased by 50% in the past two years, signalling the significant role of fintech in boosting cashless culture in the country with millions of unbanked individuals.