Indonesian on-demand service app Gojek on Monday announced the launch of a carbon offset feature in partnership with AI startup Jejak.in. The company, which provides software for forestry management, is also an alumnus of Gojek's startup accelerator program Xcelerate.
Available in Indonesia, the feature will allow users to calculate their carbon footprint from their usage of Gojek transportation services and from manually inserting their other movements. Users then can offset their carbon footprint by "planting trees" in one of three locations: Jakarta, Central Java, or East Kalimantan. Payment for the service can be made via GoPay, Gojek's payment platform.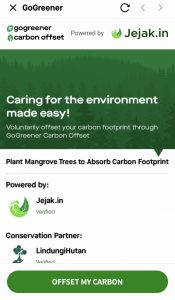 Tree planting and monitoring will be carried out in collaboration with LindungiHutan, an environmental conservation platform in Indonesia. To ensure transparency and accountability, users will be given access to a monitoring dashboard, where they can view reports on the growth of their trees. These reports will be updated three times a year and will include photos and data, including the tree's height, trunk diameter, and health status.
For the first six months after launch, Gojek will match donations for every tree planted by users. The platform also plans to include more locations, types of trees, and carbon offset options, such as tree adoption.
The carbon offset feature is part of Gojek's GoGreener initiatives, which are aimed at enabling everyone within the Gojek ecosystem to participate in efforts to care for the environment.
"We will continue exploring new ways to leverage technology to help consumers live environmentally responsible lifestyles," said Gojek's co-CEO and co-founder Kevin Aluwi in a statement.
Gojek's GoGreener initiative was first introduced on the GoFood platform in September 2019. It claims to have reduced 10.3 tones of single-use plastic through the introduction of a paid cutlery initiative and reusable delivery bags for driver-partners. Other sustainability initiatives under GoGreener include an ongoing pilot project to allow electric vehicles to be used on the GoRide service.