Jakarta-based super app Gojek has quietly introduced an online investment product called GoInvestasi, KrASIA found on Sunday.
Gojek is rolling out the new feature in collaboration with Pluang, a fintech firm offering digital gold investments. Last year, Gojek participated with USD 3 million in Pluang's Series A funding round, through its investment arm Go-Ventures.
GoInvestasi allows users to buy and sell gold easily with just three simple taps, it says on its marketing site. The investment tool will inform customers about recent updates on gold pricing. GoInvestasi claims to offer gold with "the lowest fees and highest returns". The product complies with shariah regulations being certified by the Indonesian Ulema Council (MUI).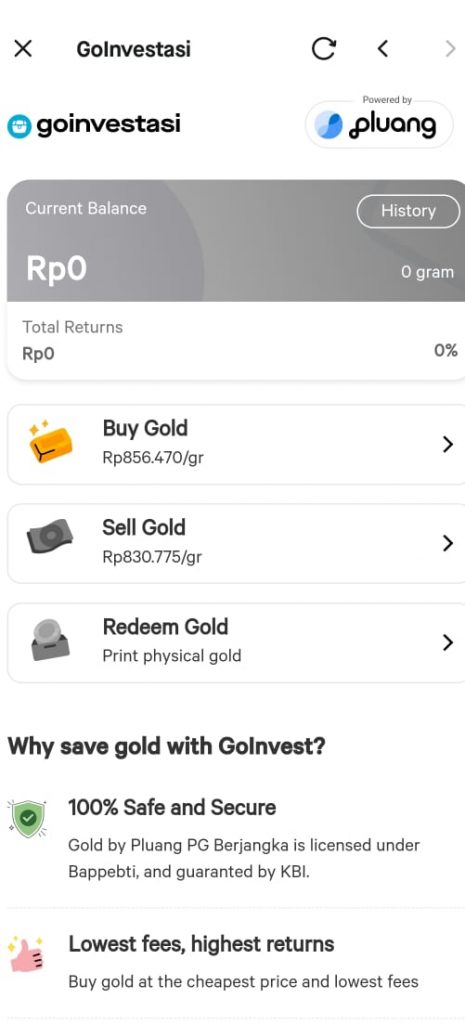 "GoInvestasi is currently available in its beta stage for select Gojek consumers in Indonesia," Gojek's head of third party platform Sony Radhityo told KrASIA. "In collaboration with Pluang, a financial technology platform offering digital gold investments, GoInvestasi provides Gojek and GoPay users seamless and affordable access to digital gold investments, aiming to increase financial inclusion and enable growth for all levels of society."
Pluang was founded in 2018 by Claudia Kolonas and Iwan Tjam under the name "EmasDigi" and started as a fintech platform specializing in micro-savings. It went through a rebranding in June 2019 and changed its name into Pluang—which means opportunity in Indonesian—planning to diversify its products beyond gold. Nevertheless, investment in gold is still Pluang's main offering for now. Clients can start with as little as 0.01 grams, which is equivalent to roughly USD 0.57.
Although GoPay is currently the sole payment method to buy gold on GoInvestasi, it is unclear whether the new product will be a part of GoPay's offer in the future. Digital investments were the second most popular fintech category after digital wallets in Indonesia last year, according to Daily Social's Indonesian Fintech Report 2019. 
Gojek's preference for gold differs from local competitors OVO and LinkAja who chose mutual funds as their first investment products. Still, gold is one of the oldest and most popular investments in Indonesia and considered a low-risk bet. The public's interest in buying gold online has been increasing in recent years and many digital platforms entered this segment, including major e-commerce players like Tokopedia and Bukalapak that launched gold investment products in 2018 and 2017, respectively.
Update May 12: Added the fourth paragraph to reflect Gojek's responses to KrASIA's request for comments.