Indonesian on-demand unicorn Go-Jek quietly introduced Go-Mall, a new feature that allows Go-Jek users to browse and shop various items from electronics to groceries through the app.
For this feature, Go-Jek teamed up with JD.id, the Indonesian e-commerce joint venture of Chinese e-commerce giant JD.com. Before completing a purchase, Go-Jek users must log in with their JD.id credentials or create an account.
This partnership between Go-Jek and JD.id seems to be part of the collaboration between Go-Jek and JD in Indonesia which started when the Chinese e-commerce giant invested USD 100 million in Go-Jek's Series E funding round. Earlier this year, JD.id was also reportedly in talks with Go-Jek for a capital injection in the hundreds of millions of dollars.
It's possible that this is part of the resurrection plan for Go-Jek's former services Go-Mart, which allowed users to shop at supermarkets. Go-Jek had halted the service in 2018 and promised to bring it back in a "more innovative" form.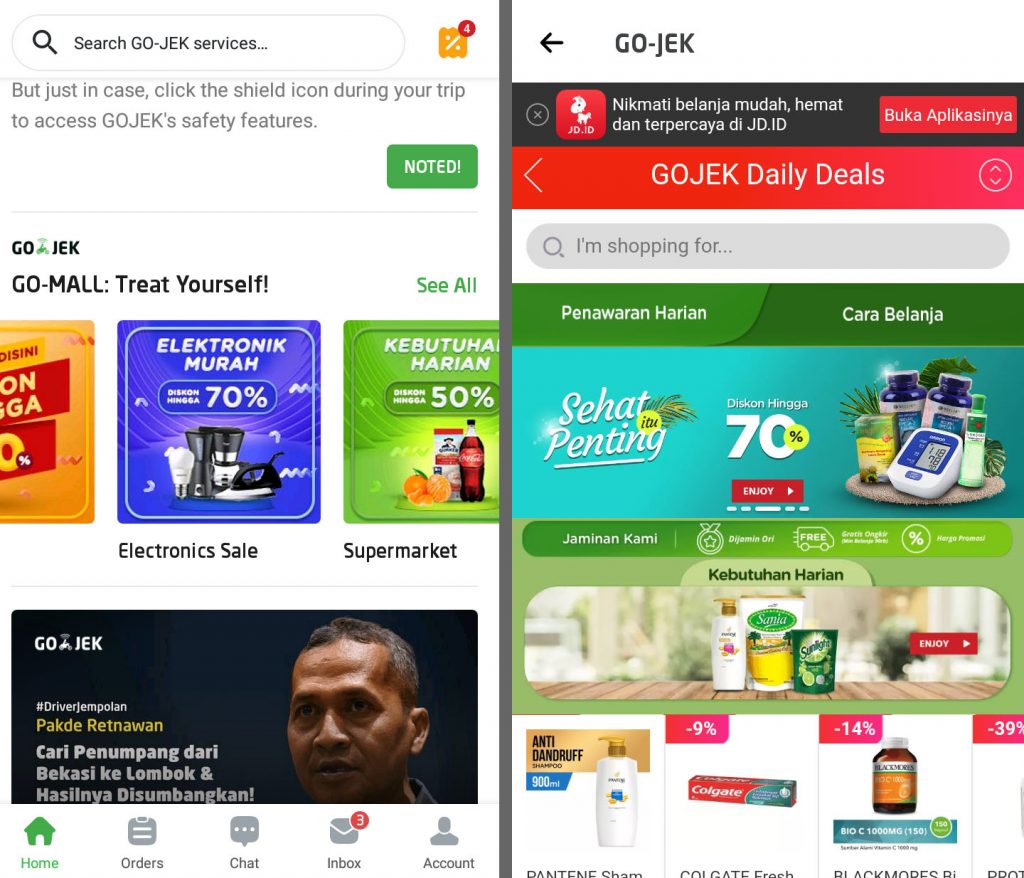 Go-Jek might strike up similar partnerships with local e-commerce platform, Blibli, which is part of GDP Ventures, another Go-Jek investor. However, the Go-Mall feature currently only shows JD.id products.
Blibli is already featured in Go-Jek's "recommended apps" section, along with other apps with whom it shares investor DNA, such as hotel and ticket platform Tiket.com.
Go-Jek is adding new content features as well. It has already partnered with digital media company Kumparan for a news feed feature. More recently, it introduced Go-Komik, a feature that allows users to read comic strips from local comic creators.
Go-Jek is in a head-to-head race with Grab, another super app that started out with transportation and has since branched out into all kinds of on-demand services. Grab collaborates with HappyFresh to provide a fresh groceries service, but it doesn't have a full range of e-commerce categories accessible through its app yet.
Editor: Nadine Freischlad