Right on the heels of introducing a (potentially) big new chat feature and e-commerce offering Go-Mall, Indonesian ride-hailing giant Go-Jek has also quietly launched Go-Travel, in partnership with online travel agent Tiket.com.
In other words, you can now also book hotel rooms through Go-Jek.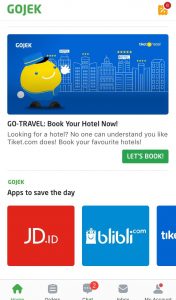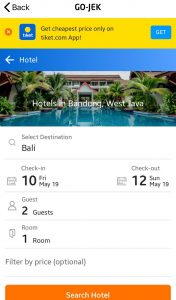 However, you can't book flights or train tickets yet, the main features of Tiket.com. Go-Pay isn't available as a payment option for Go-Travel at the moment either, so it looks like Go-Jek will need more time to create a seamless experience around this product.
Tiket.com was acquired by GDP Venture through e-commerce platform Blibli in 2017. The latter is also one of Go-Jek's investors. All these companies are part of the Djarum Group, a powerful Indonesian conglomerate.
As Blibli is already featured in its "recommended apps" section, it is possible that Go-Jek will also integrate the marketplace platform on its Go-Mall feature along with JD.id.
Adding travel booking options seems to become more and more important for on-demand platforms in Indonesia. Not long ago, Shopee added a flight ticket feature in collaboration with Traveloka, while two of Indonesia's biggest e-commerce platforms, Tokopedia and Bukalapak have already introduced a similar feature to serve the local travelers.
Go-Jek's archival Grab won't be left out and has recently also announced the addition of a hotel booking feature on its platform for Singapore users, in partnership with Agoda and Booking.com. For some users in Indonesia, that feature is already there.
The "super app" race is accelerating, but it remains to be proven that users can actually make sense and derive benefits from all the diverse services offered within a single app.
Editor: Nadine Freischlad