In the past two decades, riding on the tide of China's internet boom, tech giants like Alibaba, Meituan, and Didi have amassed millions of users and made significant earnings, becoming some of the most valued and influential companies in the world. Behind this development, millions of employees and gig workers were doing the grunt work.
In China, over 200 million people make their living by doing gig jobs such as ride-hailing services, food delivery, and courier activities, government figures from 2020 show. Most gig workers put up with low wages, non-paid overtime, tight deadlines, and other unfair treatments, according to a recent report by Beijing Zhicheng Migrant Workers Legal Aid and Research Center (BZMW).
Recent shopping events like Singles' Day also put further pressure on gig workers, with tight delivery deadlines and mounting workloads. For instance, from November 1 to 11 this year, postal and express companies delivered 4.7 billion parcels, up 20% yearly, data from the State Post Bureau shows.
To cope with the shopping bonanza demand, many delivery workers have had to work for over 14 hours daily to deliver up to 400 parcels every day, according to a report by news outlet Yicai. What's more, delivery workers were also exposed to payment deductions in case of late deliveries, customer complaints, or low ratings from different delivery apps.
Lost in chaos
As the COVID-19 pandemic has increased the number of people working from home, this has also raised the demand for delivery food in China. Wang Jin, a food rider who works for Meituan in Jiangsu, told KrASIA that he usually starts his day at 10:30 a.m. and works for 14 hours straight until around midnight, seven days a week. "It's a daunting job," Wang said. He delivers 40 to 60 orders daily and earns RMB 4,000 to RMB 6,000 (USD 626–938) per month. "Just enough to maintain my family," he said.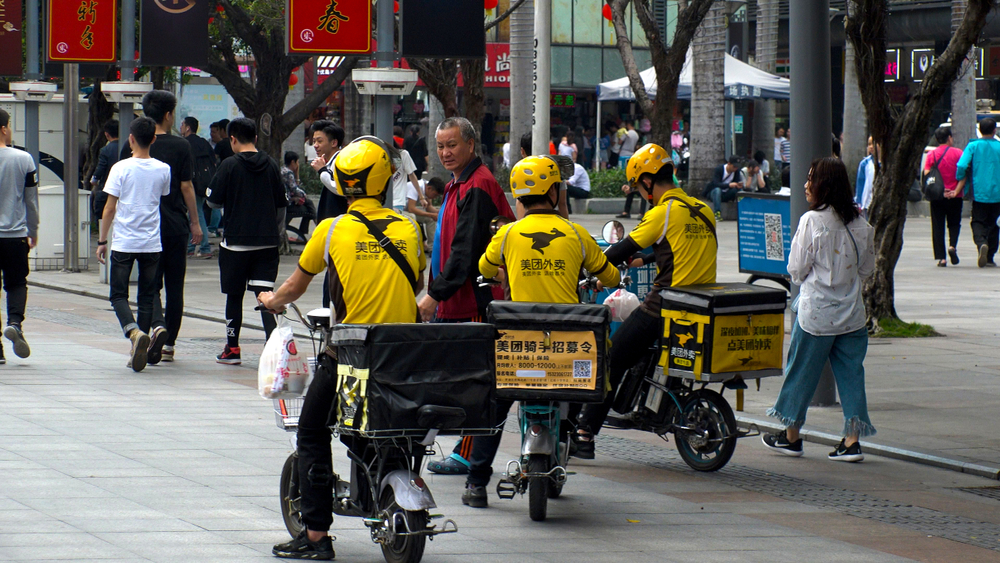 Wang is not a particular case. More than 95% of food delivery riders work over eight hours daily, while over 30% of them work more than 12 hours every day, according to research from Beijing Yilian Legal Aid and Research Center of Labor. The report highlights that over 72% of food delivery workers don't have a guaranteed minimum wage, as they are paid by delivery rate. To earn a decent income, gig workers have no choice but to extend their working hours, according to the report.
Further complicating the matter, most delivery workers have signed contracts with third-party agencies rather than the big tech companies they provide services to. The two largest food delivery companies, Meituan and Alibaba's Ele.me, have not hired full-time workers for delivery positions since 2015, according to BZMW's research.
This was confirmed by an Ele.me recruiter in Beijing, who preferred not to be named in this article. He told KrASIA that "almost all platforms" now recruit drivers, riders, and delivery workers through third-party agencies. These agencies are small firms responsible for hiring, managing, and paying workers. They usually sign up workers as "contractors," which doesn't give them access to minimum wages, overtime pay, or insurance and injury compensation.
Major Chinese delivery companies like ZTO and STO also use a similar franchise model, the recruiter said. To be "healthy, reliable, and hard-working are the only requirements for delivery jobs."
Franchisers also have a "lot of autonomy in choosing whom to hire, the contract's conditions, and the assignments for gig workers," according to Aidan Chau, a researcher at China Labor Bulletin. Many franchisers don't even sign a valid contract with their gig workers, Chau said, which complicates things in case of a labor dispute. "Sometimes, it's even difficult to prove a labor relationship between a delivery station and a courier," Chau told KrASIA.
Hopes for the future?
Despite the complex situation, some developments have been taking place on this front since the Chinese government released new regulations governing delivery and ride-hailing platform companies in July.
Among the new rules, all categories of gig workers, including drivers, food delivery workers, and couriers, should receive wages no lower than the local minimum wage. Gig workers should also be insured by their employers. Last week, regulators also unveiled specific new guidelines to protect gig drivers' rights in the ride-hailing industry, with measures to ensure fair pay and adequate rest time for drivers. There are 236 registered ride-hailing platforms in China, with millions of drivers who make their services available through these apps.
Since the release of the new regulations in July, authorities have also taken steps to ensure companies are following suit. In September, the State Administration for Market Regulation (SAMR) summoned 11 ride-hailing companies and ordered them to safeguard their drivers' labor rights and halt all business actions that "disrupt market order." Among the inquired companies were Didi and state-backed Shouqi Yueche.
The same month, the SAMR also met with representatives of ten of the largest Chinese internet companies—including Alibaba, Tencent, and JD.com—and told them to "rectify" existing problems within their platforms. The regulators asked companies to safeguard workers' labor rights, according to state media CCTV.
The inquired companies pledged to comply with regulations to provide a better working environment. Meituan warned its over 1,000 delivery stations across the country to stop registering food delivery workers as independent business owners, asking them to provide proper contracts, according to a company statement released in September, as reported by Sina. Didi and JD.com, meanwhile, both created labor unions that will be affiliated with the All-China Federation of Trade Unions, a government-backed national-level labor organization.
Chau, however, cast doubts over the validity of such statements and the creation of unions to protect workers. "Different from traditional labor unions that people would think of, they don't represent workers to negotiate for more rights with the employers," Chau said. Instead, these unions "usually stand out to settle disputes, and workers won't go to the unions for help as they don't usually trust them," he added.
"The current system is hard to change, as it is designed to push the workers to work more. There will be a huge cost for companies if they're to provide insurance for every gig worker," Chau added.
It is still unclear how the situation will evolve, but Wang, the Meituan delivery rider, has already decided to quit ferrying meals soon. "I used to believe that I could make good money as long as I worked hard, but reality failed me. I might save a bit more and then return to my hometown to start my own small business. I want to work for myself," he said.