Novan Arif was working as a customer service agent at Indomaret, one of Indonesia's largest convenience store chains, in 2016 when he heard about a promising new job opportunity—becoming a driving partner for a ride-hailing platform.
Uber, Grab, and Gojek were the talk of the town at that time. The companies were recruiting anyone with a license who wanted to join their driver pools. Uber and Grab entered Indonesia in 2014, while local player Gojek introduced its mobile app in January 2015.
Motorbike taxis, also known as ojek, were not a new thing in Indonesia. However, ojek were not easy to find on the street, and it was difficult to book them in advance. The service was unregulated, drivers would charge variables fares as they pleased, and helmets for passengers were never guaranteed.
Ride-hailing platforms revolutionized the game. They set a standard service with regulated and lower prices, used algorithms to optimize matches, and offered users the opportunity to rate drivers' services. What's more, users could conveniently book services on their apps, instead of waiting on the street to catch an ojek. On-demand motorcycle taxis are now customary in cities across Indonesia.
Arif joined two platforms at once—Grab and Gojek. He was a motorcycle taxi driver for Grab and as a courier for GoKilat, Gojek's same-day delivery service that is now called GoSend.
In the beginning, he saw these gigs as sources of additional income. He kept his regular job and would drive for Grab and Gojek in the mornings and evenings, sometimes even during weekends.
"The income exceeded my expectations," Arif told KrASIA. "I decided to resign from my main job after three months to work full-time as an online motorbike taxi driver."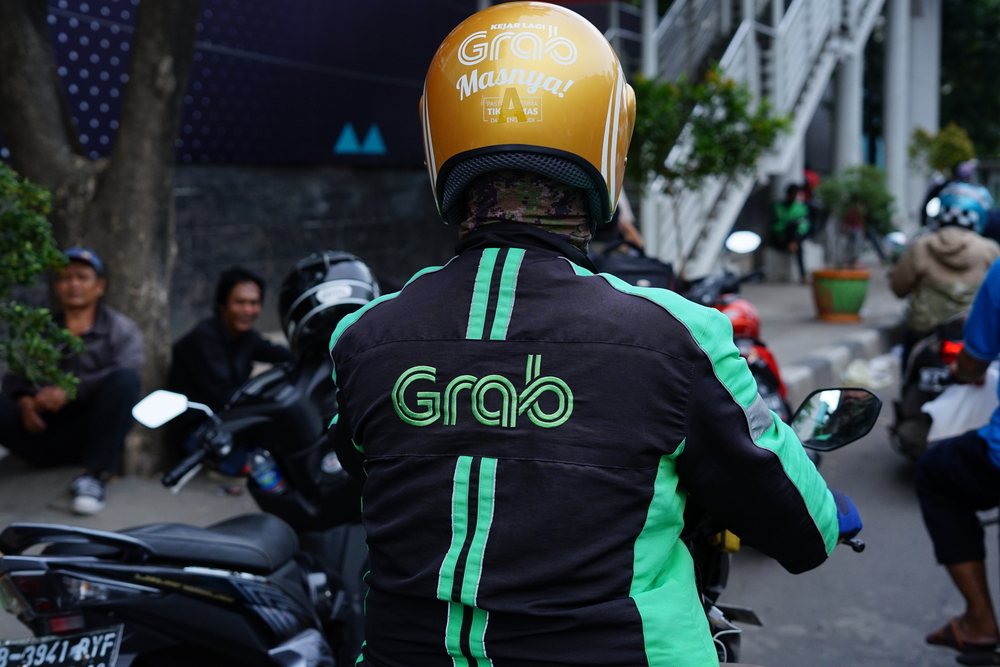 A breakthrough for the informal sector
2016 to 2018 were the "golden years" for ride-hailing driver-partners, Arif said. He could earn as much as IDR 200,000 (USD 14) per day, or IDR 5 million (USD 346) per month, driving customers or delivering food in Jakarta. Five days per week. Eight to ten hours per day. The income was above Jakarta's 2016 monthly minimum wage of IDR 3.1 million, and better than Arif's previous salary at Indomaret.
"Back then, there were not as many online motorbike taxi drivers as there are today, so it was easier to get passengers. In the beginning, these apps only took a 10% transaction cut from drivers, so it was very profitable for us," Arif told KrASIA.
As the competition between ride-hailing platforms intensified, in 2018, Grab acquired Uber's Southeast Asia business, marking the real beginning of the rivalry between Grab and Gojek. The government also stepped in to set new regulations for the sector in 2019, including minimum tariffs and standard measures for safety, security, and amenity for both drivers and passengers. Both Grab and Gojek increased their transaction fee to 20%. 
Despite higher fares, ride-hailing apps were more popular than ever in the country. More and more customers from all Indonesian cities were switching from conventional ojek to online ride-hailing services, thanks to their convenience and affordable prices. Gojek employed over a million drivers and processed more than 100 million transactions for 25 million monthly users in 2019, Fortune reported.
For drivers, the income was stable and reliable, and their schedule was flexible, even though none had a full-time contract with social security coverage. According to Universitas Indonesia's research, the average monthly income of a GoCar driver-partner was IDR 6 million in 2018. Unsurprisingly, ride-hailing platforms attracted thousands of new driver-partners every year, even enticing those who previously worked in more formal settings, where they could sit comfortably inside air-conditioned offices.
Marketing executive Mirza Gunawan was one of the people who left a white-collar job to become a driver. He started to ferry passengers for Gojek after work in 2018, and became a full-time ride-hailing driver in February 2019, when he was laid off by his company in Jakarta.
"Instead of doing nothing at home, I worked as a GoCar driver while continuing to apply for new jobs. In 2019, I could get about IDR 5.5–6.5 million per month, which was enough to pay for gasoline and my car installment," he said.
"Ride-hailing apps are beneficial for people like me, who struggle with getting steady jobs," Gunawan said. "It took me eight months to land a new job. Before Grab and Gojek, I wouldn't be able to earn anything in those periods and needed to borrow money to survive. At least by being a driver, I could still fulfill my basic needs." Today, Gunawan still drives passengers, mostly during weekends.

COVID-19 turned the world upside down for motorbike taxi drivers
Indonesian online motorcycle driver association Garda estimates that there were about 4 million ride-hailing motorbike taxi drivers in the country in 2020, the majority of them working for Grab and Gojek. They're all part of the gig economy, a system where companies and independent workers form on-demand relationships that are flexible and skill-based.
As labor markets in developing countries remain largely informal, the gig economy is seen as a way to provide opportunities for millions of workers. In May 2019, gig workers made up 4.5% of the 129.36 million workers in Indonesia, or around 5.89 million people, according to data from Indonesia's Central Bureau of Statistics. The number is projected to increase yearly. 
"The gig economy is in line with the behavior of millennials and Gen Z who prioritize flexibility and independence in their work and daily activities," Mevira Munindra, senior research manager at IDC Indonesia, told KrASIA.
"The concept provides a win-win solution for both employers and workers. While employers can manage work more efficiently, gig workers have a bigger opportunity to expand their experiences and develop their competitive skillset," Munindra said.
However, there are downsides. Gig workers are not formally employed by the company using their services, so they have little to no job security. They earn based on the demand for their services. They also have limited employment benefits such as health insurance, paid leaves, annual bonuses, and other advantages.
That's why when COVID-19 made its way across borders and disrupted our lives, gig workers were among the most severely affected people. Lockdowns and social distancing measures implemented in Indonesia led to a drastic decrease in demand for transportation and other on-demand services. Over 86% of gig workers experienced a decline in income after the pandemic, according to a study by Flourish Ventures.
The report indicates that nearly four out of five Indonesian gig workers earned less than USD 100 (IDR 1.4 million) per month after the first lockdown, which lasted from April to June 2020. That's far below Jakarta's current minimum wage of IDR 4.2 million.
Motorbike taxi drivers took the hardest hits, as they usually are part of low-income groups. Arif said that his income significantly decreased during the pandemic. He also failed to pay his motorbike installments, and he ended up losing his bike in September.
Arif continues to ferry passengers using his brother's motorbike, but he earns just enough to afford his three daily meals, taking in just about IDR 50,000 (USD 4) each day, the 24-year-old driver told KrASIA.
Feby Yulianti, a Gojek driver in South Tangerang, is down on her luck too. Before the pandemic, she could make IDR 100,000 to IDR 150,000 per day driving customers and delivering food, but now, she's barely earning half that sum. Her orders have dropped sharply, she said. On average, Yulianti only gets one order every three hours.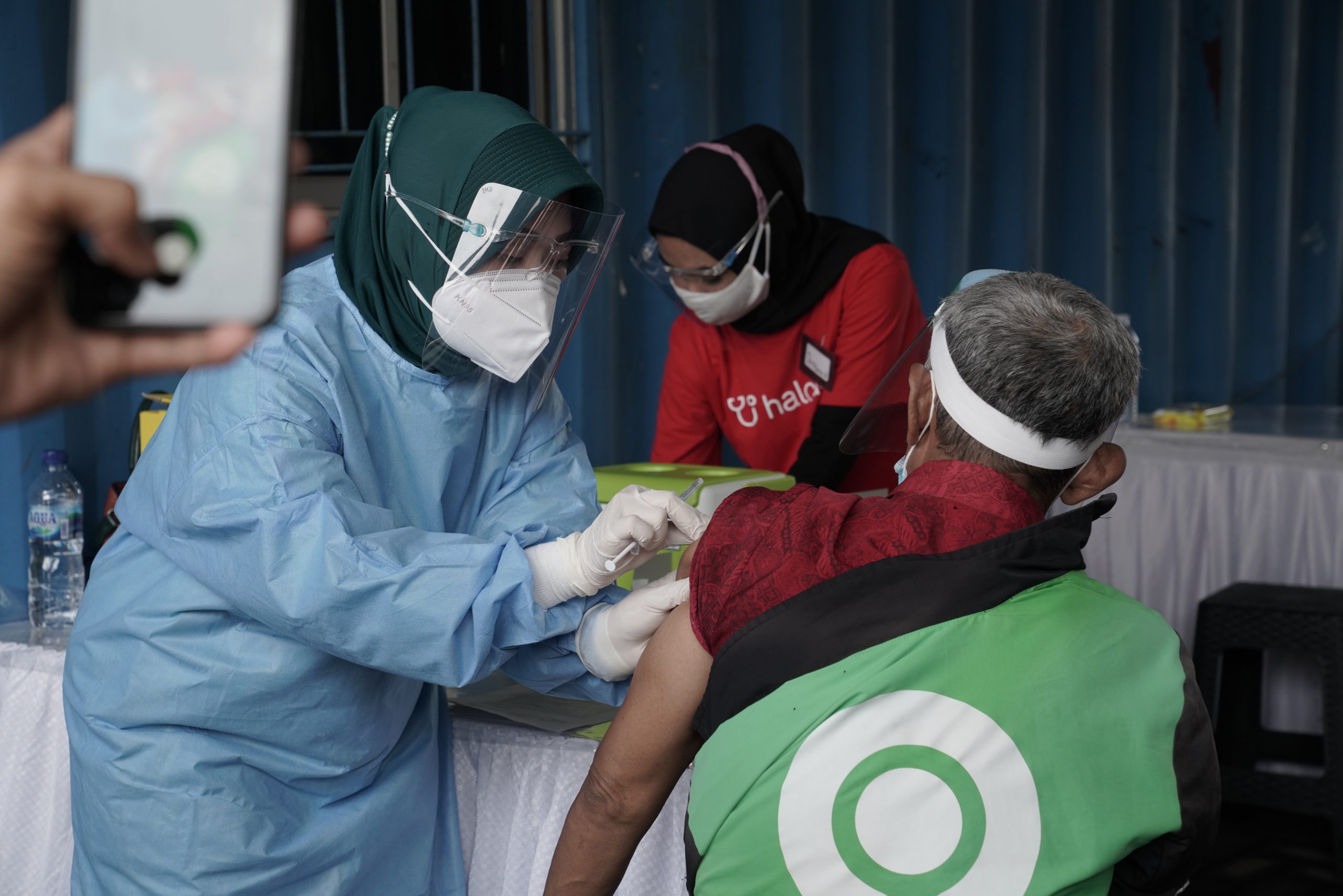 Both Gojek and Grab have tried to roll out several initiatives to support drivers, merchants, and other partners whose income has been adversely affected by the crisis. Senior leaders from both companies have also reportedly cut their own salaries for a year to fund programs that include distributing baskets of staple foods, vehicle loan relief, and income assistance programs for drivers who were diagnosed with COVID-19 or are in mandatory quarantine.
However, the impact of these social programs has been limited. "Unfortunately, I didn't use the loan facility from the company so I couldn't benefit from its loan payment relief," said Arif.
Yulianti said she received packages with staple foods twice last year, but "not every driver gets it." She didn't know if there are specific criteria for drivers to receive the aid.
Independently founded driver communities have come to the rescue in different ways. "I joined two communities, Bintaro, and South Tangerang. If a driver has an accident or has troubles with his vehicle, he'd inform his community through group chat, and the leader will contact other communities in the area where the accident has occurred so they can immediately send assistance," said Yulianti.
Initially, driver communities were intended to be channels where drivers could share information, but today, they offer more than that. Each community has been collecting small amounts of money from its members for an assistance fund in case disasters strike, such as with COVID-19. "Through communities, we share burdens and take collective action when needed," said Yulianti.
The pandemic has revealed some of the problems of the gig economy, IDC's Munindra affirmed. Yet, she believes there is hope for a better gig ecosystem. Stakeholders like the government and private parties should work together to develop an open ecosystem where gig workers can develop new skills to capture new opportunities and thrive in a changing digital economy.
An example is the Pre-Employment Card Program, an initiative launched by the Indonesian government as part of its National Economic Recovery Program (PEN). The initiative aims to provide aid to job seekers by granting them access to a broad range of training opportunities as well as funding. For its 2021 batch, the program has set a target to reach 2 million beneficiaries, with 500 thousand of them receiving training from the Ministry of Manpower.
"Indonesia has a unique demographic profile. The majority of our population is in productive age, creative, and open to embracing new trends. Therefore, gig workers, especially in the informal sector like ride-hailing motorbike drivers, need to develop their skills to fill the talent gap," Munindra said.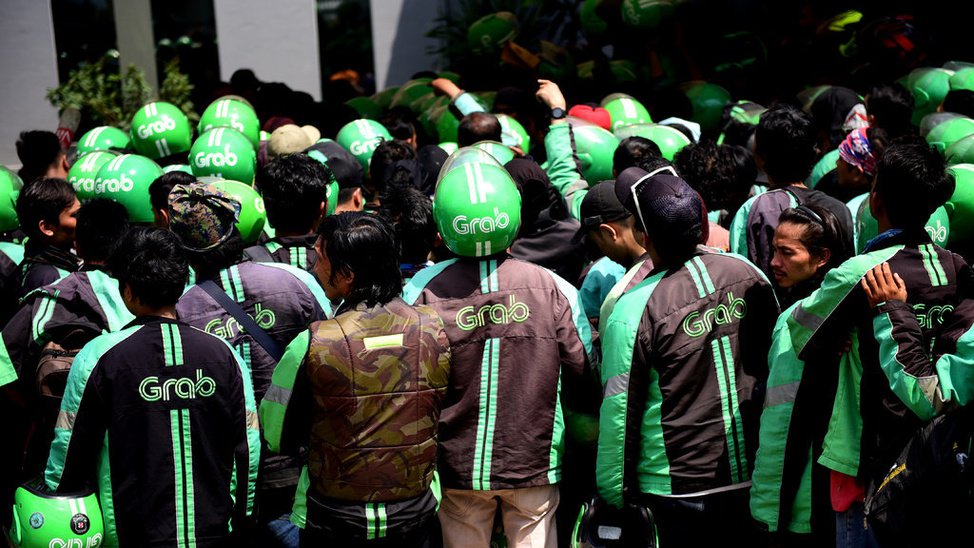 New opportunities 
The pandemic is forcing gig workers to find new ways to stay afloat.
Arif has been an e-commerce merchant since last year, reselling household items and snacks via social media platforms and Tokopedia. Meanwhile, Yulianti recently joined the Shopee platform to deliver food and last-mile deliveries through ShopeeExpress and ShopeeFood.
"Shopee's delivery service is pretty new, but it is quite helpful to fill the lack of orders from the Gojek app," she said. Yulianti earns IDR 60,000–100,000 (USD 4.25–7) per day porting goods and food through the Shopee app. Since Shopee's e-commerce site is well known among Indonesian consumers, she is confident that its delivery platform will see significant demand.
Arif feels less rosy about his new source of income. Online sellers are abundant, and many of them already have loyal customers, so it is not easy for newcomers like him to get buyers, he said. Arif hopes to get another loan to buy a new motorbike soon. Like Yulianti, he believes there are other opportunities in the logistics and delivery field.
"Owning a motorbike is very important because there are many opportunities for goods delivery services besides Grab and Gojek right now, such as Anterin and ShopeeExpress. I still want to work in the transportation sector due to its flexibility. I can join multiple apps at once," Arif said.
Arif is also spending his spare time browsing the internet to find free online learning resources that could help him gain new skills. 
"I like to cook, so I want to learn more about that, and about building a small business. I hope, one day, I'll have enough money to open my own warteg [street food stall]. Luckily, there are many articles and cooking tutorial videos on the internet so I can learn easily," he said.

This article is part of KrASIA's "Tech in Culture" series, where the writers of KrASIA unpack how tech is changing the status quo across Asia.