If you've ever wished you could hire help for a casual task, Quest is your solution. Launched in 2021, the app is a platform for both posting and seeking freelance gigs—and these could literally be anything, from hiring packers to requesting graphic design work or getting event assistance.
Its primary users are Gen Z between the ages of 16 and 25, though technically, anyone can use it. Founder Evan Chow came up with the idea of Quest when he was still serving National Service and had a craving for cereal one day while stuck in camp. Although delivery services like Grab were already in existence at the time, what he wanted was a user-to-user platform where he could put out his request. "I was sure someone, somewhere in the area, had the Koko Krunch I wanted and was willing to share," he said.
However, it was only in university a couple of years later that Quest was born. Together with a core team that consists of Matthew Wu (CPO), Craig Choy (CTO), and growth lead Jared Hong, Chow first tested the market demand using a messaging platform and later developed the app.
Today, Quest is a fully-fledged community platform where people share and respond to requests, earning money as a side hustle along the way. One can put out a temporary job offer, ask for an errand to be run, or even make unconventional requests, such as catching flying roaches.
While at first glance it appears haphazard, it is this sheer diversity of requests that fulfills its mission of letting its users earn anywhere, anytime. Its casual, no-strings-attached nature also enables speed, an aspect that more heavily-structured platforms may lack. With a user base of some 60,000 Gen Z'ers looking for work, it's quick and easy to hire someone.
KrASIA spoke with Evan Chow to find out more about the role Quest plays in the gig economy.
The following interview has been consolidated and edited for brevity and clarity.
KR: How do you differentiate yourselves from other freelancer platforms, like Fiverr?
Evan Chow (EC): The nature of Quest is that it caters to very short, non-professional gig work. Gen Z'ers like myself don't necessarily want to list ourselves on a freelancer platform like Fiverr because platforms like that usually require specialization, something we might not have at our age and experience level. You might have a Gen Z'er who can design a really good pitch deck or edit videos, but they wouldn't necessarily market themselves as a designer. These people can get work on our platform, usually for businesses or individuals who just need a single item done quickly.
Another thing is speed. We're primarily a request-based platform, so you can just put your request out there and within thirty minutes you can have ten responses. And they'll do a good job.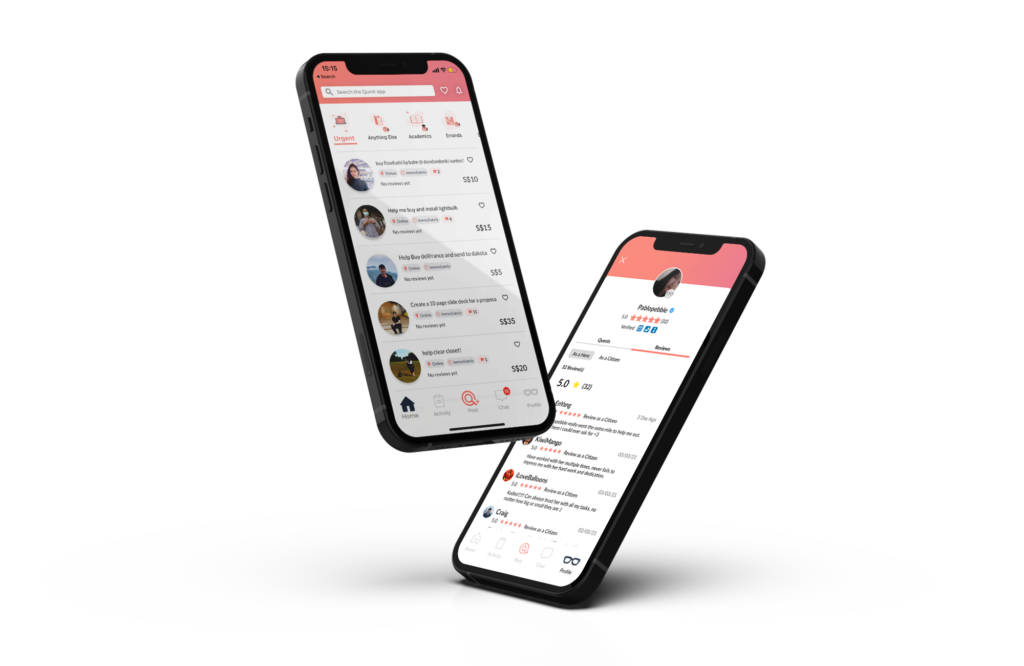 KR: How do you ensure credibility of the users—both the requesters and the service providers—on the platform?
EC: Credibility is one of the hardest things to ensure, but we do have a few levels of checks in place. The first level is that our algorithm checks and removes trigger words that might indicate unethical requests. For instance, we got a huge influx of users after one of our TikTok videos went viral, and requests like "please help me buy cigarettes" began popping up. We created the censor to help us remove requests like that.
Secondly, our team is also constantly monitoring the app in person, so we're personally on the lookout all the time. Finally, we have a great user base of early adopters who function as informal moderators. They help to report scams and anything that looks suspicious. There have been times when an unethical request has been reported within minutes. We're really proud that we have this community of users who are always looking out for us and each other, so we're thinking of giving them more power to officially moderate requests in the future. Another thing we're working on is Singpass verification for peace of mind.
KR: Tell us more about your business model.
EC: We underwent a change for the business model. Initially, we started out by taking a fee of 10% for each transaction. However, we quickly realized this would discourage people from transacting within the app itself. And at this stage, our most important aim is to ensure people follow through with the app experience, including giving a review at the end, so building trust was more important.
We wanted to find another way to monetize this network while still providing value to the community, so we came up with a concierge service. Businesses and individuals approach us and let us know if they need people to do, say, a flash mob for a publicity event. We can provide the service very quickly, using verified responders that already have at least a few five-star reviews. With the concierge service, we're able to monetize things.
KR: What were the first few months like when you first launched?
EC: Prior to launching the app, we had a Telegram channel where we tested the product by posting jobs there. Requesters would send in their jobs or requests through a Google form, and we'd post them on the channel. The response was good—we had a pretty strong community, around 5,000 users. When we developed the app, we needed to move all of them over. It didn't magically happen. We had to tell them that it would be more convenient for them to post and respond to requests.
Then we got lucky about one month in, when one of our TikTok videos went viral. We'd chosen the platform because that's where a lot of Gen Z'ers are. Our efforts to learn the algorithm paid off, and the video brought another 3,000 to 4,000 users into the app. That was a pivotal moment because once our user base expanded, the response rate to requests shot up and things got done really quickly.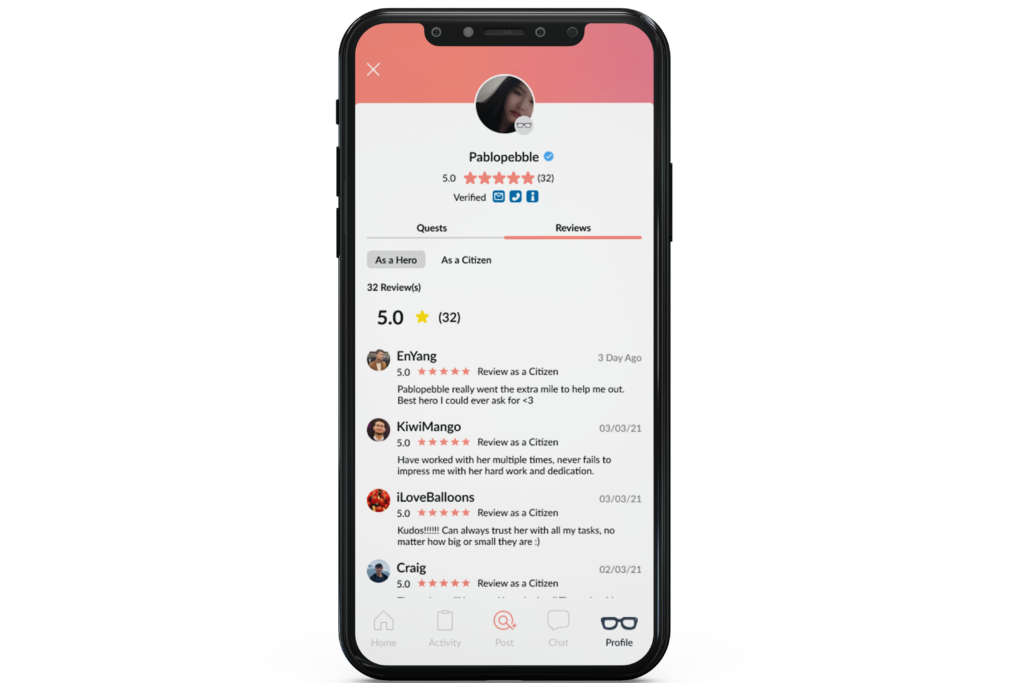 KR: And these users can be either a requester or responder, right?
EC: Yes, we call requesters "citizens" and responders "heroes," in accordance with the whole Quest metaphor. The thing about our app is that you can be both at the same time. It's flexible enough that you can earn money and also get help from another person when needed.
KR: What are your thoughts on the current job market and work philosophy for the Gen Z population?
EC: We're all in our late teens or early adulthood right now, graduating around the time the global pandemic happened. So a lot of us are very uncertain about the future: whether we can get jobs, whether we can afford things especially when they're so expensive now. There's a misconception that Gen Z is the strawberry generation. But I will say that most Gen Z'ers are really hustlers in their own right. They have different skills they want to monetize, and we want to empower them to do that.
The job market is really scary now. I'll give you an anecdote: I recently posted on Quest asking for someone to deliver flowers for my mom's birthday. This person who responded said he was willing to go all the way to Serangoon from Jurong West for just SGD 20 (USD 14). What I didn't expect was that he would be someone who just graduated with a degree in computer engineering. He said he couldn't find a job in this market, and was taking any jobs he could get through the platform.
Although we're positioning Quest as a side income platform, it's really the main income platform for some.
KR: How do you foresee the gig economy performing now that we are entering the post-pandemic era?
EC: I will say that the gig economy will continue to boom. From a business perspective, now that things are more remote, it makes more sense to rely on gig workers for short-term hires. You don't have to hire a full-time social media person, for example, when you can just get a gig worker or freelancer to just post a few social media posts a week. It's much more efficient with lower costs.
And getting a gig worker doesn't mean the quality of work suffers. We've been seeing more and more businesses hire short-term workers through Quest, so in general, I think the gig economy will continue to flourish even after the pandemic.
KR: Any plans for expansion beyond the Singapore market?
EC: Yes. We're currently raising an USD 600,000 seed round, and we're about 30% there. We're planning to go into other parts of Southeast Asia next, starting with the Philippines by the end of October. A large part of our TikTok audience is from other SEA countries, and we actually have long waiting lists in countries where people are asking us to expand into.
The Philippines is a market we're very excited about. We're planning to launch in collaboration with a few university campuses there, allowing local students to download the app. This is something we hope to grow in the following months. We hope that with the campuses, we can build a large enough base of reliable users. From there, we can build a playbook for entering other markets like Indonesia and Vietnam.
KR: Will you be allowing cross-border services, then?
EC: Not at the moment. We want to make sure that the Singapore "heroes" can earn from the Singapore "citizens" without having to compete with "heroes" from other countries. Also, there are a lot of local requests that can only be done on site, like delivering things. So we'll really need to see how the two markets play out first before we consider cross-border services.