Chinese authorities have apparently suspended the licensing of new video games, a move that comes as the government limits gaming by children and as app stores deplatform unauthorized titles.
China normally issues licenses for new games once every month. But the last approval was granted in July, echoing a similar situation that occurred in 2018.
This time around, authorities did not announce a stoppage of new licenses, nor did they give a reason. Investment bank China Securities speculates the pause in new licenses is the result of a confluence of separate policy initiatives.
"Multiple projects at my company have been halted because of the license freeze," said an engineer at a midsized developer in Guangdong Province, home to much of the gaming industry." I worry that staff might be cut" if the licensing suspension persists.
As of late, China has been tightening its scrutiny of the media and entertainment industry. In August, for example, a crackdown was launched against online groups that pressure fans into joining celebrity crowdfunding campaigns. Many believe that the halt of game licenses is an extension of this state-led campaign.
Corporate earnings are not expected to be immediately impacted. Developers often hold games even after they have been licensed so they can monitor competing titles and other market conditions.
Developers can weather the storm by extending the holds on the backlog of approved unreleased games while working to expand the number of fans of existing titles. However, the license freeze is still a cause for concern.
Another threat comes from China's attempt to regulate children's gaming activities. In September, the government limited the time that minors under the age of 18 can access online gaming services to one hour a day on weekends and on holidays.
Big name developers derive a small percentage of revenue from sales to minors. But the policy risks estranging children from the gaming industry, which would translate to a loss of future adult customers.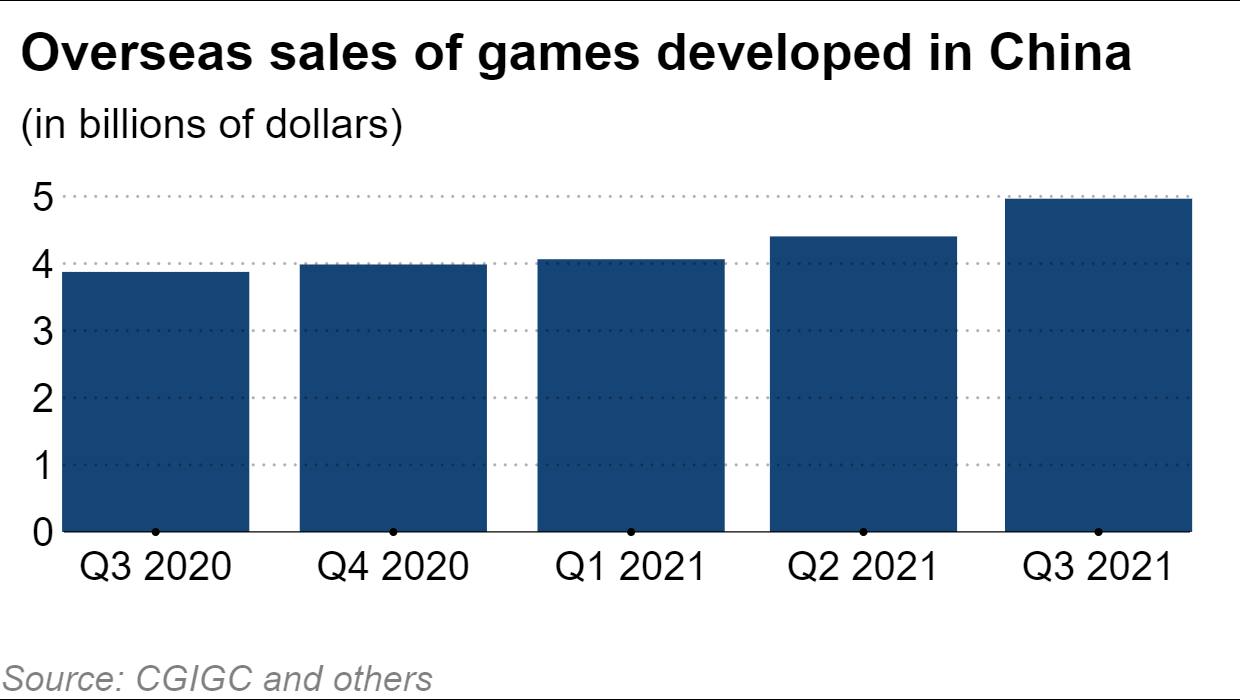 Platforms from which games are downloaded present the third risk factor. During the 2018 suspension of game licenses, there was a gray zone in which certain platforms were willing to carry titles that were unlicensed, or carried fake certifications.
But in the summer 2020, the Apple purged more than 30,000 unlicensed games from its Chinese app store. In this new environment, game companies are now forced to develop new areas of business.
NetEase, the second biggest game developer in China by revenue, has turned to the so-called metaverse, which is a sort of virtual-reality-driven internet. The company last month invested in Next Generation, a Beijing startup that produces virtual idols, some modeled on real-life actors and performers.
Tencent Holdings, the world's leading game developer, is busy developing markets overseas away from China's regulatory reach. TiMi Studio Group, the subsidiary that produced the hit Honor of Kings, announced last month that it launched independent game studios in Seattle and Los Angeles. Those locations are the first for the company in the US, the second-biggest gaming market after China.
Chinese-developed games raked in USD 4.9 billion in the third quarter, according to the China Game Industry Research Institute, up 13% from the second quarter. This represents a surge from the modest quarter-to-quarter growth of about 2%.
The government is encouraging the gaming industry to expand beyond China's shores.
"We need to further raise awareness for internationalization," Yang Fang, vice-director of the Publishing Bureau of the Communist Party's Central Publicity Department, said during a July expo in Shanghai.
For smaller developers, the regulatory storm in the Chinese market has been damaging. The failure of minor players could grant space to larger industry players to develop oligopolies.
This article first appeared on Nikkei Asia. It's republished here as part of 36Kr's ongoing partnership with Nikkei.