Almost a year after the unceremonious exit from India's leading e-commerce company Flipkart he co-founded, Binny Bansal has decided to liquidate a part of his share worth USD 14 million to New York-based hedge fund Tiger Global last month, his third sale in a short span of a little over a year as the entrepreneur turned around to become an angel investor.
According to regulatory filings accessed by data intelligence firm Paper.vc, Binny Bansal transferred his share to two separate Tiger Global funds, Internet Fund III Pte Ltd and Tiger Global Eight Holdings.
This is the third time he has sold his stake in now Walmart-owned Flipkart after the US-based retail giant bought 77% stake in the local e-commerce player for USD 16 billion last May. During Walmart's takeover, Binny Bansal sold his stake worth USD 159 million leaving him with 3.85% in Flipkart. In June this year, he sold about 0.33% shares worth USD 76.4 million to Luxembourg-based FIT Holdings SARL, also owned by Walmart. This time he has sold less than 0.52% and still owns a little over 3% of Flipkart.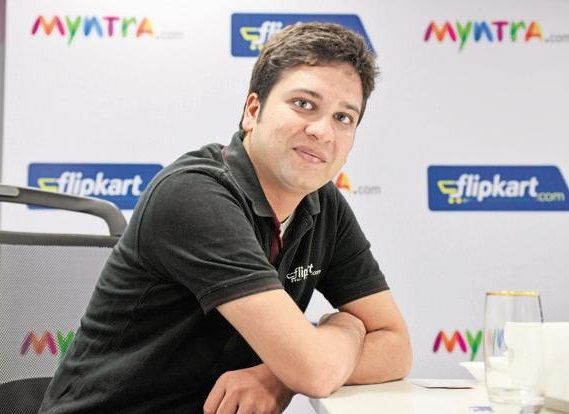 As part of his agreement with Walmart, Binny Bansal is free to sell close to half of his stake in the company by 2020. On the other hand, his other co-founder Sachin Bansal (unrelated) was given the green signal to offload all his shares—5.5% for about USD 1 billion—as part of the buyout process that also saw his abrupt exit from the company he co-founded in 2007.
In a Facebook post Sachin Bansal had then written, "Sadly my work here is done and after 10 years, it's time to hand over the baton and move on from Flipkart."
For Binny Bansal, his exit from the company—about six months after the acquisition—was not as silent as his co-founder. According to the acquisition deal he served as chairman and group CEO of Flipkart but was forced to resign after allegations of "serious personal misconduct" and lack of transparency were leveled against him.
"While the investigation did not find evidence to corroborate the complainant's assertions against Binny, it did reveal other lapses in judgment, particularly a lack of transparency, related to how Binny responded to the situation. Because of this, we have accepted his decision to resign," Walmart said in a statement.
Both the co-founders since their exit from Flipkart have launched separate ventures to invest in and help early-stage startups. Binny Bansal, along with his former colleague at Flipkart founded a startup consultancy xto10x Technologies out of a co-working space in Bengaluru. He has also backed a VC fund O21 Capital (pronounced as zero to one) along with a Mumbai-based venture debt fund Alteria Capital.
Sachin Bansal founded BAC Acquisitions in December last year to lead venture debt financing in mid-stage startups and has invested in various startups including scooter-rental companies Bounce and Vogo, consumer electronics company Boat, medical diagnosis company SigTuple, and cab-hailing behemoth Ola.