Indian e-commerce companies that saw their business dwindle during the lockdown earlier this year finally have a reason to rejoice.
Flipkart Group and Amazon India have collectively raked in over 90% of the total sales of USD 4.1 billion by e-tailers in the country in the first week of the festive season sale this year, according to a report by market tracker RedSeer Consulting. This is a 55% increase compared to USD 2.7 billion worth of gross sales in the first tranche of festive season sales last year.
"This points to a revival of consumption sentiment amongst Indian shoppers, where they have been shopping online in big numbers driven by massive selection, great prices, and the convenience and safety of shopping from home," said Mrigank Gutgutia, director at RedSeer Consulting.
Homegrown e-commerce firm Flipkart, which was acquired by American retailer Walmart in 2018, raced past its rival, Amazon India.
According to RedSeer, Flipkart group which includes its fashion portal Myntra, garnered 68% of the total value of goods sold by Amazon and Flipkart. The Bengaluru-based e-commerce firm has deeper footprints beyond metros and tier 1, which helped it gain an edge over its American rival. "We cannot comment on speculative reports without transparent methodology," an Amazon India spokesperson told local media Economic Times.
Typically, both the e-tail giants host their respective flagship sales in the country as the first wave of festive season starts in October. With other festivals that dot the months leading to December, online marketplaces come up with three smaller sale promotions. However, this year, Amazon has decided to keep its 'Great Indian Festival' alive for a whole month.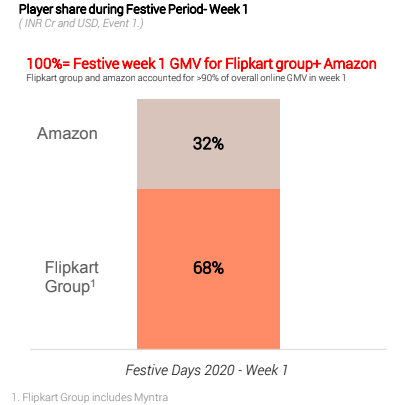 The first of these sales usually accounts for 60% to 75% of the total sales during the festive period, according to various market research agencies.
The USD 4.1 billion sales by e-tail firms came on the back of the massive spike in the number of online shoppers during the lockdown.
The total shoppers during the first week of festive sales jumped from 28 million last year to 52 million this year, an increase of about 85%. Of these, over 55% shoppers were from tier-II cities like Asansol, Ludhiana, Dhanbad, and Rajkot, among others.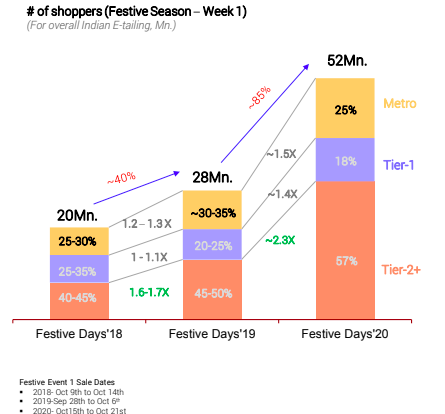 This is a "landmark achievement" for e-commerce, which implies Indians' growing comfort with online shopping, the RedSeer report said.
"Given the tier-II skew of the shoppers, buyers preferred affordable price ranges this year for almost all product categories, instead of expensive items," the report noted. "The platforms enabled affordability this year with aggressive tie-ups through brands and financing deals, coming on the back of a bleak, pandemic-affected year."
As a result, the GMV (gross merchandise value) per customer dropped from INR 6,800 last festive season to INR 5,500 this time around. However, the steep rise in online buyers boosted total sales.
Mobile devices emerged as the largest category with INR 15 million worth of smartphones sold every minute across the online platforms.
Smartphones contributed to 47% of total festive sales, driven by new launches and affordable models. On the other hand, fashion category, which is one of the top categories during sale periods, showed muted contribution of 14%.
Meanwhile, long tail categories including 'home and home furnishings' have done better due to the high demand for work-from-home and study-from-home infrastructure, it added.
Analysts at RedSeer expect the festive season 2020 to play an important role in driving the e-commerce market to USD 38 billion in size this year.
"India's e-commerce space has ample room for growth to accommodate many large players including Flipkart, Amazon, Reliance, and many others," the report said.