The Thailand-based e-commerce startup Fanslink has closed its pre-Series A round, bagging millions of dollars from Ondine Capital. The company runs Pando Selection, an all-around platform hosting a wide variety of Chinese consumer products in categories such as electronics, smart home appliances, personal care, and pet care.
Pando Selection includes a B2B platform targeting smaller retailers and companies which buy in bulk for corporate use, traditional "bricks-and-mortar" shops, and online stores on e-commerce platforms such as Lazada and Shopee. It makes use of well-known online celebrities and is nurturing its own influencers to sell goods via livestreaming on platforms that include Facebook and TikTok.
Pando Selection plans to launch its own app in the future, Fanslink founder Frank Guo Chaopei told KrASIA in an interview on Tuesday.
Guo revealed that the cash from Fanslink's pre-Series A round will be used to upgrade its B2B e-commerce platform, to develop the livestreaming business, and to seek additional suppliers. Pando Selection, which already lists dozens of brands including Xiaomi, smart wearable device maker Huami, vacuum cleaner Deerma, and electrical toothbrush maker Soocare, aims to host 200 Chinese brands by the end of next year, he said.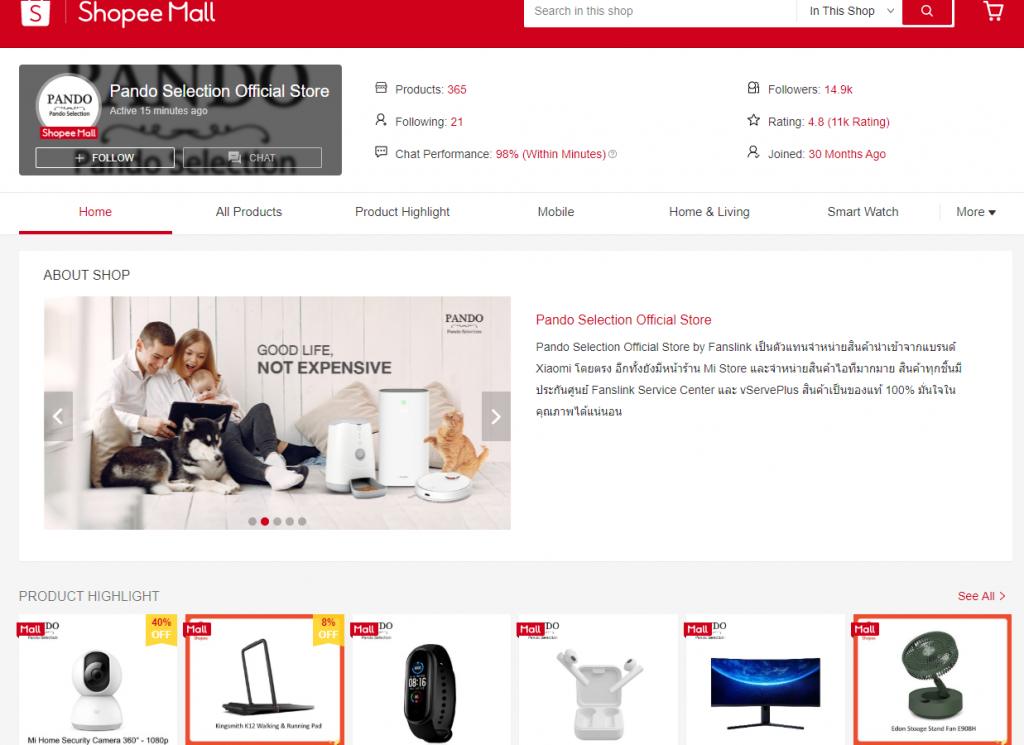 Guo, a Chinese who has been working and living in Southeast Asia for more than 15 years, set up Fanslink in June 2017 to capture the potential for consumer goods in the region.
Consulting firm Bain & Company predicted in March 2019 that 50 million new consumers will join the ranks of the middle class in Indonesia, Malaysia, the Philippines, Thailand, and Vietnam by 2022, contributing to the region's USD 300 billion disposable income.
Guo started in Thailand by introducing Xiaomi smartphones to consumers via e-commerce platforms such as Lazada and bricks-and-mortar stores in the country. The company handled the post-sales service.
In March 2018, his startup reaped more than THB 100 million (USD 3.2 million) in revenue just from selling Xiaomi products. After that, Fanslink managed to add more brands.
"It is difficult for consumers to remember more than 10 brands," he said. "We would like people to know that Pando gathers good-quality Chinese products."
Unbridled growth
Fanslink has been doing well financially. The company broke even as early as June 2018, just one year after its founding, generating USD 50,000 in net profits that year, and USD 1.8 million in 2019.
Guo expected the company, which now has 150 employees, to make USD 3.1 million in net profit in 2020 and a further USD 16 million in 2021, based on the belief that the B2B business will soon gain momentum. Fanslink also plans to expand to Indonesia, Vietnam, and the Philippines.
"The fast expansion poses a great challenge to the management," he admits. Nevertheless, Guo eyes an initial public offering on the Hong Kong Stock Exchange, possibly in 2022.