Rachmat Kaimuddin was taken by surprise last year, when Bukalapak's co-founders and shareholders approached him with an offer to become CEO. For him, it was a dream come true—he had always wanted to be a part of an organization that carries a positive impact on society. Bukalapak, with its mission to create a fair and equitable economy for Indonesians, has empowered micro, small, and medium enterprises (MSMEs) to take their businesses online. Kaimuddin wanted to take that even further.
"I was surprised that [Achmad] Zaky [Bukalapak's co-founder and former CEO] was leaving and I was selected as his successor. Zaky is an icon in the Indonesian tech sector. But [he] said that Bukalapak will need my experience and expertise to continue its journey to sustainability," Kaimuddin told KrASIA in a recent interview.
Like some major figures in e-commerce, Kaimuddin has a storied resume. He started his career as a hardware design engineer when he was hired by Teradyne in the United States in 2001, after he graduated from the Massachusetts Institute of Technology. He received a postgraduate degree from Stanford University in 2008, and spent nearly ten years working in top management positions at several notable companies in aviation and the cement industry in Indonesia. Then, Kaimuddin served as director of finance at private lender Bank Bukopin before landing at Bukalapak.
As a company with a decade's history, Bukalapak is eyeing profitability, and its shareholders believe that Kaimuddin is the right person to help them reach that objective.
The CEO said that many operational strategies in banking can be applied to what he does for the online marketplace. "Banks and marketplaces have quite a lot in common, as both are intermediary businesses. I learned a lot in the bank, especially in terms of financial analysis and planning, allocating capital to prospective borrowers, and so forth. The bank is a heavily regulated organization and has restricted discipline, and I think these points are very applicable for a maturing e-commerce company like Bukalapak," he said.
Although e-commerce grows with popularity every year, it still accounts for less than 5% of transactions in Indonesia, Kaimuddin said. The industry has various challenges; there are still many consumers who are not comfortable with buying things through a screen and using app-based payment methods.
Bukalapak is addressing these issues. One of its programs, Mitra Bukalapak, provides incentives to MSMEs that utilize the company's digital services to take their commerce online. It currently has five million mitra, or agents, throughout Indonesia, two million of which are traditional kiosks or neighborhood shop owners.
During the pandemic, Bukalapak is supporting its kiosk partners by ensuring its distribution centers maintain steady operations. The firm has also released online training materials for its kiosk partners to demonstrate proper physical distancing protocols when dealing with customers. These materials are translated into various regional languages and dialects, and Bukalapak collaborates with a number of nonprofits and charity foundations, encouraging them to purchase goods from Mitra Bukalapak agents, which are then handed out by these organizations as donations.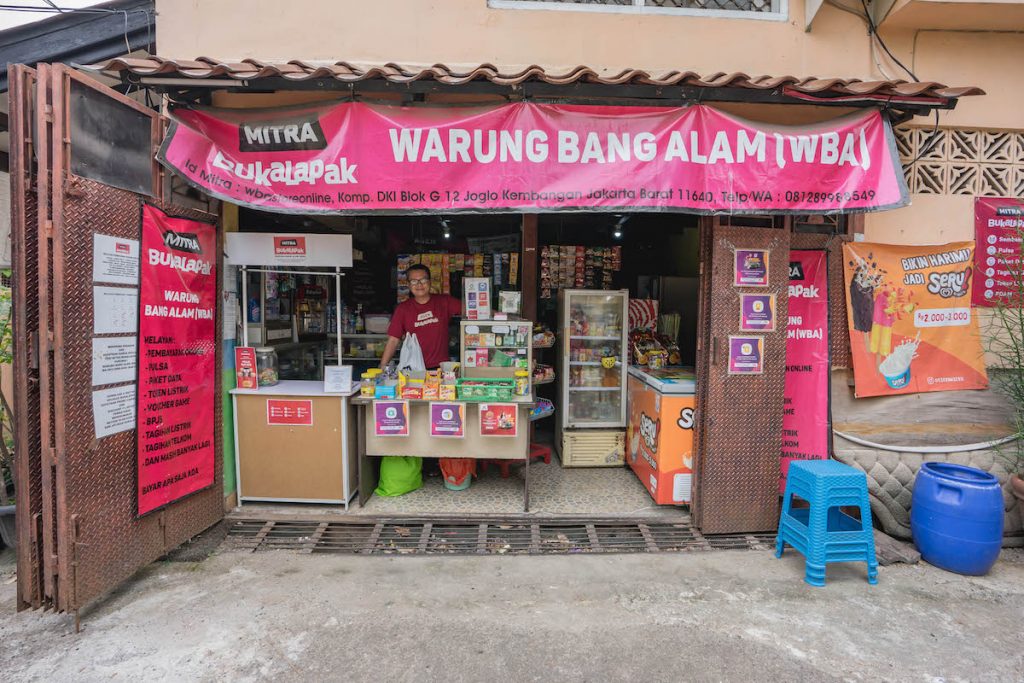 Bukalapak also recently teamed up with the nation's government for the Bangga Buatan Indonesia ("proud of Indonesian products") program, and provides support to local MSMEs affected by the COVID-19 crisis. The initiative includes free training for traditional MSMEs, instructing them on how to maximize sales on e-commerce platforms.
Moreover, by linking up with GrabKios, Mitra Bukalapak helps its kiosk partners sell a variety of digital products, from phone credit to train tickets, at competitive prices. This collaboration will be a boon for kiosk operators who have lost income due to large-scale social restrictions in several regions in the country.
"There are millions of online and offline merchants who depend on Bukalapak for incomes, so for us, failure is not an option. We always share shopping trends and insights with merchants so they can adjust their strategies. Our priority is to serve merchants and customers well and maintain employees' spirit and morale during this challenging time," Kaimuddin said.
Forestalling nightmares
Perhaps some of the worries that are preventing people from embracing e-commerce are justified. In a hack targeting Tokopedia, one of Indonesia's largest online marketplaces, up to 91 million customers' data was stolen, and a portion of that data was put up for sale on the dark net. Kaimuddin admitted that Bukalapak experienced a similar problem last year, when 13 million users' data was stolen and sold by hackers. "It was old data from 2017. Users' names, phone numbers, and email addresses were compromised, while their passwords remained secure. Therefore, we have been working very hard on improving our data protection."
The company has hired experts to reinforce its digital security. Bukapalak applies a layered protection system when receiving, storing, and processing user data. This includes the use of the "https" protocol instead of "http," a choice that facilitates more secure communications between computers and servers. The company also monitors traffic data closely so that attempts to access, read, replace, or delete data are logged. Moreover, sensitive data like ID numbers can be automatically deleted to safeguard users' privacy, Kaimuddin explained.

"We also educate users and merchants to protect their data, especially since there are a lot of new users registering during the epidemic. These new users are usually more vulnerable to fraud because they are not accustomed to online transactions," Kaimuddin said. "We always encourage users to pay attention to the credibility of merchants based on ratings and feedback. We also consistently remind users to never share personal data and OTP codes with anyone, including merchants and those claiming to be Bukalapak's representatives."
Besides, the CEO said, "Data hacks are a nightmare for any tech company."
Weathering a storm
Shortly after taking the helm at Bukalapak, Kaimuddin had to steer his company through the COVID-19 crisis. "As a business, we are quite resilient, especially since more people are turning to online shopping due to the physical distancing policy. In March, we saw a 20% increase in transactions compared to the previous month. However, there are also some merchants who are currently struggling as demand for their product has fallen," he said.
That temporary shift in what is deemed essential has created fortune for some and misery for others. At the beginning of the pandemic, demand for health-related products such as face masks, hand sanitizer, vitamins, and herbal drinks rose significantly, while fashion and cosmetic products barely moved out of warehouses. After the government implemented large-scale social restrictions, Bukalapak saw surging demand for products like cooking utensils, spare parts for cars and motorcycles, as well as gaming equipment—items that help people pass time indoors.

One unexpected development is that online gold transactions on Bukalapak showed significant growth in the first quarter of 2020. "The gold pricing has reached its highest record with an increase of about 25% this year. This trend is the impact of unstable economic conditions due to the pandemic. Customers now look for safe-haven investment instruments such as gold," said Kaimuddin.
The platform also recorded a 10% increase in transactions during Ramadan compared to the same period last year, especially in categories like worship equipment, food staples, and gift hampers.
Kaimuddin said Bukalapak's growth has consistently increased every year, and he predicts the company's transaction volume and revenue in 2020 will also be higher than last year.
"I believe we are on the right track to sustainability. We have taken a number of efficiency measures last year, including employee restructuring, and we are starting to see the results."
With ten million online and offline merchants, as well as 92 million users across Indonesia, Kaimuddin has plans for Bukalapak to become a sustainable organization with strong resources that benefit all stakeholders. "In terms of [online] marketplace traffic, Bukalapak is currently ranked third, but combined online and offline, we believe we have the most merchants and coverage in our platform. The most important thing for us is to continue improving services on our platform, online and offline, to serve merchants and customers better," he said.