Writer: Deng Henhen
Kr-Asia is all about actionable insights for entrepreneurs. And through this post, you're about to find out:
1.What's the business value of residential community, which all new retail businesses scramble to dominate?
2.Compared to open unmanned box stores, what's so good about closed grocery box?
3.What is smart retail?
Kr-Asia learnt that Beijing Zailouxia Technology (在楼下) has since its foundation this July completed three financing rounds in just three months, which combine have injected more than ¥100 million into Zailouxia. The investors include IDG Capital, Vision Capital, Unity Ventures and Hike Capital.
As the shift towards new retail gathers pace, more and more new retail projects have sprouted on the market. But, "Zailouxia" is expected to be a bit different as the name itself conveys a sense of warmth. Taking the meaning of "downstairs", Zailouxia is trying to remind the customers that its smart grocery box, which offers snacks, fresh produce and daily necessities, is just near at hand.
Well, don't jump to any conclusion yet that Zailouxia is nothing but another ordinary convenience box.
Actually, Zailouxia operates on an O2O basis. It has its online platform, which can be accessed through WeChat mini program, for handling orders. Once the orders are processed, the grocery box will then spit out the products the customers ordered.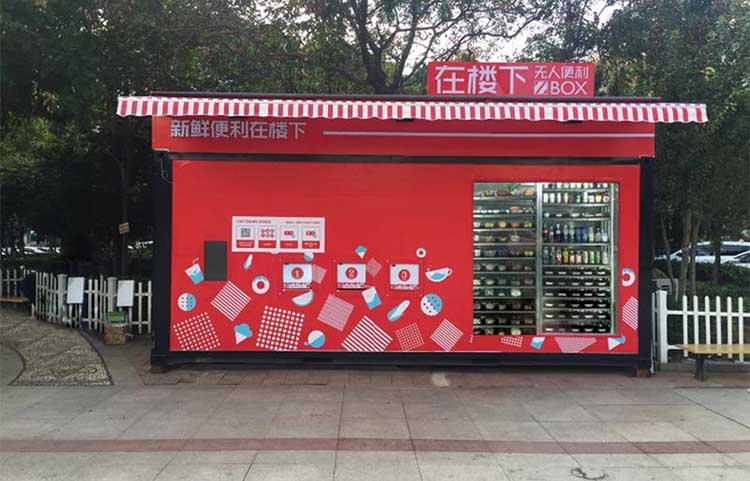 Residential community is where all new retail businesses scramble to dominate. For one thing, the residential community is the location such products as fresh produce, kitchenware and beddings end at. For another, the residents in the community have long been left disappointed for the unavailability of fresh produce and daily necessities in the community.
Though the market is abuzz with channels like supermarkets, convenience stores and online stores, they invariably come with shortcomings. That's where Zailouxia plays its part.
"More profit comes in when a business delivers real convenience to the customers," the startup team told Kr-Asia.
Zailouxia is set to achieve that by bringing its grocery box right under the customers' nose. Its data has revealed that there are such occasions that people buy vegetables at midnight or four fresh eggs each day. Its grocery box has been picking up followers even when other convenience stores are just readily available around the community.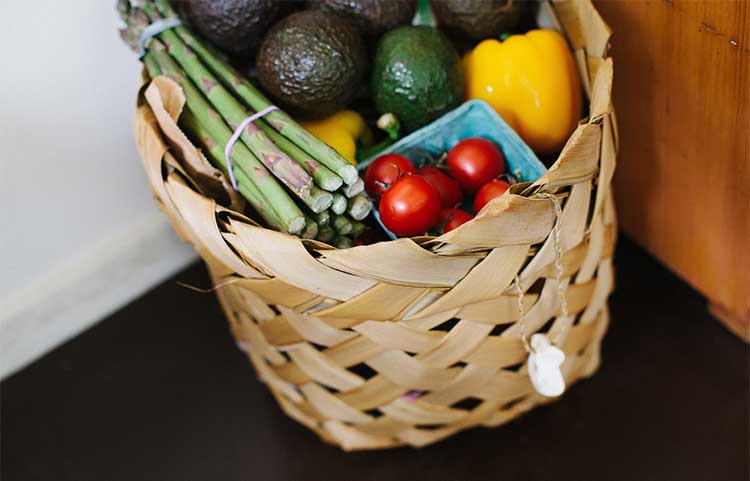 "People have been keeping frequenting Zailouxia even when there are 14 convenience stores and 2 supermarkets around a community," the team told Kr-Asia.
Zailouxia is a "grocery box" in a community.
But, don't be misled by its name. Zailouxia's "grocery box" actually differs from the box stores, vending machines and open counters that we are familiar with.
Its grocery box is designed jointly by Zailouxia and other factories on an OEM basis. The box takes the look of a large closed container. On its right side is fitted with a piece of glass where the customers can take a peek at the products and on the left side leaves three outlets where the customers can pick up the purchased items.
According to the team, a closed grocery box beats those open unmanned box stores in that it is better at preventing contamination resulted from human touch, shoplifting, and other issues.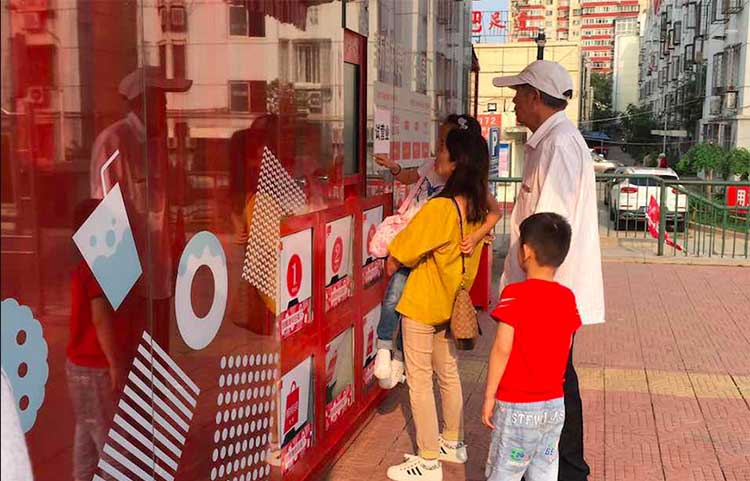 Unlike the vending machines which are generally of fixed size, Zailouxia's grocery box can be extended or narrowed simply by adding or taking away its modules. Zailouxia's grocery box takes up an area of 5m2 to 15m2 and can accommodate around 400 SKUs. The team is also looking to increase the number of SKUs to 800 in a bid to better meet customers' requirements.
What smart retail delivers is more than just its refreshing forms, but reduced labor and renting cost as well as improved efficiency through the consolidation of technology and standardized operation.
As its name implies, smart retail is actually a hybrid of smart technology and retail. Smart technology has enabled unmanned convenience stores to replicate at a faster pace than traditional convenience stores and to exercise lean management based on the data gathered.
The team had three years' experience in managing an O2O startup. This has helped build up their experiences in managing the supply chain, logistics and running a business in communities.
The new retail startups, as the team put it, should not rush for quick returns. Unlike such revolutionary platforms as DiDi and Meituan, retail business takes time and patience to succeed.
If a new retail business is to succeed, what it should really do is zero in on upgrading its product portfolio, supply chain, logistics, operation, financing, execution, etc.