Hybrid electric vehicle (EV) company Li Auto (NASDAQ:LI) generated total revenues of RMB 4.06 billion (USD 621.9 million) in the fourth quarter of 2020, surpassing market expectations of USD 604 million, according to the company's latest financial results on Thursday.
After first generating a small profit of RMB 16 million (USD 2.48 million) on an adjusted basis in the third quarter of 2020, Li Auto reported a non-GAAP net income of RMB 115.4 million (USD 17.7 million), marking a 621.3% increase from the previous quarter.
Deliveries of the Beijing-based automaker's Li One reached 14,464 in the fourth quarter, setting a new quarterly record, as the company has steadily increased the scale of its business since its initial public offering (IPO) in July of 2020.
The company's total vehicle deliveries for 2020 totaled 32,624, while domestic rivals Nio (NYSE:NIO) and Xpeng Motors (NYSE:XPEV) delivered 43,728 and 27,041 EVs respectively.
Li Auto's expansion is showing positive signs, as the company's net loss for the full year of 2020 narrowed by 93.8% to RMB 151.7 million (USD 23.2 million) from RMB 2.44 billion (USD 378 million) in 2019.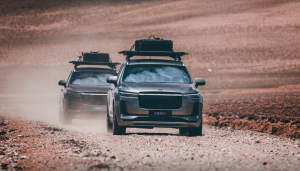 When asked about internet giants' recent entrance into the auto industry, including Baidu and Xiaomi, Li Auto's CEO, Li Xiang explained to investors on a conference call that any company needs around four years to produce a car from scratch.
Li Auto will benefit from having this headstart and leverage its existing network of retail stores and service centers, as well as advantages in production capacity and charging infrastructure, to accelerate development, Li said.
"We are already past the 0 to 1 phase and into the 1 to 10 phase, and we are accelerating our new product research and development," he noted.
For the first quarter of 2021, the company forecasted deliveries of vehicles to be between 10,500 and 11,500 vehicles, which is a conservative estimate due to the impact of COVID-19 in Northern China, said Li Auto's president, Kevin Yanan Shen, on a call with investors.
The company expects total revenues of between RMB 2.94 billion (USD 450.6 million) and RMB 3.22 billion (USD 493.5 million) for the first quarter of 2021. For the full year of 2021, Li Auto expects a gross margin of between 19% and 20%, compared to 16.4% in 2020.
Despite the strong results, Li Auto's share price fell by 9.80% to USD 25.87 by the end of trading on Thursday.