Electric car giant Tesla has begun accepting payment for its vehicles in the form of bitcoin. Tesla CEO Elon Musk announced the update via Twitter on Wednesday. Musk added that Tesla is using "only internal and open source software, and operates bitcoin nodes directly." Bitcoin paid to Tesla will be retained as bitcoin, and will not be converted to fiat currency.
Despite being a global currency, the option looks to be only available in certain markets for now, such as in the United States, where bitcoin is already accepted.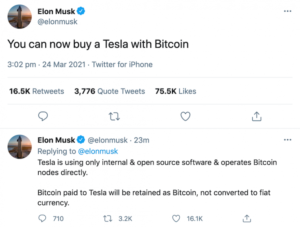 The Tesla support page also lists information about the new payment type. US buyers can initiate payment from their bitcoin wallets by scanning the QR code, or copying and pasting the address and exact amount into their wallets.
Not yet in Singapore
Singaporeans, however, will not be able to pay for their Teslas with bitcoin just yet, as the option is not available on Tesla's Singapore sales portal.
Earlier in February, the company received the green light to start selling its electric cars in the city state.  Musk said in a follow-up tweet that the bitcoin option will be available outside of the US "later this year".
This article was originally published by Vulcan Post.