Visitors to the Hanoi-based headquarters of NextTech Group, which is often called the "Alibaba of Vietnam," can't miss the brightly lit "Go Global" sign near the open work area for staff.
The two words are just part of the company's motto: Go Global or Go Home. The man behind this philosophy is NextTech founder and chairman Nguyen Hoa Binh, who is now in his late 30s. "You have to constantly innovate in order to survive and reach new frontiers," Binh said in an interview with KrASIA. "Otherwise, you'll be crushed by foreign competitors."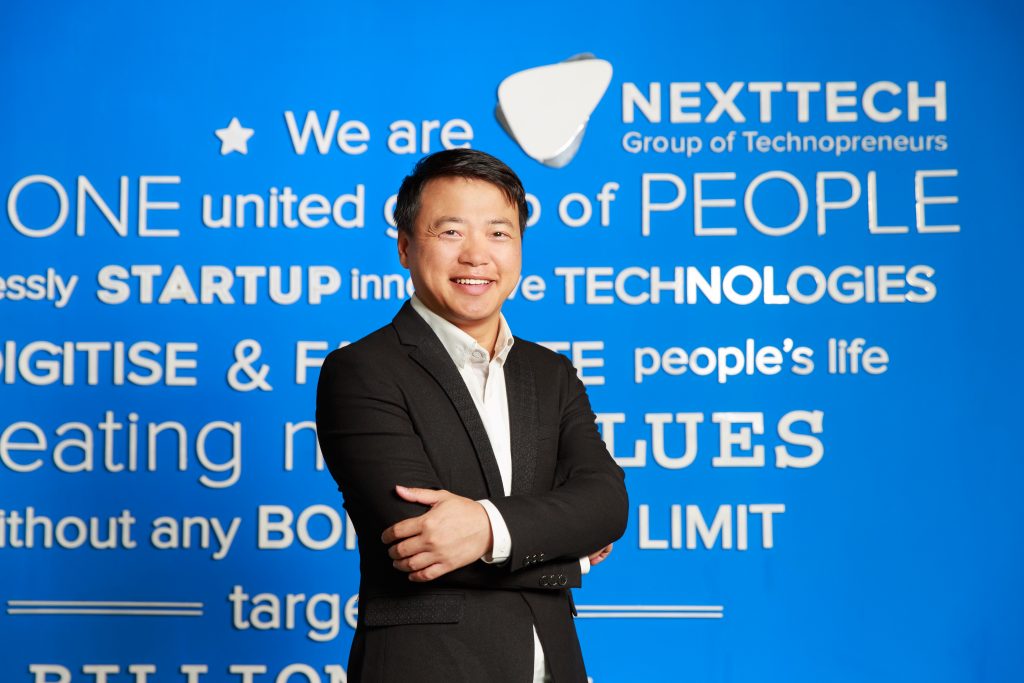 Founded in 2001 as a small internet company called Peacesoft, NextTech has become one of the most notable tech players in the country, with operations in eight other markets across Southeast Asia and China.
It has built a comprehensive ecosystem that comprises ride-hailing firm FastGo, P2P lending platform Vaymuon, payment gateway Nganluong, as well as cross-border e-commerce fulfillment network BoxMe.
The group also recently launched a USD 10 million fund to support early-stage startups, with chairman Binh hoping to identify and invest in the future tech stars of Vietnam's startup network of about 3,000 startups.
"We want to push startups to go regional if the business models are proven in Vietnam and if they find there's a demand in the region," he said. "Five or six years ago, what if Grab had decided to stay in Malaysia as MyTeksi? It would have been gone by now."
Unicorn ambitions 
As we know, Grab didn't stay in Malaysia where it was founded. It has become a homegrown Southeast Asian decacorn, now worth more than USD 10 billion. It is a regional powerhouse with a presence in 336 cities across eight countries, and is on its way to becoming a super app. Entrepreneurs in Vietnam look up to Grab because of its status and influence in the region.
Vietnam has all the right factors to make it happen—a huge population, a high rate of smartphone adoption, a fast-growing economy, tech-savvy consumers, well-trained tech talents. Besides VNG Corporation, which started out as a gaming company in 2004 and achieved a unicorn status in 2016, Vietnam has not been able to produce another tech unicorn. It took VNG 12 years to hit the benchmark, and it does not have a strong regional footprint compared to Grab or Indonesia's Gojek and Traveloka.
The government has already laid out an ambitious goal: it wants to see 10 Vietnamese tech unicorns by 2030. Government officials constantly talk about digital transformation, entrepreneurship, and the industry 4.0 era, as Vietnam does not want to play catch up to its neighbors. Even if the next iPhone may be made in Vietnam, the country wants to go beyond hardware manufacturing and more cement a stake in high-value tech space.
Wave of funding
In the past several years, capital for tech companies has been pouring into the country. Recently, Vietnam payment company VNPAY reportedly bagged a record amount of USD 300 million in funding from SoftBank and Singapore sovereign wealth fund GIC. If officially confirmed, this will lift VNPAY to unicorn status alongside VNG.
According to a recent report by Singapore-based Cento Ventures and ESP Capital, Vietnam startups raised a total of USD 246 million in the first half of this year with 58 deals (counting those that were publicly disclosed and deals that the two VC firms have knowledge of). This was an increase from USD 166 million raised in the first half of 2018. The country's aggregate funding amount is predicted to top USD 800 million by end of 2019.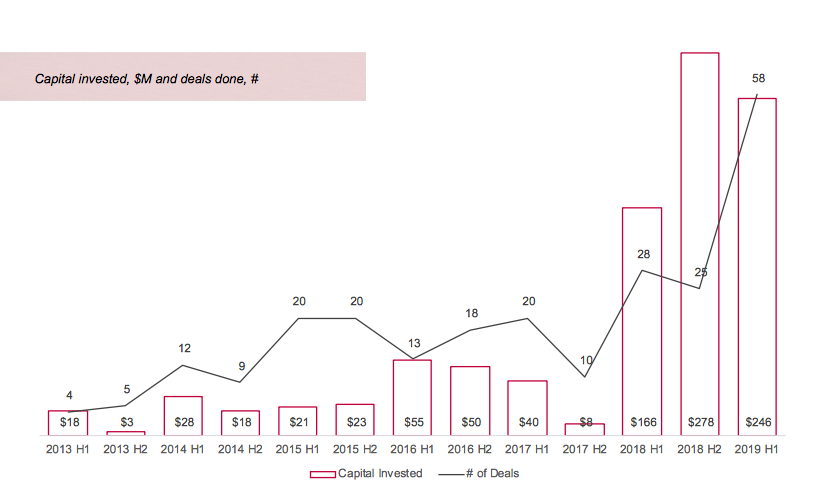 The report notes that in only two years, among the six largest ASEAN countries, Vietnam went from being the fifth most active to the third, trailing behind only Indonesia and Singapore. The amount of invested capital and the number of technology deals have grown sixfold from the first half of 2017 to the first half of this year.
Cento Ventures and ESP Captial forecast that Vietnam is in a great position to breed Southeast Asia's next billion-dollar company with a combination of "great entrepreneurs, strong ecosystem support, and unprecedented growth in economic opportunities."
Regional mindset 
Khanh Tran, a partner at VinaCapital Ventures in Ho Chi Minh City, said a growing number of Vietnamese startups have started to think globally from day one. "They have visions and more importantly business models that factor in scaling up to the regional and potentially even the global level for their companies."
Launched in 2018, VinaCapital Ventures is the USD 100 million tech investment arm of VinaCapital, one of Vietnam's leading investment management firms. It has the goal to develop strong technology companies in Vietnam and assist them in building a regional presence. The company's portfolio includes ride-hailing company FastGo, Vietnam's "Uber for trucks" Logivan, and Vietnam's first fully digital bank Timo.
According to Khanh Tran, one key factor that compels Vietnam's competition with the likes of Singapore and Jakarta is the caliber of the tech professionals coming back to the country after living and working in tech hubs like Silicon Valley.
One such individual is French-Vietnamese Lam Tran, former head of marketing for Tiki and a former Googler. He founded lifestyle subscription startup Wisepass in 2016. The company allows subscribers to get meals, alcohol, movie tickets, coffee, and other perks at reduced rates at high-end venues across Southeast Asia. Lam Tran has been pushing aggressively to expand the services. Now, Wisepass is available at over 300 venues across Hanoi, Ho Chi Minh City, Bangkok, and Manila.
Lam Tran said there are many challenges for startups to overcome if they expand in region, from localizing their services, to complying with each country's regulations, to adjusting marketing channels to target the right users.
There's a high chance that the Vietnamese ecosystem will produce a tech unicorn within the next ten years, Lam Tran said. However, in order for the network to thrive, Vietnam needs to eliminate the legal hurdles for startups to set up businesses in Vietnam and ensure that regulations that affect business operations remain consistent and don't change overnight, as has been the case for the e-commerce sector. "When you do fundraising, everyone goes to Singapore," he said. "Whether you like it or not, that's the way."
Government support
Prime Minister Nguyen Xuan Phuc recently approved a national project on the sharing economy, which includes a sandbox regulatory mechanism, defining the framework to test and pilot new technologies in Vietnam that will come to shape the country's sharing economy.
In February, the prime minister also signed off on a decree waiving taxes for tech startups in the first four years of operation, with a 50% reduction in the following nine years. There's also a Make-in-Vietnam campaign, which takes inspiration from Made in China 2025 or Made in Japan, seeking to establish 100,000 homegrown tech firms by 2030.
Entrepreneurial spirit is higher than ever in Vietnam, with a recent survey by the World Economic Forum showing that one out of every four Vietnamese youngsters want to work for themselves.
However, the government can only do so much.
Binh from NextTech Group advises startups to dream high but also keep their feet on the ground. "We can't expect Vietnam to have as many resources as Singapore, so you'll have to work with what you have," he said. "But I think a global and regional mindset will set us apart as investors often look at only companies that can scale across Southeast Asia. In essence, attacking, or in this case finding new markets, is the best way of defense."