Founded in 2017, Speedoc is a virtual clinic and healthcare solutions platform that allows users to seek medical care and services from home. The Singapore-based digital health platform aims to drive awareness of virtual medical services and hospitals as an alternative quality care model for patients, and provides solutions to manage conditions ranging from urinary tract infections to pneumonia and heart failure.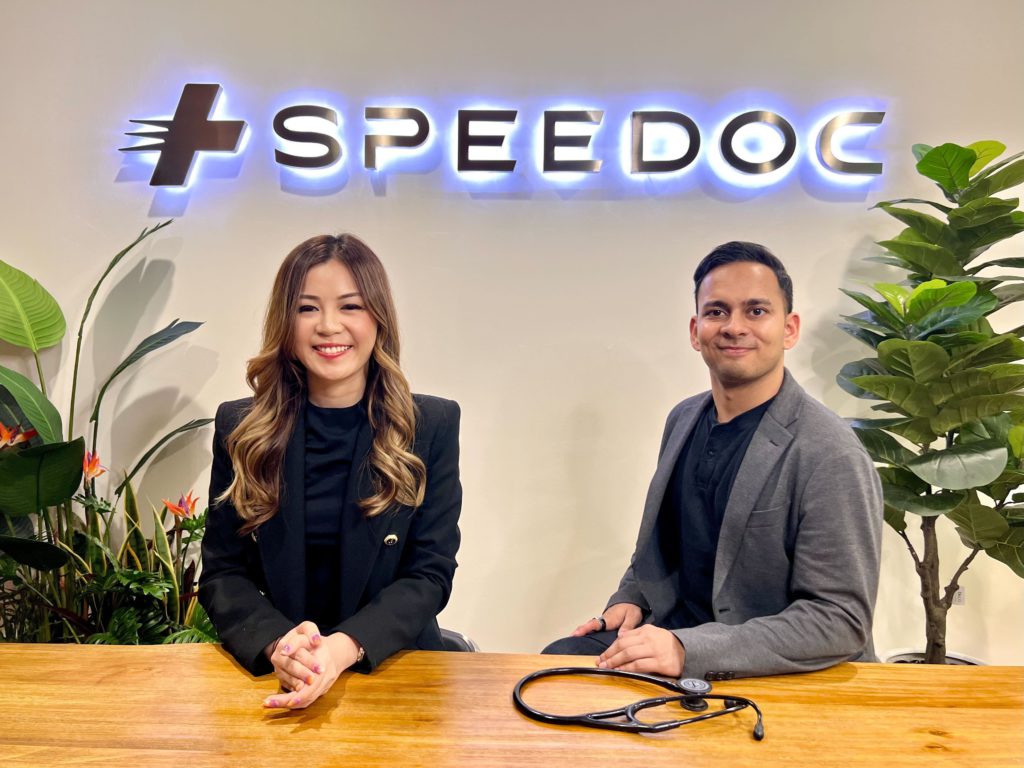 KrASIA had a chat with Dr. Shravan Verma, CEO and co-founder of Speedoc, who shared how technology can advance the delivery of medical care at home.
This interview has been consolidated and edited for brevity and clarity.
KrASIA (Kr): Consumer-centric digital health ecosystems are forming across Asia at an unprecedented speed and scale. In the region, telehealth adoption has increased dramatically and is expected to continue growing. How do you stand out from the competition?
Dr. Shravan Verma (SV): Most of the existing telehealth and telemedicine providers in the market provide only basic telehealth services such as teleconsultation, medication delivery, and supervised tele-antigen rapid tests (ARTs) for COVID-19.
By contrast, we deliver healthcare for more complex medical needs which require ongoing review. For example, our team is looking at hospital-level medical care and how it can be delivered to people in their homes. Our solutions can now manage conditions such as dengue, fluid overload, and urinary tract infections. We also provide home care for patients who require IV drips or IV antibiotics for prolonged periods.
Kr: Speedoc is a technology partner for the two-year pilot of the Mobile Inpatient Care@Home initiative by Singapore's Ministry of Health (MOH)'s Office for Healthcare Transformation. Tell us more about this initiative. 
SV: Mobile Inpatient Care @ Home (MIC@Home) is a home hospitalization program by the MOH Office for Healthcare Transformation (MOHT). The program involves working with partners to provide alternative care models and in-patient delivery. Outpatient monitoring solutions, multidisciplinary care, and telehealth solutions, which have become more popular since the COVID-19 pandemic, are some of the services provided in the program.
We joined the pilot program because its scope of exploring a community-based healthcare model aligns with our vision of decentralized healthcare and bringing hospital-level care into people's homes.
With the support of the MIC@Home initiative, we launched H-Ward, a virtual hospital program that provides blood tests, virtual screenings, on-call doctors, and medical equipment in patients' homes. Since our pilot launch with the National University Health System, we have discharged close to 3,000 patients, and saved approximately more than 15,000 bed days for Singapore's public healthcare system.
Kr: You recently closed USD 28 million in a pre-Series B round to scale your virtual hospital model. How challenging was it for you to raise funds, especially at this time when there is much uncertainty in the macroeconomic environment? 
SV: Being able to secure this funding from both new and existing investors is testament to our platform's unique proposition, as well as a sign of investor confidence.
I believe that as healthcare systems in the region make the transition to preventive and better chronic care driven by aging populations, demand for virtual healthcare services will only be on an upward trajectory, regardless of the economic situation.
Kr: One major limitation of telehealth is the issue of trust, which is harder to establish in a virtual conversation than in person. How do you tackle this challenge?
SV: Our technology and digital processes are not removing or replacing doctors, nurses, or care teams completely from the healthcare delivery process.
We are designing a new healthcare model that aims to free up more time for medical professionals, and redirect it in terms of patient interaction. And we are exploring the right balance of online and offline medical care services safely so our patients can receive optimal care.
Kr: During the pandemic, virtual healthcare was embraced by quite a number of patients seeking medical care. As the world enters a phase of the pandemic where life returns to normal, how does that affect your growth?
SV: Speedoc was founded in 2017 before the pandemic. Back then, there were already issues such as the healthcare manpower crunch and shortage of hospital beds.
Indeed, the pandemic has led to a boom in telehealth services as traditional healthcare facilities faced a manpower crunch and consumers gradually embraced virtual consultations to manage their healthcare needs.
We believe this model of healthcare is here to stay. This is because the region is increasingly aware of the need to build robust healthcare infrastructures which leverage a mix of clinics, hospitals, and online hospital services that are accessible from home.
Kr: Any emerging trends in the virtual medical care sector?
SV: Predictive analytics will be a game-changer in this space. It entails using historical multi-source data and statistical modeling when designing care plans. It also empowers medical professionals, caregivers, and patients to make more informed choices in the course of medical treatment.
Kr: What are your future plans?
SV: As our healthcare model is not constrained by land or physical infrastructure, its potential to scale is sizable, in terms of the markets that we're operating in as well as new regional markets that we are setting our sights on.
We are also always on the lookout for new partners that align with our mission and aspirations.