Ride-hailing company Didi Chuxing's bike-sharing arm Qingju is set to raise USD 600 million in a Series B equity fundraising round and will also be granted another USD 400 million in loans, 36Kr reported on Friday, without revealing further details.
Qingju, which was launched first in Southwest China's Sichuan province in 2018, raised USD 1 billion from Legend Capital and an unidentified overseas investment firm in April 2020.
Qingju is one of the major bike-sharing services still available in China, along with Ant Group-backed Hello Bike, and Meituan Bike. Meituan Bike was originally Mobike before Meituan acquired the service for USD 2.7 billion in April 2018 and later rebranded it in 2019.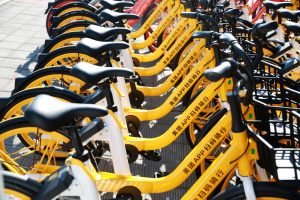 Meanwhile, Ofo, which used to dominate the bike-sharing sector along with Mobike in 2017, struggled to survive once the huge investment in bike-sharing began to dry up, eventually folding due to a cash shortage in 2018.
Didi's Qingju used the capital raised in its first financing round to expand into China's smaller cities where residents favor electric bikes over pedal bikes, 36Kr wrote, citing an unnamed source who also predicted that the fresh Series B funds will go towards further increasing the proportion of electric bikes in operation. Qingju's service is now available in more than 200 cities in China.
Didi's CEO Cheng Wei set a strategic target last April to fulfill 100 million mobility orders each day worldwide within three years, with Qingju expected to shoulder 40 million orders daily, according to 36Kr.
Didi facilitated 60 million trips per day in 2020, including taxis, bike-sharing rides, and other means of transportation available through its app.