The COVID-19 pandemic that began at the end of 2019 changed the work routine of millions of Chinese people, boosting work-from-home efforts, and raising one big question: are jobs necessarily tied to a physical office?
Yunduiyou, or "Cloud Team Member" in English, is an online freelance job matching platform that wants to capitalize on this transformation in the job market, connecting businesses with independent professionals.
"Our goal is to become a connector of human's working skills," said Chen Jianmin, CEO of Beijing Aiaiyinsi Technology, the company behind Yunduiyou. He is also the founder of Pmcaff, a 10-year-old Chinese Q&A website designed for internet product managers with over 450,000 registered users.
According to Chen, the new job matching platform, just released in January, has so far helped more than 1,000 freelancers to find remote jobs, while he hopes to exceed 10,000 matches within this year. The matching technology that Yunduiyou applies can help job-seekers and hirers find each other more easily, says Chen.
Born out of Pmcaff, Yunduiyou has strong internet DNA. The majority of openings posted on the platform are in the internet industry, including software engineers, user interface designers, data analysts, and product managers.
"During the pandemic period, we saw matches between companies and freelancers surge by 560%, while the gross services value of these transactions increased by 700%," said Chen.
Developed by a team from Pmcaff which consists of about 30 employees, Yunduiyou aims to acquire more clients and talents to turn profitable this year, Chen affirmed.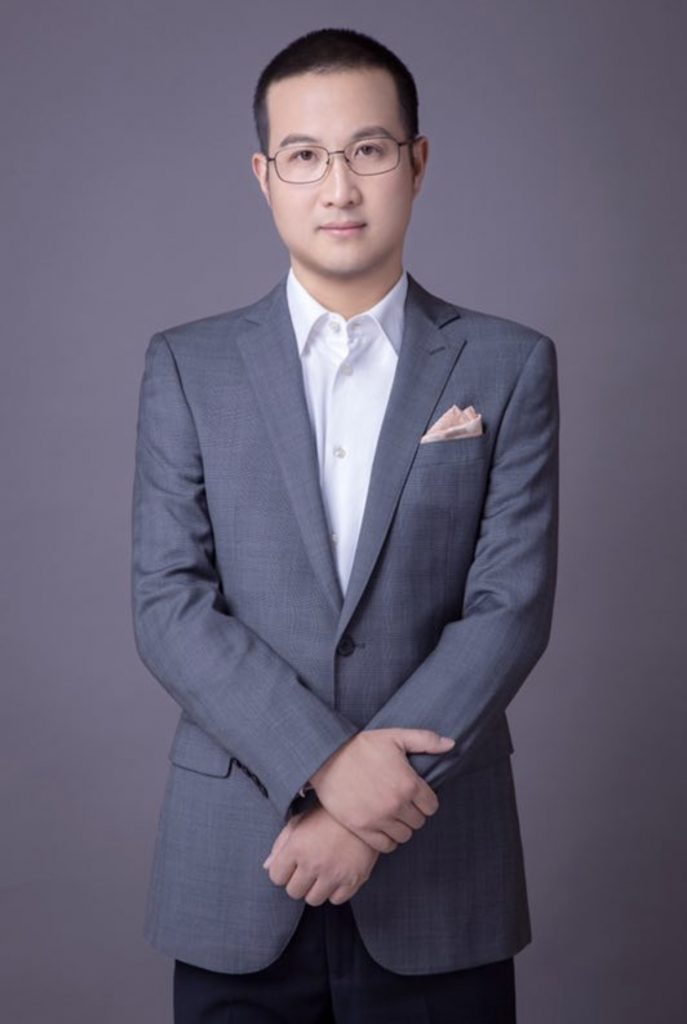 Matching companies' needs with independent contractors
Similar to western platforms like US-based Upwork, Yunduiyou provides a place where companies can post job descriptions detailing the estimated scope, project duration, level of experience required, hourly rate, and payment methods. At the same time, freelancers cans set profiles listing their skills, expertise level, educational background, and available working hours.
The platform uses an algorithm to quickly provide hirers a handful of quality matches according to their needs. 
Currently, there are around 70,000 users on Yuduiyou, and nearly 60% of them are freelancers, Chen noted. The platform also features a list of open positions for job-seekers to browse and manually apply.
However, manual curation is set to be completely replaced by automatic recommendations in the future, since the team has been working on the algorithm to further enhance the accuracy of matches, Chen explained.
"We do a first-round phone interview to ensure the quality of these talents. On top of that, we use three criteria to evaluate a freelance worker—activity, work performance, and professionalism," Chen said, adding that his team is continuously working to improve the "still imperfect" recommendation system.
Popularizing the freelancer market in China
Compared to Western countries, the concept of freelancing is yet somewhat new in China. Per stats from consulting firm Zhiyan, the penetration rate of flexible staffing in China's labor force was lower than 1% in 2018, compared to 10% in the US. Still, according to Zhiyan's prediction, over 1.7 million Chinese will choose to become freelancers by 2020, up 16% year-on-year.
The recent COVID-19 outbreak may have accelerated that process, with many companies cutting permanent staff to reduce expenses, resulting in many citizens losing their jobs.

"More employers have realized that hiring freelancers can save, in terms of office space and rent, salaries, taxes, insurance, and other expenses, while workers can enjoy more freedom and flexibility to earn money remotely and diversely," Chen said. According to Yunduiyou's website, enterprises can save up to 52.5% of salary costs on average through the service.
To better explain his point, Chen mentioned the Beijing-based firm behind free web browser Maxthon, which has chosen to terminate the lease of their office in Beijing and allow all their workers to work remotely.
"Also, staffing has become challenging for companies lately. Maxthon has hired quite a few part-time workers via our platform and saved payroll costs. The company, for example, saves up to RMB 15,000 (USD 21,13) per senior front-end engineer monthly," he said.
Yunduiyou also tracks the project progress within the platform and provides a guaranteed payroll payment, which serves to protect the project completion, and enhancing the security and trustworthiness of the platform, said Chen.
The company's monetization strategy is based on a 10% commission fee that the platform charges freelancers out of their compensation. Also, the firm provides enterprises with advanced hiring solutions. The premium version of Yunduiyou's hiring services costs RMB 1,999 (USD 281.51) per month and offers more exposure and a better efficiency management tool. The firm also offers an enterprise version, for RMB 50,000 (USD 7041.36) per year, which provides a personal advisor and a productivity analysis service.
Currently, there are more than 5,300 openings covering 358 types of jobs listed on Yunduiyou. Clients include Bank of China, food brand Xiaoxiandun, and popcorn vendor Baobaocorn, among others.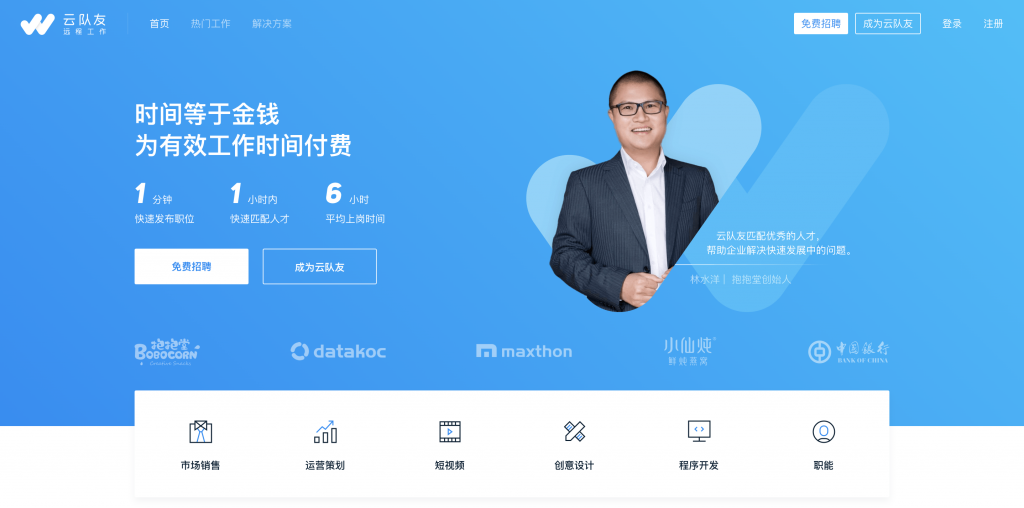 Starting from the internet industry 
Yunduiyou wants to differentiate itself from other players in the sector by focusing on technical talents, underpinned by the established product manager community Pmcaff.
The lively online community, set up 10 years ago to exchange insight, resources, and knowledge for product managers in first-tier Chinese internet companies, is well-known for its hard-to-acquire invitation code. "We still use an invitation-only mode to maintain the environment of this UGC [user generated content] community," Chen said, without disclosing how the system decides who can get a code and when.
"The code has become a sort of social currency in the circle," Chen giggled while replying to a user's question on the app.
Chen expects Pmcaff's reputation and popularity can help Yunduiyou take off. "Pmcaff is a resource of traffic at Yunduiyou's early stage," as he puts it. Access to Yunduiyou is displayed on Pmcaff.
When asked about future financing plans, Chen said that "there is no rush for us to raise money," adding that "the priority for us this year is to connect skills to suitable positions more efficiently."
Yunduiyou closed an RMB 75 million (USD 10.56 million) A+ financing round in 2018 from Yi Capital and venture capital AlphaX Partners. Previously, it raised money from Alpha Startups Fund and Lighthouse Capital, local tech-centric media outlet 36Kr reported.
This article is part of KrASIA's "Inside China's Startups" series, where the writers of KrASIA speak with founders of tech companies in the country