In summer 2014, Microsoft founder Bill Gates met a group of Chinese tech startups during a trip to Beijing and one company, in particular, caught his eye. He remarked the new startup as "very cool" after being given a product demonstration tour.
That company was DeepGlint, an artificial intelligence (AI) computer vision startup, which claimed to study the structure of the human eye to provide 3D image analysis and pattern recognition technologies. Its products included smart sensors, recognition systems, and cloud computing.
DeepGlint has been hailed by many as an AI pioneer since its establishment in April 2013. Founder Zhao Yong, a PhD from Brown University in the U.S., was one of the seven designers who took part in the augmented-reality eyewear Google Glass project. The company's CEO, He Bofei, attended Stanford and had served as a senior executive at several big-name firms, such as Procter & Gamble and Beijing Hualian Group.
In 2014, DeepGlint generated a further buzz with a recruitment post that boasted its lineup of talented employees. "Our people are made up of graduates from Princeton, Stanford, Harvard, MIT, Peking University and Tsinghua University. Our engineers' background is even more stellar, from companies such as Google, Nvidia, Baidu, Alibaba, and Tencent," said the post.
Fast forward to 2019, DeepGlint is now a long way from its past glory and struggles to keep pace with its Chinese rivals. The company is currently valued at USD 540 million, Zhao told 36kr in a recent interview, a lower value when compared with its four main competitors — SenseTime, Megvii, Yitu, and CloudWalk — all of which reportedly have a valuation of above USD 2 billion.
The downfall of DeepGlint came as a surprise for observers, as just five years ago the company was riding high on a wave of national interest in the development of AI, and had investments from the likes of Sequoia Capital, ZhenFund and Ceyuan Ventures.
The AI hunger
With a 1.4 billion-strong population, China provides an ideal testbed and a pipeline for data-hungry AI algorithms. Companies like SenseTime quickly placed its AI technology and applications in smart cities, video analysis, and auto driving, while other firms such as Megvii developed facial recognition tech used in public security and mobile payment.
From 2010 to May 2017, China's AI sector reported 2,218 cases of fundraising totaling RMB 66.8 billion (USD 9.5 billion), according to research firm Zero2IPO. In 2015 alone, the sector hit a record of 719 fundraising cases, a surge of 156% year-on-year.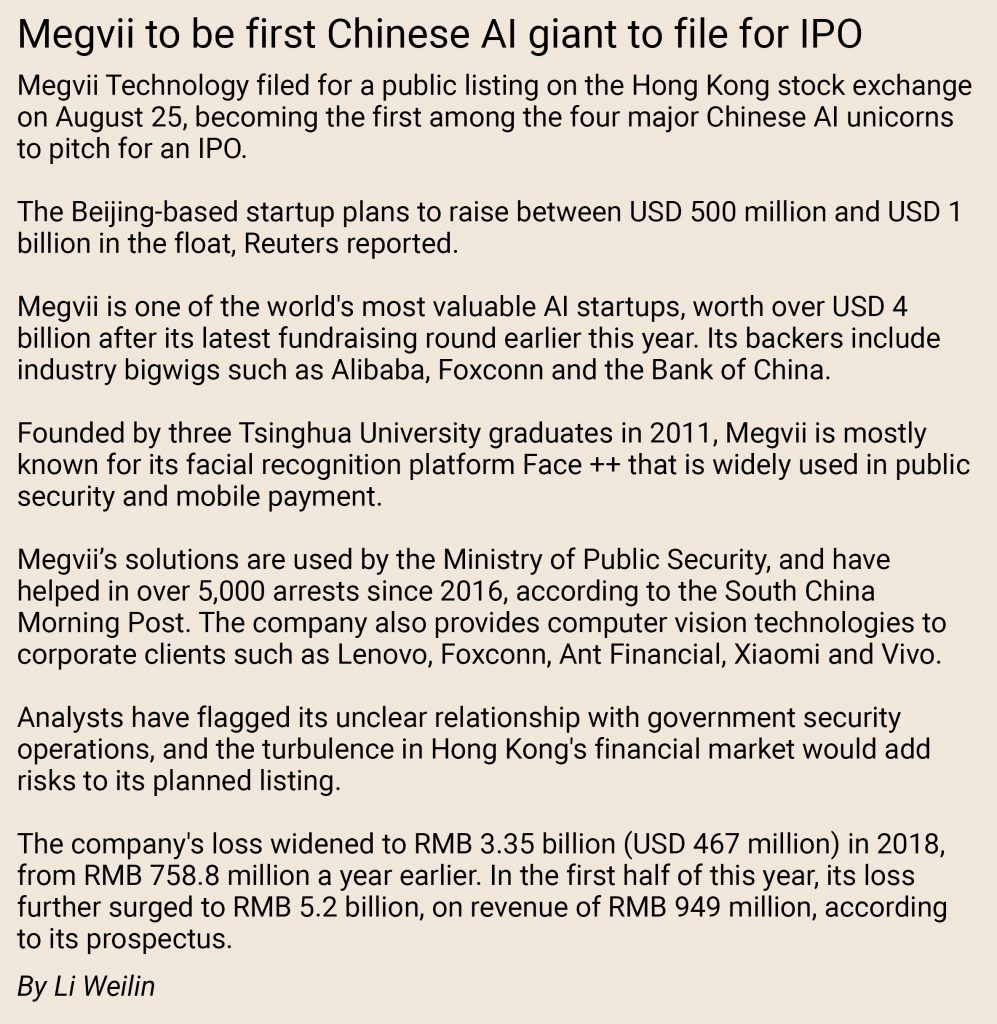 China's cabinet, the State Council, released the Next Generation AI Development Plan in 2017, were outlined the country's ambition to become one of the world's advanced AI innovation center by 2030. The plan targets AI-related businesses to surpass RMB 1 trillion in revenues by 2030, up from RMB 150 billion in 2020. In 2017, the Ministry of Industry and Information Technology also issued an AI three-year action plan, in which it underscores the development of smart vehicles, smart sensors and visual recognition, among others.
Despite such governmental initiatives aimed at AI development, the road to success isn't a smooth sailing one, and DeepGlint is proof of it.
The company first tried to apply its technology to monitor consumer consumption habits in traditional brick-and-mortar stores, with the intention to later sell these data analysis packages to the store owner. Nevertheless, It didn't realize that China would later be engulfed by an e-commerce wave. A survey by China Chain Store & Franchise Association showed that in 2012, the speed of new-store opening by the top 100 chain enterprises reached only 8%, the lowest level in 10 years.
Amid the doom and gloom, DeepGlint decided to switch course, eyeing the security and surveillance market, but it also had a hard time convincing its clients into buying its solutions. Company insiders said that the encountered difficulties were because the management didn't have much know-how about the new target sector, and wasn't fast enough to keep up-to-date with the current market needs.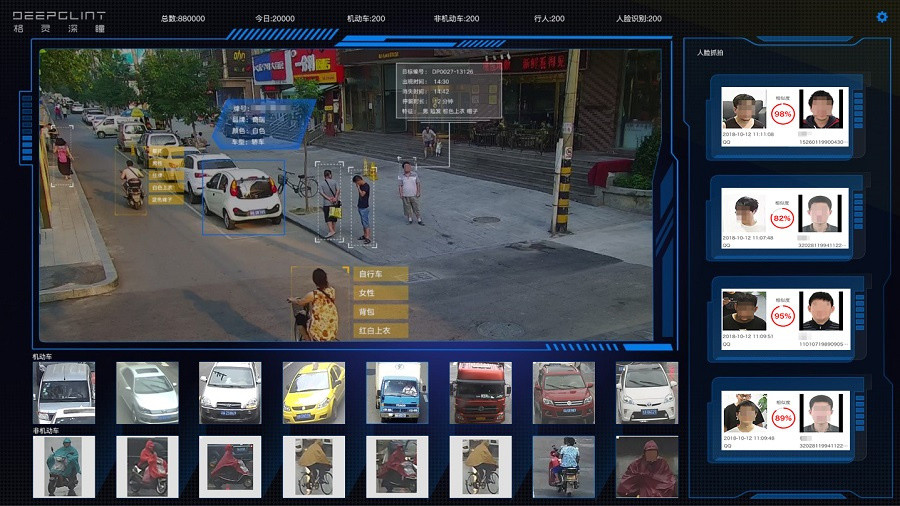 An employee commented on Zhihu, China's Quora-like platform, back in 2014, that "DeepGlint was like academia. There were too many researchers who were involved in product testing, but not engineers who could understand the clients' needs to offer feedback to the company."
A major setback for DeepGlint was the failure of its flagship surveillance solution, Haomu Behavior Analyzer, in stimulating the market.
The technology was designed for tracking movement and human behaviors in public squares, banks, and museums, to later report possible abnormalities in real-time to the control center. The surveillance solution quickly failed to live up to its expectations when being tested, since its accuracy was easily affected by a series of factors, such as lighting, movement of objects and density of crowds.
"The early sales team of DeepGlint was led by the company's CEO, He. Most were his former colleagues from when he worked for the retail sector. After we shifted to offer security and surveillance solutions for large-size customers such as banks and governments, the team was inexperienced and lacked customer resources," Zhao told 36kr in an interview in July.
He Bofei was dismissed in 2017, reportedly due to a fallout with Zhao, although the company refused to comment on the matter.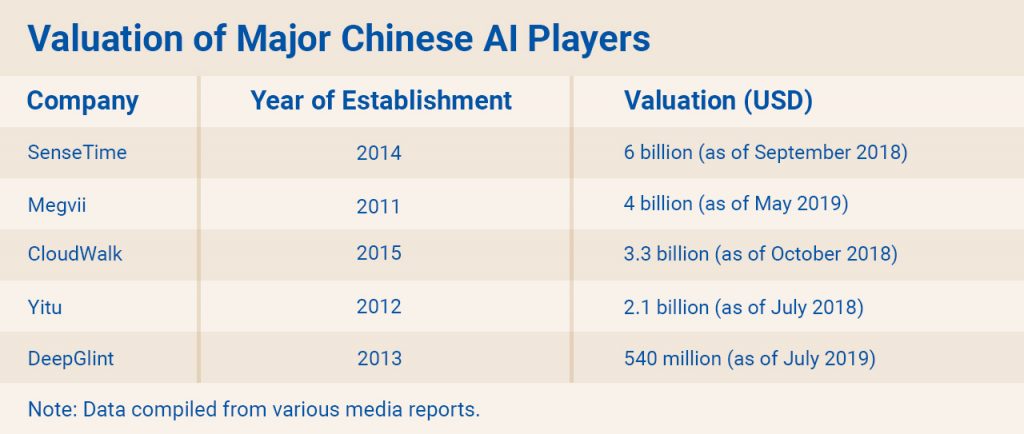 Bouncing back from the fall?
DeepGlint later poached Huang Huidong, former vice president of Guangzhou Winhi Technology Electronics, to lead the product team. The new administration has managed to bring back important deals to the company. In August last year, DeepGlint won a bid to supply surveillance cameras to the Agricultural Bank of China, in an agreement worth more than USD 100 million.
Good news followed in March, when South Korean auto-parts maker Hyundai Mobis injected about USD 5 million in the company, a move intended to co-develop in-vehicle facial recognition and behavior pattern analysis solutions.
DeepGlint is now also planning a listing on China's Science and Technology Innovation Board (STAR), sources told 36kr. The STAR market is a secondary bourse launched in mid-June, under the auspices of the Shanghai Stock Exchange operator, designed for domestic high-tech companies to raise funds at home.
According to Zhao, DeepGlint is currently in talks to raise a D+ round of financing. Sources said the proceeds are targeted at USD 50 million.
With all such plans on the cards, DeepGlint is eager to usher in a new chapter in its corporate history. "We had way past the worst in 2016, and we have become stable after embarking on a series of reforms," Zhao said.
The original article was written by Su Jianxun of 36Kr, KrASIA's parent company.
Contact the writer [email protected]