Entropica Labs secures USD 4.7 million in Series A round
The Singapore-based quantum software company has secured USD 4.7 million in a Series A funding round led by Liftt and existing investor Wavemaker Partners. The round was joined by SEEDS Capital, CerraCap Ventures, SUTD Ventures, and existing investor Elev8.
Entropica Labs will allocate the newly raised funds to expand its team, with a particular focus on recruiting talent in quantum error correction, software engineering, and computing architectures. The company will also continue to leverage its existing and future strategic partnerships with quantum hardware providers to rigorously test its products on real quantum hardware.
"Despite massive funding raised in the industry, we can see that there is still enormous room to grow in terms of software development. … We need to make sure that quantum developers and users have the tools they need to take full advantage of quantum computers, and Entropica is building those tools. By investing in Entropica, we hope to empower the next generation of quantum developers and engineers," said Paul Santos, managing partner at Wavemaker Partners.
FPT Corporation acquires Cardinal Peak to bolster product engineering delivery capabilities
Vietnam-based IT services company FPT Corporation has announced its acquisition of Cardinal Peak, a US-based product development company.
FPT made the acquisition with the goal of strengthening its product engineering delivery capabilities in North America. With a commitment of USD 100 million in investment in the North American market by the end of 2023, FPT aims to utilize Cardinal Peak's expertise in product engineering services to solidify its presence in the region. The company aims to double its revenue from product engineering services in the Americas within the next two years by capitalizing on Cardinal Peak's capabilities and customer base.
"We have been very impressed by the capabilities, culture, and resources at FPT. […] With our combined teams, we can provide greater value to our customers, accelerate innovation in the industries we serve, and expand career opportunities for our employees," said Mark Carrington, CEO of Cardinal Peak.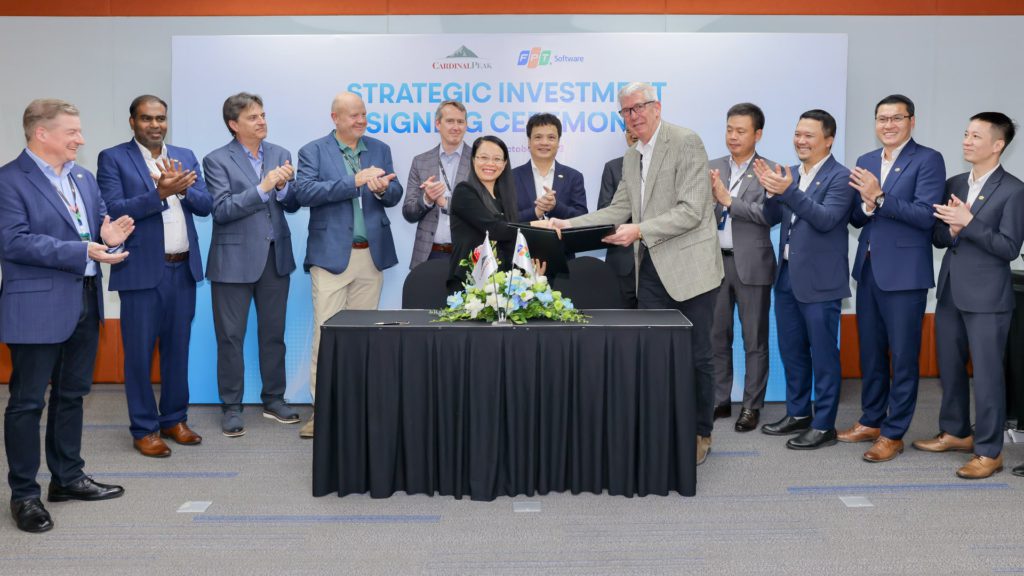 Earth Venture Capital backs Kuva Space
Earth Venture Capital recently participated in a funding round for Finnish satellite constellation and analytics company Kuva Space.
Kuva Space received EUR 16.6 million (USD 17.8 million) from the round, which was led by existing investors Voima Ventures and Nordic Foodtech VC. The round also included non-equity funding from Business Finland and the participation of Finnish private investors through an initiative by Springvest.
The funds will enable Kuva Space to expedite the development of its patented hyperspectral camera technology and other space-related innovations. The company plans to double its team size and launch an artificial intelligence analytics platform. It also intends to expand its market presence, focusing initially on the US market.
"We firmly believe that quality and timely spaceborne insights will empower communities to make informed decisions and create a sustainable future," said Jarkko Antila, CEO of Kuva Space.
ObvioHealth bags USD 15 million in funding
The digital health organization, based in the US and Singapore, has bagged USD 15 million in a recently completed funding round. —DealStreetAsia
Recent deals completed in China:
Latest venture capital deals in India:
Euler Motors, a Delhi-based electric vehicle manufacturer, has raised USD 14.4 million in an extended Series C funding round. This round was led by British International Investment (BIl) and Green Frontier Capital, along with the participation of existing investors including Athera Venture Partners, ADB Ventures, Blume Ventures, Alteria Capital, GIC, and QRG Holdings. Euler Motors has raised INR 6.9 billion (USD 82.8 million) to date and intends to use the newly raised capital to facilitate its expansion plans by expanding its service and charging network nationwide. —VCCircle
Varco Leg Care, a health tech company specializing in leg care solutions, has secured INR 20 million (USD 240,000) in a bridge funding round led by Neeraj Garg, the former CEO of Hindustan Coca-Cola Beverages. The round also saw participation from other investors including senior executives from Coca-Cola, Emporia UAE, and undisclosed high-net-worth individuals. The capital will be allocated toward talent acquisition, market and retail expansion, and R&D. —VCCircle
Himshakti, a Uttarakhand-based wellness food company, has secured INR 8.3 million (USD 99,600) in a pre-seed funding round led by EvolveX. Additionally, the round saw participation from other investors including Artha Venture Fund, Auxano, VKJ Projects, and undisclosed angel investors. The company will utilize the funds for team expansion, sales and marketing, and product development. —VCCircle
Radiant1, Minieye, Dehlivery, and more led yesterday's headlines:
Radiant1, a Singapore-based hotel management solutions company, secured an undisclosed amount in a pre-Series A funding round led by Monk's Hill Ventures. The funds will be used to support the company's expansion in Southeast Asian markets, focusing on Malaysia, Indonesia, and Thailand.
Minieye, a Chinese autonomous driving solution developer, secured an eight-figure RMB sum in a Series E funding round. The investors included Suikai Investment, Guangzhou Industrial Investment and Capital Operation Holding Group, UHD Fund, Boyuan Capital, and Puhua Capital, among others.
Delhivery, a Gurgaon-based logistics company, is finalizing the acquisition of an additional 4.75% stake in warehouse automation startup Falcon Autotech for INR 521.1 million (USD 6.26 million).
If there are any news or updates you'd like us to feature, get in touch with us at: [email protected].