From October 27 to 28 in a hybrid of online and onsite events, the Cyberport Venture Capital Forum 2022 (CVCF) will explore the theme "Thriving in the Dynamic: Refocusing for Growth."
This year, CVCF will gather more than 100 venture capitalists and industry leaders to discuss the new situation of the global venture capital market, investors and startup financing strategies, new opportunities in Hong Kong and the Greater Bay Area (GBA) markets, as well as the development of startups and venture capital prospects in the field of smart living in the wake of the pandemic and the changing geopolitical situation.
CVCF is facilitated by Cyberport, a digital technology hub in Hong Kong that focuses on enriching the regional venture capital landscape and providing deal flow support to startups.
Exploring new opportunities
On the first day of CVCF, Professor Sun Dong, the Secretary for Innovation, Technology, and Industry of the HKSAR Government, will give the opening remarks.
Professionals across various industries, including Alibaba Group, Primavera Capital, Gobi Partners, Chuangxin Industry, HSBC Ventures, KPMG, Morgan Stanley Asia Limited, Vickers Venture, Lightspeed Venture, China Resources Capital, Quest Ventures, Amino Capital, Radiant Tech Ventures, Greater Bay Area Homeland Investments Limited, Guangzhou Nansha Service Centre in Hong Kong and Da Heng Qin Group, will provide an in-depth analysis of the latest market and investment trends, such as artificial intelligence, blockchain, fintech, green finance, health tech, the metaverse, construction tech, digital entertainment, and mergers and acquisitions.
The inaugural spotlight event, Smart Living Venture Day, will take place during the second day of the Forum, focusing on startup development and prospects in the smart living industry, including edtech, arttech, gerontech, and socialtech.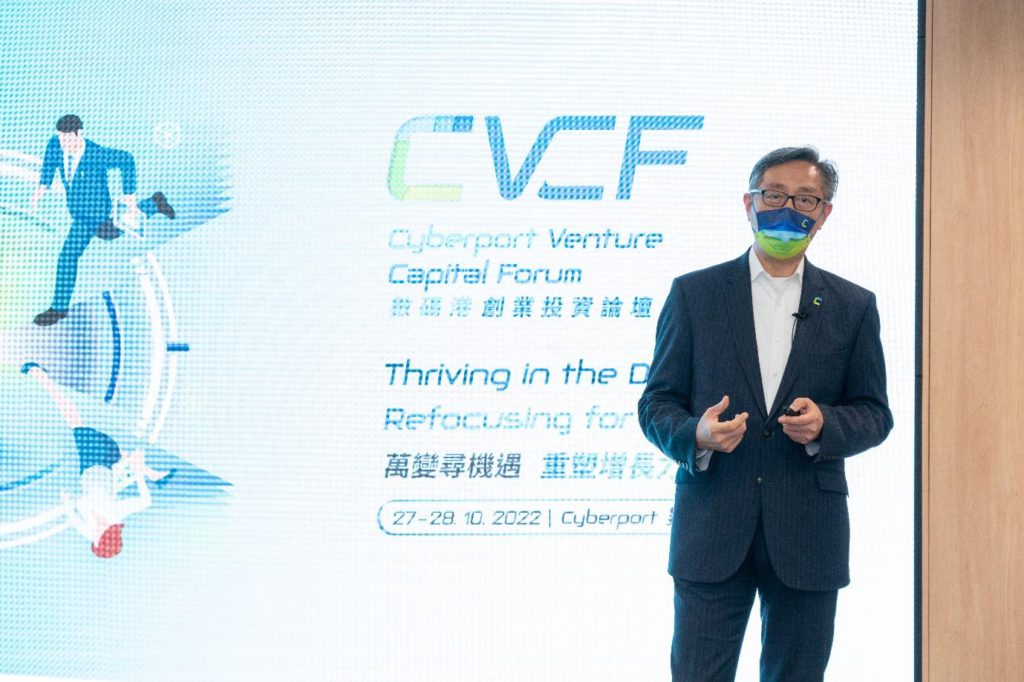 "The National 14th Five-Year Plan explicitly supports Hong Kong's development as an international information and technology hub. Given Hong Kong's status as an international financial center, the momentum of Hong Kong's information and technology development will be strengthened, and we are full of confidence in the future of this sector," said Peter Yan, CEO of Cyberport.
"In light of the new trends in the venture capital market, this year's CVCF is particularly meaningful as it provides a platform for connecting startups and venture capital funds, facilitating startups' financing needs, promoting the application of innovative technologies in the field, and capturing the opportunities arising from the economic recovery. Cyberport will continue to connect investors and the innovation community through Cyberport Investors Network (CIN) and Cyberport Macro Fund (CMF), and motivate startups to seize the development opportunities in the GBA and Asian markets to enable a thriving venture capital ecosystem."
A lineup of exciting events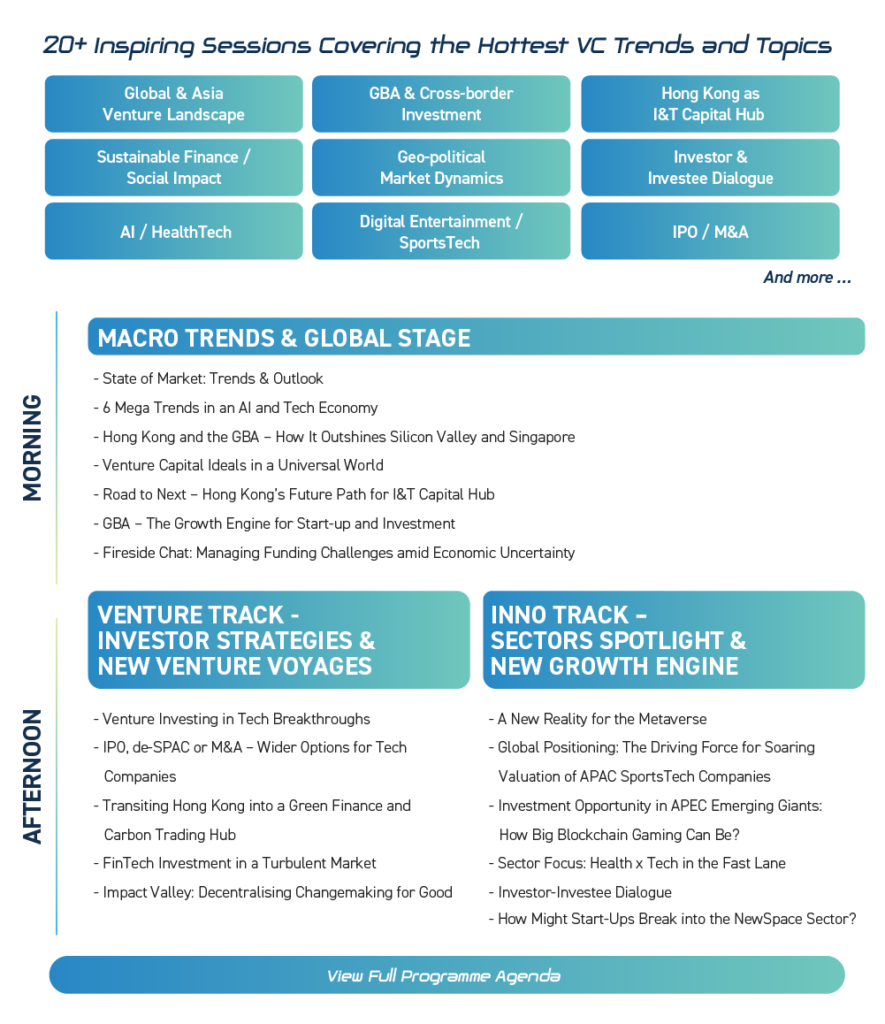 The lineup for the event includes three panel discussions that will focus on new venture capital trends, covering key elements such as cross-border investment and the development of the GBA.
Panel: Venture Capital Ideals in a Universal World
Rebecca Fannin, founder of internationally renowned VC platform Silicon Dragon, will host the panel of venture capital experts who will share the macroeconomic trends and regional political landscape, and also analyze the strategies of Hong Kong startups for China business market and investors.
Panel: Road to Next – Hong Kong's Future Path for an Information and Technology Capital Hub
Hon Duncan Chiu, HKSAR Legislative Council Member (Technology and Innovation) will host the panel discussion, together with industry leaders such as Cindy Chow, the Executive Director of the Alibaba Hong Kong and Entrepreneurs Fund and Chairperson of the Cyberport Investors Network Steering Group, to explore how to help Hong Kong build a forward-looking innovation ecosystem.
Panel: GBA – the Growth Engine for Startups and Investment
This panel discussion will include investment experts from Guangzhou Nansha New District, Qianhai, Hengqin, and the Mainland to analyze the investment potential, technology, and development focus of the GBA. It aims to help startups and investors grasp opportunities brought about by the synergy of Guangdong, Hong Kong, and Macau.
Smart Living Venture Day and Startup Workshop
Smart Living Venture Day, which takes place on October 28, both online and onsite, will engage more than 20 industry leaders, scholars, investors, and startups through a series of four panel discussions.
Speakers include Esperanza founder John Tsang, CTF Education Group President and Deputy Vice Chairwoman Jennifer Yu, Executive Director of Hong Kong Design Centre Joseph Wong, General Manager (Elderly Services) of Hong Kong Housing Society Dr. Carmen Ng, and SVhk Founder and CEO of Francis Ngai.
A startup workshop will also be held on the afternoon of October 28, where experienced investors and industry leaders will share practical strategies for startup management and fundraising. Free consultation services are provided in this interactive session, covering topics such as marketing, legal, accounting, and financing strategies.
Promoting investment opportunities
In order to promote investment opportunities for startups, CVCF allows them to interact with investors both in person and via the online platform to showcase their innovative technology solutions to overseas investors.
Other features of the event include:
Investor Matching Session, where startups and investors can arrange meetings based on industry type and investment
Innovative Technology Showcase, which includes both virtual and physical booths for startups to showcase their products, allowing investors and attendees to have in-depth exchanges
Entrepreneur Demo Zone, which allows startups from different fields to pitch their projects to investors via short videos on the CVCF platform
The CVCF online platform will be available for a month from October 27, offering meetings and a series of seminars, and industry leaders are invited to share their insights and new perspectives on smart investment and digital transformation to help companies implement transformation in the new normal.
For detailed information on related seminars and a complete lineup of speakers of the Cyberport Venture Capital Forum 2022, please visit the CVCF website.
About CVCF 2021
CVCF is a highly acclaimed flagship tech venture event for investors and entrepreneurs in the digital technology domain. It was held in a hybrid format last year in 2021, attracting more than 2,500 participants, with a total of more than 120,000 views. Over 250 investors participated and more than 350 deal flows resulted from the event. The event successfully connected startups with investors and provided extensive opportunities for unfolding venture investments.
Sign up for CVCF 2022 now to access our experts' insights.