A few short months ago, international investors ascribed a valuation of over USD 30 billion to New Oriental Education & Technology, one of the giants of China's for-profit tutoring sector, excited over the prospects for the growing and lucrative market.
Yet in a livestream this month on Douyin, the domestic version of TikTok, New Oriental founder Yu Minhong announced a startling pivot. He and several hundred of the company's teachers would henceforth be selling agricultural products via an online platform; the bulk of the tutoring business would be shut down.
"This is not simply about selling goods," Yu said, explaining the new business line. "It is about revitalizing the rural region and improving farmers' professional skills."
Such is the bewildering new landscape for China's private education companies and their investors in the wake of Beijing's sweeping overhaul of the sector in July. At a stroke, authorities destroyed cram schools' business models by banning for-profit tutoring based on the country's core curriculum for children from kindergarten to year 9.
From the largest companies—such as those, like New Oriental, that are listed in New York—to the smallest local businesses, executives are struggling to work out whether they can still make money in education, or whether to go in a completely different direction—or if they will shut entirely.
New Oriental is closing about 1,500 of its teaching sites across the country, about 90% of its total, and will lay off more than 40,000, or 40%, of its employees by the end of the year.
The company will maintain products and services not covered by the government's ban, it said this week, "such as test preparation courses, language training courses for adults and educational materials" and in a nod to Yu's recent announcements, it added: "The company will also continue to explore new business opportunities and growth initiatives."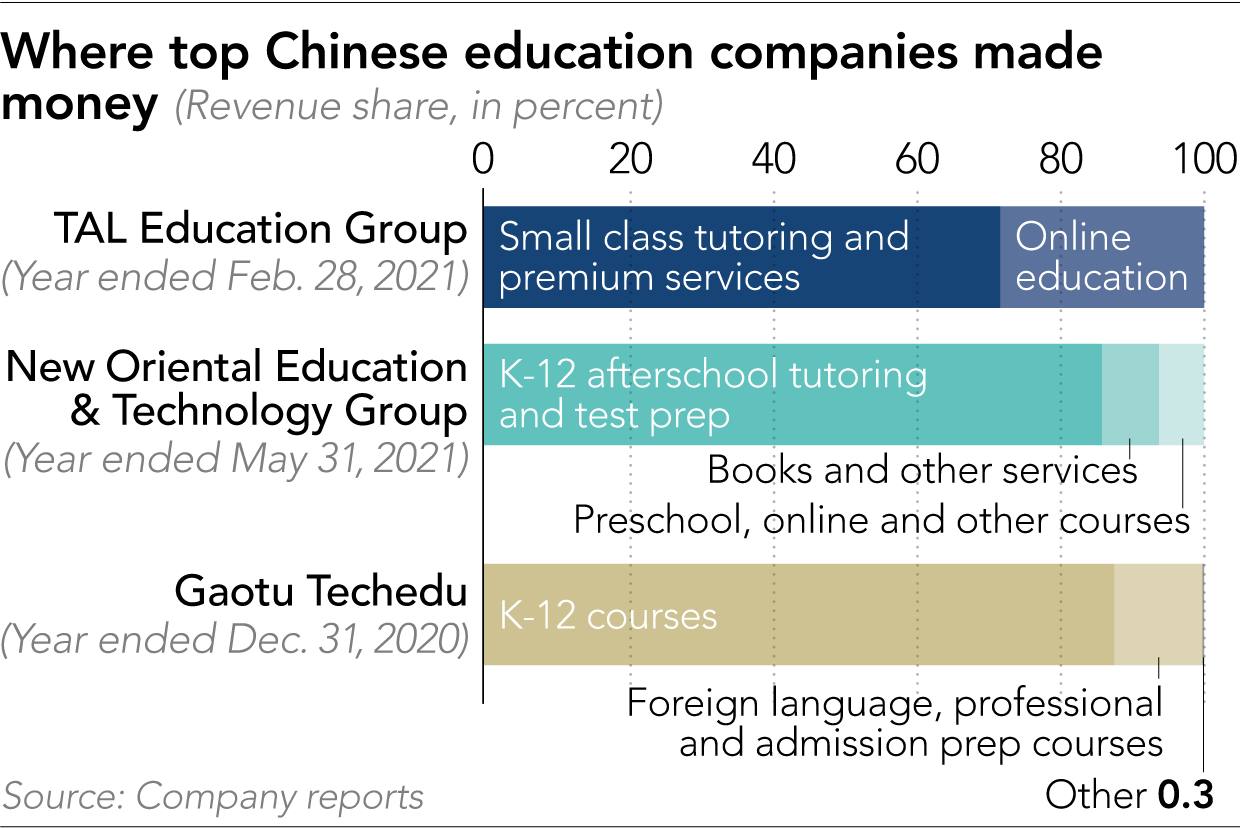 New Oriental has set up a new subsidiary called Dongfang Youxuan to engage in selling fertilizer, pesticides, crop seeds, and prepackaged food. Its agriculture business involves bulk buying farm products then selling online through platforms such as Douyin, Kuaishou, and Xiaohongshu.
Yu's announcement caused quite a stir on China's social media. "There is nothing wrong with selling agricultural products, but I don't think he should join the bandwagon. I remember his dream was to run a private university, and now I don't think there will be any follow-up," said Zhu Yi on Weibo, an influencer with more than 1.6 million followers on the platform.
Yu is not the only executive thinking off the books. TAL Education Group, another New York-listed company, considered establishing a short-video platform for prerecorded tutorial videos for students, although it ultimately did not pursue the plan, a senior executive from the company told Nikkei Asia.
Yuanfudao, the Tencent-backed edtech startup that offers online live courses for primary and secondary school students, has invested USD 50 million in an apparel company, according to its regulatory filings, and is now in the business of making winter jackets.
But a company employee told local media that apparel is a "very small" business for Yuanfudao and denied that it is exiting online education. In September, it invested USD 100 million to set up a new company, aiming to provide online education software that allows real-time interaction between students and tutors on the platform.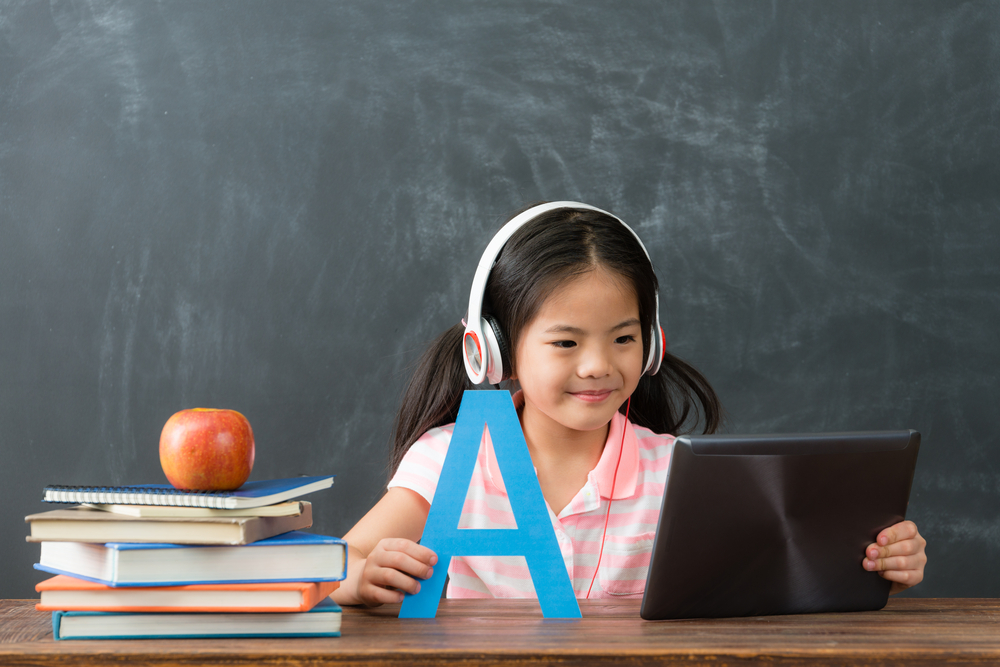 Besides selling agricultural products, New Oriental has recently established a human resources training company and a unit that will teach coding. A senior New Oriental executive told Nikkei Asia the company is also planning to manufacture e-learning devices that would contain some of its existing educational materials, since the company happened to have acquired a hardware business years ago.
In addition, like Yuanfudao, New Oriental is aiming to sell digital content to public schools, the senior executive said. "It is quite difficult as it needs a lot of connections. Public schools all have some content providers already, and we need to negotiate with these schools one by one."
Private tutoring services have been asked by authorities to register for licenses as "nonprofit corporate entities" if they wish to continue curriculum tutoring.
New Oriental and TAL have said they prefer to cease their services related to the compulsory curriculum by the end of the year, but others are embracing the nonprofit route. Zuoyebang, an edtech unicorn that raised more than USD 1.6 billion from Alibaba Group Holding, SoftBank, and others last year, will try to continue with tutoring services as a nonprofit business, according to a senior employee, since that has been its core activity.
The "double reduction" policy, so described because it is designed to reduce excessive homework and the burden of after-school tutoring, has been painted as part of President Xi Jinping's wider "common prosperity" agenda. The heavy financial cost for parents who feel the need to push their children through such cram schools has been blamed in some quarters for China's declining birthrate.
The crackdown also did not come out of the blue, if investors had been looking for intimations. In 2018, Xi criticized the after-school tutoring sector, saying it had "increased the burden of students and families' financial burden." He said it "violated the laws of education" and "disrupted the normal order of education."
But many bruised executives, as well as some political observers, say Xi has another motive: to remove the risk that private companies push courses that might not adhere strictly to Chinese Communist Party ideology.
The growth rate of China's education and training sector, which mostly comprises small and micro enterprises, has slowed since the new rules came in. In October, there were about 401,100 such companies in China, with the month-on-month growth rate standing at 1.2%, 0.7 of a percentage point lower than a year earlier, according to Qichacha, a company that collects business data and credit information.
Fundraising by startups has shriveled. In October, there were 12 fundraising events in the education industry, bringing in an estimated total of 164 million yuan, a 99% slide from the total amount in the same month in 2020, or 3% of last year's average. The single largest haul was brought in by an online education platform for doctors. The figures are from EDU Insight, a Beijing-based company researching the education sector.
For listed education companies, the sell-off in their shares has been brutal. The average price-earnings ratio for the sector had been over 50, even higher than for China's dazzling tech sector. Now, the stock prices of leading education companies are down more than 90% from their peak in February.
The crackdown has had implications beyond the targeted segment. It derailed several companies' plans to go public. Zhao Xiaoou, a former consultant to Guanghua Education Group, which operates international schools for Chinese students in Shanghai, said the company was readying a public listing in Hong Kong but aborted the plan. Guanghua Education did not respond to a request for comment.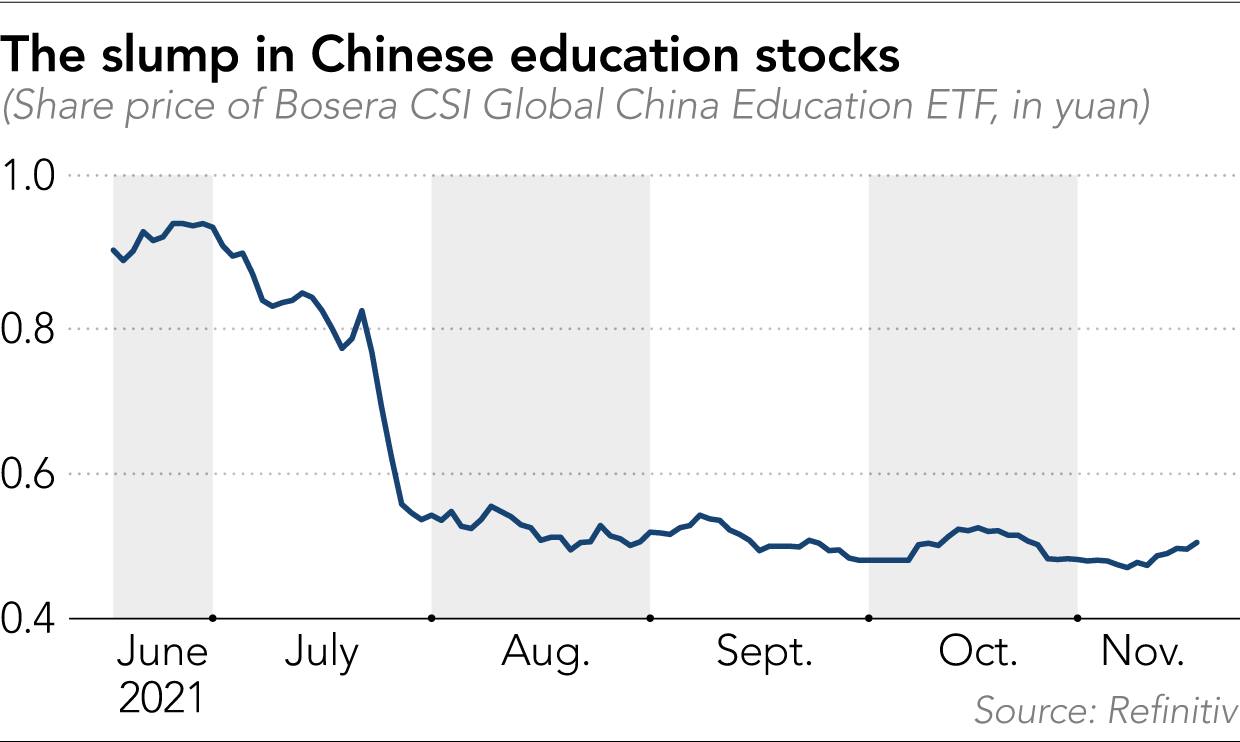 "The education industry became a less worthy investment choice," he said, "and the company was worried that it would be valued less."
Guanghua Education didn't immediately respond to a request for comment.
About 10 million people are employed in China's education industry and more than 3 million people will be laid off, forced to change jobs or transferred to other departments, a state-backed think tank said in a recent report. When mass layoffs began in August, a few major edtech companies even stopped updating employee count figures on their staff intranets.
Alila Zhou, in her 50s, a former manager of a tutoring company's Changsha branch, said the parent company had closed down about 20 branches in smaller cities and she had been laid off, too.
Now she has formed an informal office that offers private lessons at students' homes with some of her former colleagues, for former clients who want to keep on tutors for their kids despite the ban on formal, for-profit services. The children usually take private lessons once a week during the semester.
As tutoring on the compulsory curriculum is banned, companies are now contending for the gray area of extracurricular courses for students up to and including 9th grade. Such courses include calligraphy, speech, English drama, and "intellectual exploration" designed to boost mathematic performance. However, there is not a clear line between curriculum and extracurricular, and tutoring companies need to get approval for any extracurricular subject they plan to open.
"There are still many ambiguities, and the local government would not even dare give us an explicit answer," the New Oriental executive said. "For example, we asked them whether teaching English drama would be categorized as 'curriculum,' and they said they need to report to the senior leadership and we can only wait."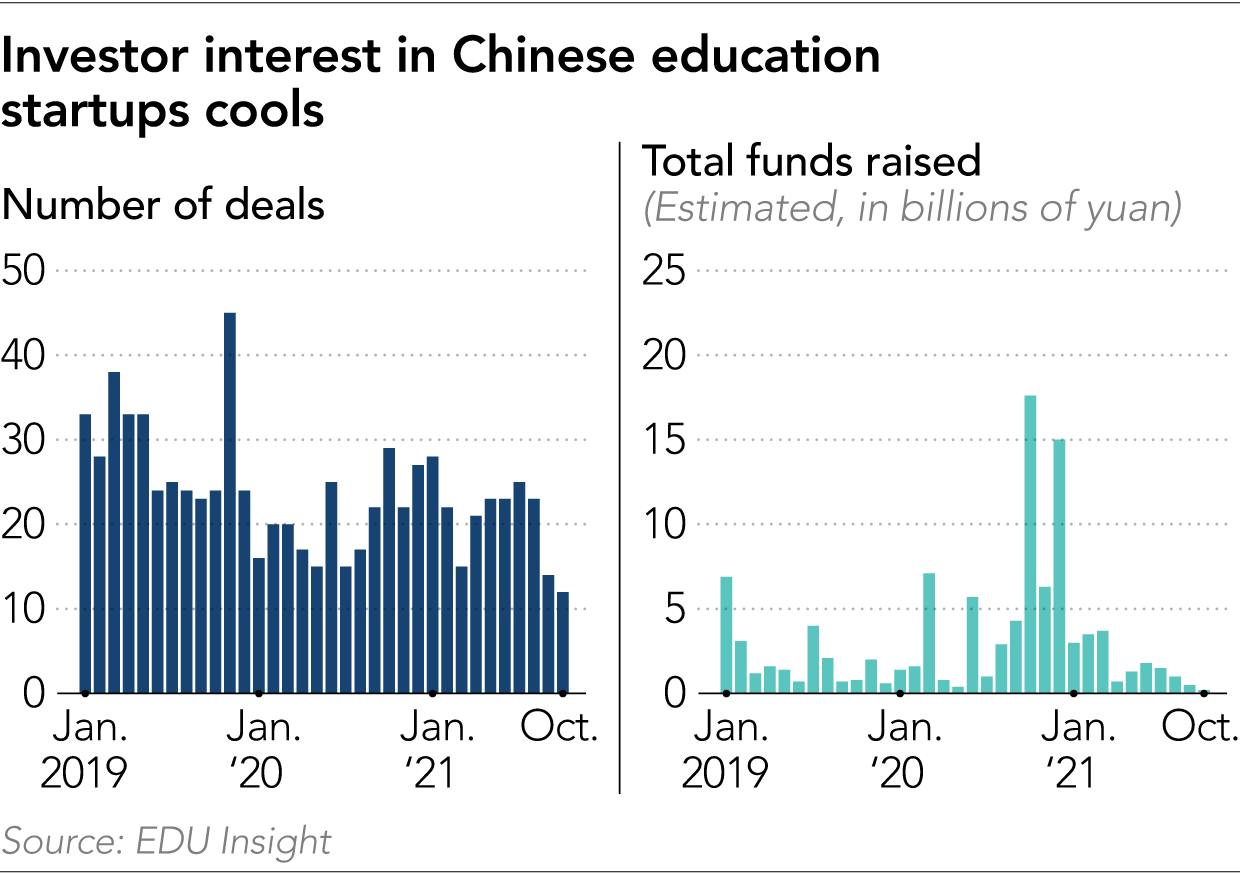 Prospects are uncertain even if tutoring services manage to open some extracurricular courses, since parents might not be keen to pay for courses that are not designed to improve test scores.
Xiong Bingqi, deputy director of 21st Century Education Research Institute, a Beijing-based think tank, said extracurricular courses may still be subject to the double reduction policy and there is no room for "pushing the envelope."
"Take English drama as an example. If it is used as a way to improve students' English vocabulary and grammar, then parents will think it will improve their kids' English academic performance, so in that sense, it is still curriculum training," said Xiong.
So far, none of the companies seems to have found a sustainable model to diversify or extend their business.
"There has been little progress for us in the past four months, and I think the government and the training institutions are testing each other," the executive from TAL said. "Education firms are testing the boundaries of the policies while the government is testing whether the massive layoffs will be manageable.
"We are still negotiating with the government, but the authorities' purpose is very clear: to stop after-school training."
This article first appeared on Nikkei Asia. It's republished here as part of 36Kr's ongoing partnership with Nikkei.