Amid the coronavirus outbreak, spending habits are changing as consumers are increasingly adopting e-commerce as the main channel for purchasing new products. Riding on this trend, Chinese tech companies are also targeting the cosmetics retail ecosystem with AI-powered virtual makeup platforms, supporting brands to sell goods such as lipsticks and eye shadows more efficiently.
Meitu, a company mostly known for its photo-editing and beautifying app Meitu Xiuxiu, confirmed with KrASIA on Thursday the international release—free of charge—of its in-house developed AI virtual makeup system, named Cosmetic Promotion Assistant.
The program can generate virtual makeup effects for potential buyers in just one minute, says Meitu, allowing customers to virtually try eyebrow pencils, bronzers, and lipglosses, among other products. The system was first rolled out for Chinese companies early this year when the COVID-19 started to spread in the country hurting cosmetics sales.
Like Meitu, China's largest facial recognition developer, Megvii, launched a similar, but pay-to-use system called FaceStyle, KrASIA reported last week. The platform captures and replicates users' facial features to demonstrate how different makeup would look on their faces, a technology that can be integrated on both online and brick-and-mortar stores, said the company.
Cosmetics retailers who have already turned to FaceStyle include Unifon and Noisy Beauty, both brands with dozens of stores in China, and e-commerce platform Haitunjia, which has 50 million registered members, most of whom are Chinese.
China's social giant Tencent has also been testing its virtual cosmetics system called FaceMakeup, according to Tencent Cloud's website. Unlike systems of Meitu and Megvii detecting features of real human faces, FaceMakeup allows consumers to see virtual effects of lipsticks on personal photos. Tencent Cloud adds that the firm is also developing technologies related to blushes, eyebrows, eye shadows, eyeliners, and eyelashes.
The beauty sector has been one of the hardest hit during the COVID-19 pandemic. In January and February,  cosmetics retail sales amounted to RMB 38.7 billion (USD 5.5 billion), down 14.1% year-on-year, according to data from the National Bureau of Statistics.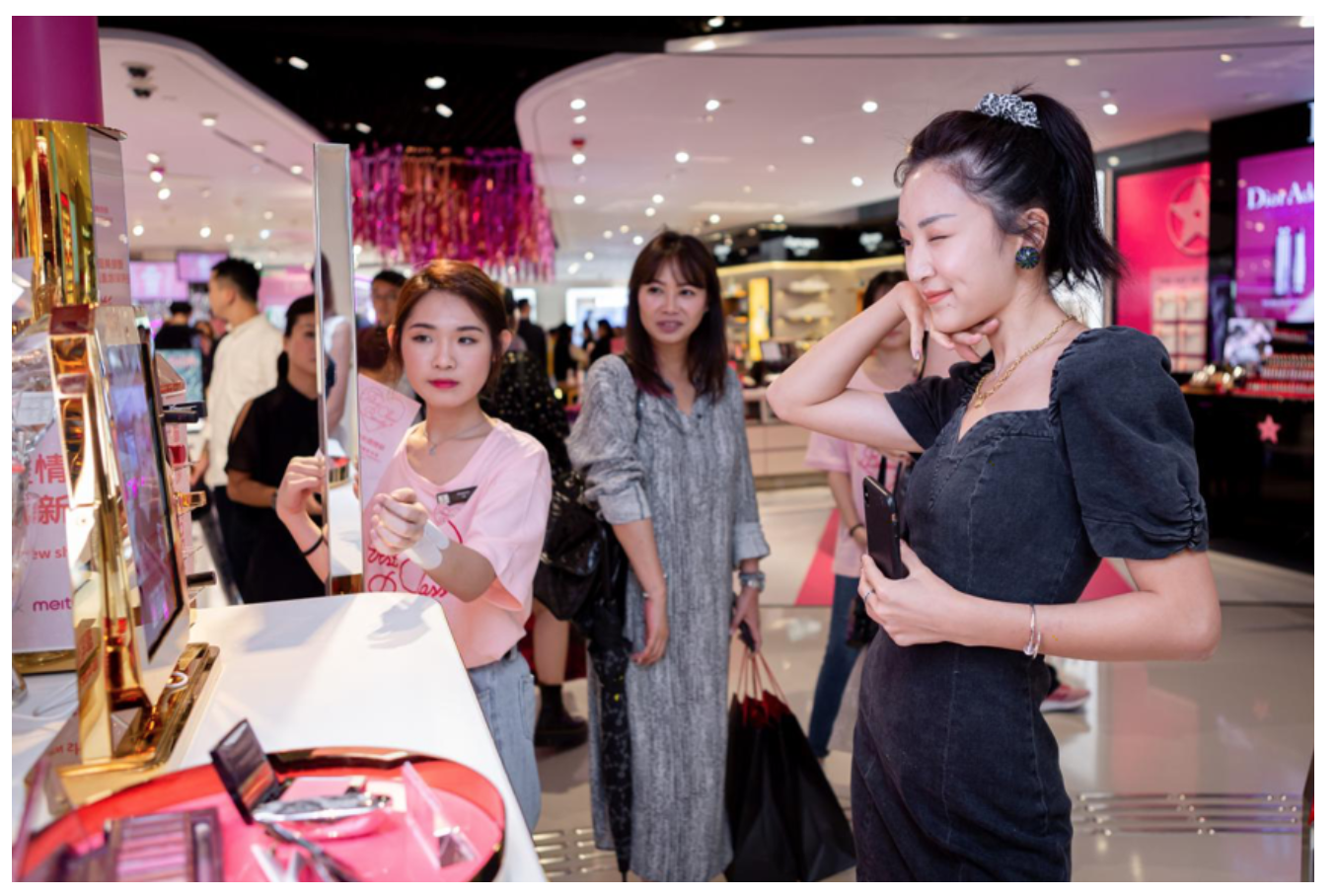 Across the globe, cosmetics retailers are taking different measures to support their businesses. While many have temporarily closed shops, most firms are offering discounts online and free shipping products. For these shops trying to boost their online sales, AI virtual makeup platforms represent the perfect tool to recreate the in-store experience.
However, as Meitu's Cosmetic Promotion Assistant is currently open to all companies, the firm did not provide a specific number of businesses that have actually leveraged this system to enhance their sales, said a Meitu spokeswoman.
She added that several undisclosed overseas brands have inquired about this system, and expressed interest in the development of similar platforms for apps or mini programs, as the current system is only available through HTML5 web pages.
Previously, Meitu had already provided its virtual makeup technologies to companies including Sephora, Lancome, L'Oreal, Estee Lauder, Shiseido, Watsons, and DFS. 
For example, mirror-shaped devices produced by Meitu allowing virtual trials have been available in 25 DFS stores in countries including the United States, Italy, Australia, New Zealand, Japan, and Singapore. The device offers makeup recommendations based on its AI analysis of user's facial features, and is set to also provide virtual sunglasses try-ons, said the company.
Paris-based makeup giant Sephora has also set up such devices from Meitu on its stores, confirmed the Meitu spokeswoman to KrASIA. The French brand has also launched an in-house developed app, called Sephora Visual Artist, which provides virtual makeup effects and advice based on popular model's faces.
The global beauty and personal care product market is expected to hit USD 756.63 billion by 2026, according to market research firm Fior Markets, which noted that the offline segment still holds more than 85% market share, although technological advancements and rising adoption of smartphones are expected to boost the growth of online distribution channels.