Niu, an electric scooter startup out of China, has reportedly submitted its IPO prospectus to the US Securities and Exchange Commission (SEC) and is looking to raise up to US$1.5 billion at Nasdaq under the ticker symbol "Niu", according to SinaTech (新浪科技).
Founded in 2014, Niu claims that it operates in as many as 27 countries. Niu's prospectus cites CIC data which shows that it is now China's biggest lithium battery-powered motorcycle manufacturer, with a dominant presence in Europe. Specifically, Niu has sold more than 413,500 smart electric motorcycles in China, Europe, and other countries as of June 2018.
It sold 4,600 of its scooters in Europe last year alone and is targeting to double that number by 2020. Some examples of Niu's scooter designed for Europe include the M+ and N-GT scooters.
Niu's net revenue grew by 217%  from RMB 355 million (US$52 million) in 2016 to RMB 769 million (US$112 million) in 2017.  It took just half a year in 2018 to achieve up to 72.4% of 2017's net revenue but is also seeing a huge jump in net losses, making almost twice the losses of 2017 in the first six months of 2018.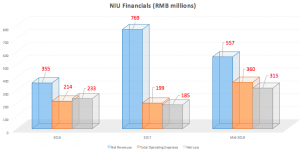 The company is now set to raise more funds for its expansion plans. The goal is to list by the end of 2018 and rely on the proceeds to tap on the growing demand for battery-powered scooters outside of its domestic market.
Takeaways:

— Niu is now taking another step forward to make its public listing a reality, following earlier media reports of Niu's planned foray into the public markets.

— Expansion plans are never easy and lead to costs spiking up for companies. Niu is now joining HK-listed Meituan-Dianping, Nasdaq-listed Pinduoduo, HK-listed Xiaomi to look to the public markets to fund its international expansion plans.

— Chinese electric car maker Nio, which just listed on the NYSE, has seen its share price fall by 4% during its trading debut. Not deterred, Niu is making its entrance to the same scene in the coming months.
Editor: Nadine Freischlad