Chinese online education firm Koolearn Technology Holding Limited, which operates Koolearn.com, has filed for a listing the name of Koolearn Technology Holding Limited, filed its prospectus with the Hong Kong Stock Exchange (HKEx) yesterday. New Oriental Online is backed by NYSE-listed New Oriental Education Technology Group and was launched in 2015.
The public float follows three financing rounds; Tencent invested $50.8M in its Series A financing round while Dragon Cloud and ChinaCity Capital backed its Series B round at $73.4m and $19.2m respectively. Tigerstep, an investment company, funded a further $20.7m in its Series C. According to details in its prospectus, the firm issued a total of 154,812,432 shares, with 13,858,832 preference shares.
The firm began offering university exam preparation, overseas preparation, and English learning targeted at the university education. It expanded into providing English-related pre-school education services in 2012, and also K12 Education via regional live courses for non-first-tier Chinese cities.
For the first nine months ended February 2018, the firm has 852,000 paid students in its university education segment, 460,000 paid students in its pre-school education segment and 129,000 paid students in its K12 education segment, accounting for 59.1 per cent, 31.9 per cent and 9 per cent of New Oriental Online's pool of paying students respectively.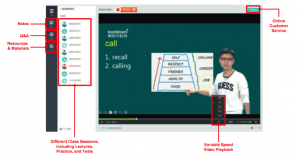 The company is ranked as the biggest online education brand amongst Chinese universities in 2017 based on total revenue, accounting for 8.2 per cent of the market, according to a Frost & Sullivan report. Its revenue has been growing alongside net profits, since 2016, according to its prospectus. (New Oriental Online's full fiscal year is from June 1 to May 31).
However, while revenue has grown by 34 per cent in 2016/2017, its latest revenue only grew by 9 per cent, 9 months into the fiscal year. Net profits, on the other hand, already account for 88 per cent of the previous year by end of February.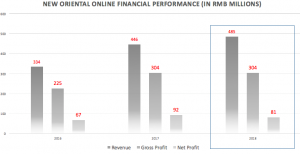 The company's growth trajectory is largely in line with the wave of Chinese citizens going online to educate themselves. Baidu's 2016 report estimates that 448 million Chinese citizens (67% of China's internet users) use the internet to learn. One major Chinese digital education provider that have listed recently is Hujiang, while other competitors of the firm include Juesheng, Zhihui Shu, VIPkid and Nasdaq-listed TAL Education Group.
While the revenue seems to be on a decline, the firm's foray into the K12 online education sector might yield its fruits in the long run.  According to a K-12 Online Education Market in China 2017-2021, this sector is forecasted to grow at a compound annual growth rate (CAGR) of 19.28 per cent through to 2021.
Editor: Shiwen Yap