Tencent Holdings and Alibaba Group Holding have dropped out of the global top 10 companies in market capitalization, new data shows, leaving no Chinese members on the list.
Tencent ranked seventh at the end of 2020, according to the QUICK-FactSet database, with Alibaba at No. 9. Tencent peaked at sixth this past February before its market cap tumbled 40% or so. It languished in 11th place as of Friday.
US tech giants dominate this new list. Apple, Microsoft, and Google parent Alphabet occupy the top three spots. Saudi Aramco is fourth, followed by Amazon.com, Tesla, and Facebook operator Meta. Chip designer Nvidia comes in eighth, while Warren Buffet's Berkshire Hathaway is No. 9.
This leaves Taiwan Semiconductor Manufacturing Co. as the world's most valuable Asian company, at No. 10.
The Shanghai Composite Indexhit an all-time high in 2007 on high hopes for the Chinese economy. Four of the top 10 companies by market cap were Chinese back then, with oil major PetroChina at No. 1.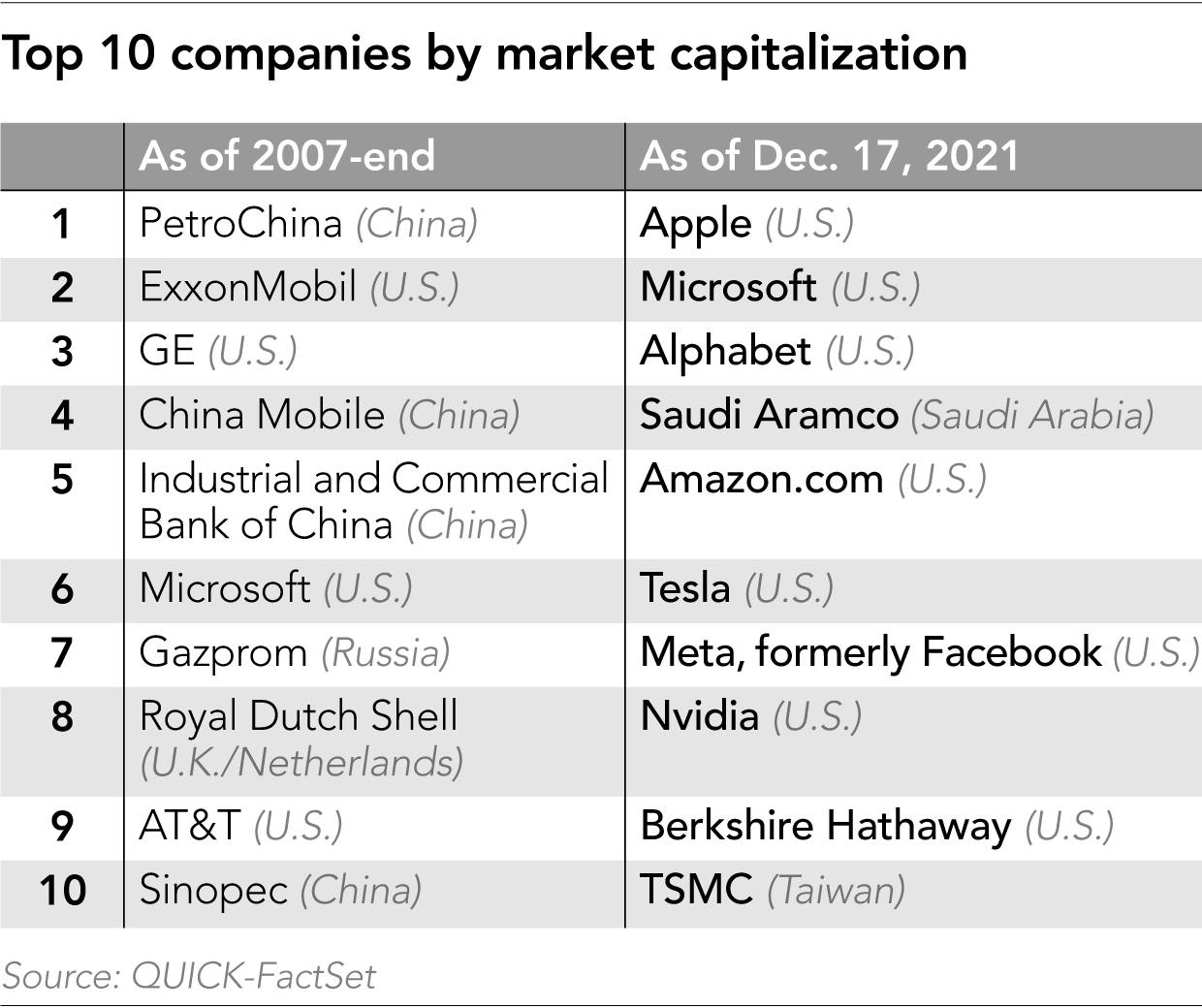 The aftermath of the global financial crisis saw the rise of Chinese technology companies, whose market caps swelled thanks to new business models and access to a massive market. But the government's tech-sector crackdown and tensions with the US have reversed those fortunes.
Didi Global, the company behind China's largest ride-hailing platform, decided December 3 to delist from the New York Stock Exchange just five months after its debut. The Chinese government has tightened scrutiny of companies that list overseas, for fear that foreign regulators will gain access to sensitive data.
On the other side, US President Joe Biden's administration has stepped up pressure on Chinese businesses. It announced sanctions Thursday against drone maker DJI and dozens of other Chinese entities accused of taking part in human rights abuses or military development.
The moves in effect bar Americans from investing in several and impose a de facto trade embargo on the rest.
The outlook for Chinese equities will depend on "how serious the US is about stopping the flow of funds into China," said Toru Nishihama, chief economist in the Economic Research Department at the Dai-ichi Life Research Institute.
This article first appeared on Nikkei Asia. It's republished here as part of 36Kr's ongoing partnership with Nikkei.