China's capital, Beijing, is expected to become the country's new e-sports hub under an ambitious initiative that will provide major subsidies to teams, arenas, and video games that promote local culture.
That initiative, called "E-sports Beijing 2020", was unveiled over the weekend by Fu Hua, deputy minister at the publicity department of the Chinese Community Party, on the occasion of three events held at the capital–the Beijing International Innovation and Development Conference, Light of E-sports Exhibition Fair and the Honour of Kings 2020 Championship Finals.
"As our country is launching a new infrastructure initiative, and given this golden opportunity presented by a paradigm shift in how people consume cultural products in the post-COVID-19 world, e-sports can serve as a great vehicle on which we can put more critical emerging technologies into use," Fu said.
The infrastructure plan that Fu referred to has been backed by President Xi Jinping himself. It involves investing an estimated RMB 10 trillion (USD 1.4 trillion) over six years to 2025 in the domestic economy, supporting the roll-out of everything from 5G mobile networks to artificial intelligence systems.
"[E-sports] will be the ambassador for Chinese culture going global," Fu said.
The stakes are high for China in e-sports, a market whose revenue is expected to reach more than RMB 165.1 billion (USD 23.8 billion) by 2021. That includes income generated from games, tournaments, and merchandising.
The E-sports Beijing initiative builds on the momentum of recent news that the annual League of Legends World Championship, the e-sports industry's most popular international tournament, will be staged for two consecutive years in China, where gamers outnumber the US population.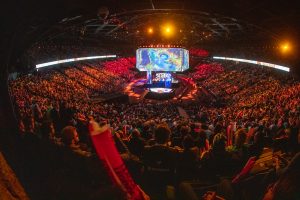 League of Legends video game developer Riot Games, the US-based organizer of the world championship, said earlier this month that the tenth edition of the tournament will be held in Shanghai from September 25 to October 31, with the finals booked at the city's Pudong Football Stadium. It said the world championship will return to China in 2021 with a nationwide tour.
While Beijing does not have as many e-sports teams as Shanghai, the nation's capital has plenty of room for growth, according to Liao Xuhua, gaming analyst at Beijing-based research firm Analysys International.
"The meeting and matches held [in Beijing] the past weekend were quite successful," Liao said. "Now that the government is leading the cooperation among different players in the industry, I think this will help create synergies."
Under the E-sports Beijing initiative, more than 20 e-sports events this year have been scheduled since May.
The city's Shijingshan District of the city has pledged that it would allot 10 million square metres (108 million square feet) of land for gaming and e-sports-related businesses as well as provide an annual budget of 60 million yuan to support the local video games industry.
The Haidian District of Beijing has committed to subsidize the construction of e-sports arenas for up to RMB 10 million (USD 8.7 million). It would also support the development of games rich in traditional Chinese culture, with as much as another RMB 10 million (USD 1.44 million) in subsidies.
Tournaments will be eligible for up to RMB 5 million (USD 720,000) in subsidies, while e-sports teams with winning records can receive up to RMB 2 million (USD 290,000) as reward.
Despite the big e-sports push in Beijing, there is strong competition from other Chinese cities in becoming a major hub for this fast-growing market.
Cities such as Hangzhou, Chongqing, Shanghai, Xian, Sanya, and Haikou, according to a 2019 report by gaming research company Newzoo, have been ahead of Beijing in developing programmes and infrastructure to support their respective e-sports hub ambitions.
This article was originally published by the South China Morning Post.