Thailand, being the largest auto manufacturer in Southeast Asia, boasts a well-established auto industry with over 60 years of vehicle assembly and manufacturing experience. Annually, the country produces almost two million vehicles, accounting for roughly half of the Southeast Asian auto market.
Chinese automakers have been quick to spot the country's enormous potential, in particular eyeing the opportunities that can arise from its next stage of evolution: electric vehicles.
As of July this year, Chinese EV makers have dedicated a substantial investment of USD 1.44 billion to establish production facilities in Thailand. According to Reuters, this move could disrupt the stronghold that Japanese companies have traditionally held over Southeast Asia's auto manufacturing industry.
Detroit of the East
Since 2008, Thailand has been working towards becoming the "Detroit of the East." To fulfill this aspiration, the country has imposed high import tariffs on foreign cars while reducing taxes for domestically produced vehicles, enticing manufacturers to invest in the local supply chain. This initiative has culminated in a robust industry and ecosystem that supports Thailand's automotive ambitions.
The Thai government has been proactive in promoting EVs, rolling out favorable policies such as tax deductions for EV purchases, which could bolster adoption rates. The government also plans to phase out internal combustion engines by 2035 and wants EVs to make up 50% of all new car sales by 2030.
According to a survey conducted by Nissan in 2018, 44% of Thai consumers would consider purchasing an EV. This suggests that, while the Thai market has yet to fully mature, its consumers are already primed for EV adoption, presenting a golden opportunity for automakers.
Favorable climate and cultural environment
Thailand's tropical monsoon climate provides a fertile ground for the EV industry's growth. With average temperatures ranging from 24 to 30 degrees Celsius and rarely dipping below 18 degrees Celsius, consumers do not face the same issues as their Chinese counterparts, who often grapple with reduced battery ranges due to cold weather.
Moreover, Thailand's land area, roughly the size of China's Sichuan Province, may lead Thai consumers to be more accepting of EV range limitations. Private property ownership is prevalent across the country, making home-based charging stations a convenient solution, aided further by affordable nighttime electricity rates.
Thailand's business-friendly environment, ranking it 21st among 190 economies in the World Bank's 2020 Ease of Doing Business index, also makes it an attractive destination for producing and testing EVs in the ASEAN region.
For decades, Japanese automakers have shaped Thailand's automotive landscape. Leveraging Thailand's favorable climate, geography, and business-friendly environment, Japanese companies like Toyota, Honda, and Nissan have dominated the market. However, the entrance of Chinese auto companies, attracted by the potential of Thailand's EV industry, may mark a significant turning point. With aggressive investments and strategic partnerships, Chinese firms like BYD and Great Wall Motors (GWM) are challenging Japan's grip on this key market.
Diverse strategies and approaches
Chinese automakers have employed various strategies to make their mark in Thailand's EV industry. In 2018, BYD, which introduced its first batch of electric taxis in Thailand and has gradually expanded its portfolio to include electric forklifts and buses. In collaboration with its local partner, REVER Automotive, the company has set up 33 outlets across the country.
GWM, on the other hand, prioritized supply chain investments. The company's first vehicle sold in Thailand was locally produced, thanks to the acquisition of General Motor's manufacturing plant in Rayong Province, which has been transformed into a smart factory capable of producing a mix of hybrid, plug-in hybrid, and electric vehicles, along with traditional gasoline models. GWM also plans to construct a new battery assembly plant, aiming for local EV production by 2024 or 2025.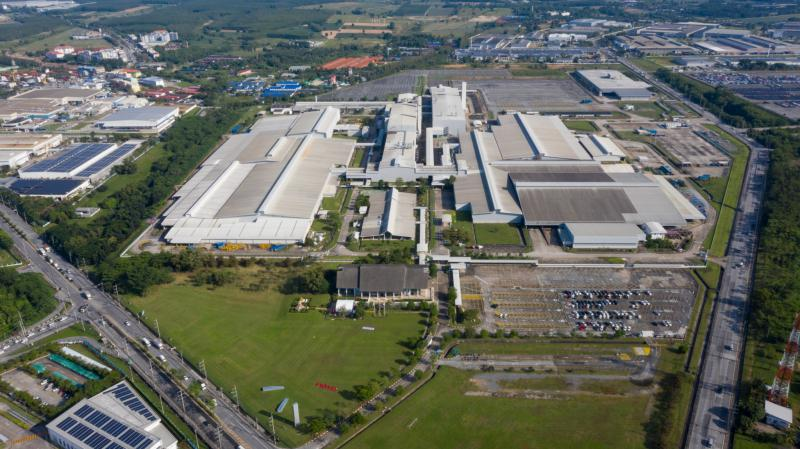 Harnessing innovation for sustainable growth
To solidify their foothold, Chinese automakers are investing in strategic ventures that focus not only on expanding their sales overseas, but also on localized operations and supply chain developments. Both GWM and BYD plans to establish manufacturing plants in Thailand, exemplifying their long-term commitment to the region.
By establishing operations in Thailand, Chinese automakers may contribute to job creation and the broader evolution of the country's auto industry. This, in turn, could support Thailand's transition towards a greener economy.
The competitive edge of these Chinese brands lies in their innovative prowess and advanced technology. A significant number of their models come equipped with features such as internet connectivity and advanced driver-assistance systems, which are uncommon in the Thai market. Zhang Zhen, director of ASEAN brand and communications at GWM, said that this trend is pushing the Thai market toward its next stage of development.
The road ahead
While Thailand's strategic location and efficient cross-border logistics make it an attractive base for foreign companies, the ambitions of Chinese automakers extend beyond Thailand. They are eyeing the entire ASEAN bloc, the world's sixth-largest auto market, with its EV market share currently standing at a mere 0.04–0.6%, signaling untapped potential.
These automakers are not alone. Earlier this year, Tesla began delivering new cars in Thailand to Japanese automakers with access to local supply chains and dealership networks.
The biggest challenges, according to Zhang, are internal, encompassing talent acquisition, cultural adaptation, and supply chain localization. Globalization, in his view, is a path with no shortcuts—only continual progress and improvement.
This article was adapted based on a feature originally published on ShiJie (WeChat ID: ishijie2018). KrASIA is authorized to translate, adapt, and publish its contents.