China's top chipmaker Semiconductor Manufacturing International Co. is stocking up on production equipment and crucial replacement parts in a sign that it has been braced for months for the US to tighten export restrictions, Nikkei Asia has learned.
SMIC's purchases from American, European, and Japanese suppliers exceed the company's needs for 2020, several industry sources familiar with the matter said. Purchases include machinery for key production processes such as etching, lithography, wafer cleaning, and testing, as well as more than a year's worth of consumable parts, which must be replaced on a regular basis to keep machines running and daily operations on track.
SMIC is even working with other Chinese chipmakers to create a shared reserve of such parts, the sources said, adding that a central warehouse has been set up to store these items.
The chipmaker's efforts echo those of its biggest client, Huawei Technologies, which scrambled to secure chip supplies as Washington tightened restrictions on exports to the Chinese smartphone maker.
"SMIC has been on very high alert since the start of this year, when the industry became aware that the US could further restrict Huawei's non-American suppliers from using American technologies, which in fact later happened in May," one of the people familiar with the matter said. "They are rushing to buy many spare parts for existing chip production machines that will be needed to ensure business continuity in case there are any restrictions."
A source from an American chip equipment maker said SMIC is eager to stock up on machinery. "The company also ordered more machines than it needed for its current expansion plans. … We have already shipped some of the machines, but there are still more to deliver as ordered before the end of this year," the source said. "Now we are not sure if we can still ship them, but we know SMIC has been communicating with the US government throughout this year."
SMIC Co-CEO Zhao Haijun previously denied that his company was ramping up purchases in the face of a possible US clampdown, despite sharp increases in its planned capital expenditure this year, from an original target of USD 3.1 billion to USD 6.7 billion, a record high for the company. The new target is more than double its 2019 revenue of USD 3.12 billion, despite Washington's relentless crackdown on key client Huawei.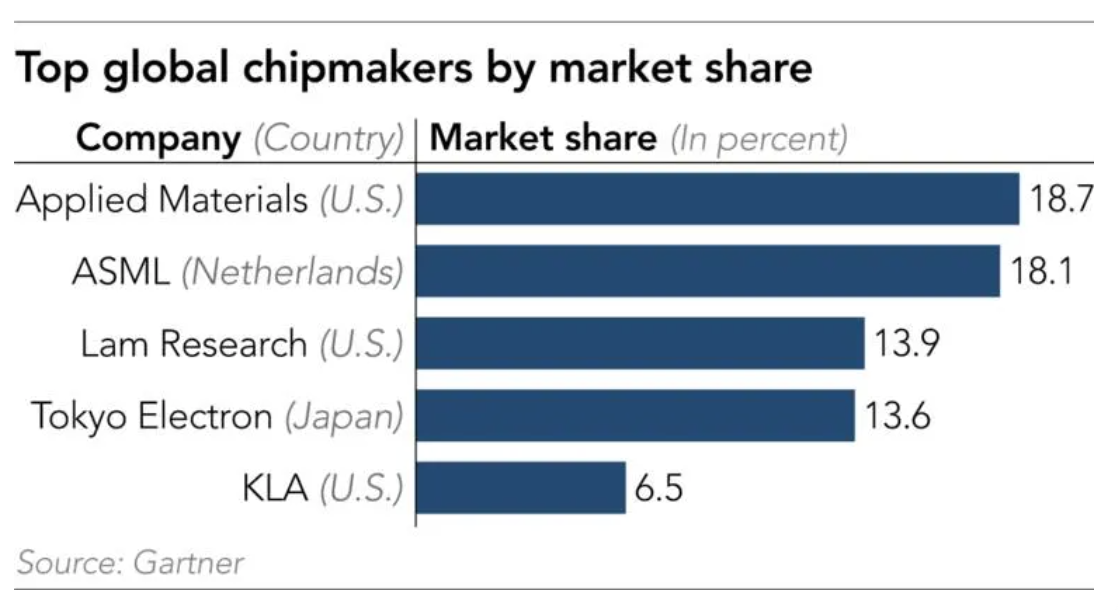 Backed by Beijing, SMIC is the country's most advanced chipmaker and a key player in the government's roadmap for creating a competitive domestic semiconductor industry. The company became concerned early this year that Washington would intensify its crackdown on Huawei and other Chinese tech companies as tensions between the two countries rose, multiple sources said. US pressure already delayed the shipment of an advanced extreme ultraviolet lithography (EUV) chip production tool from ASML, Europe's largest chip-making equipment maker, to SMIC late last year.
SMIC's concerns materialized last week when the U.S. Commerce Department sent a letter, dated Sept. 25, to American companies warning that they would need a special license to continue shipping to the Chinese chip champion. The letter, seen by Nikkei, cites "unprecedented risks" that SMIC's products could end up being used by the Chinese military, a risk the company has repeatedly denied.
While SMIC has not been officially added to the so-called Entity List as Huawei has, which would block its access to American technologies, the letter is a strong signal that the US is stepping up its scrutiny of the chipmaker.
"The Trump administration's back-and-forth, escalating ban on Huawei has already brought a huge challenge to the supply chain," Jonah Cheng, chief investment officer of J&J Investment and a former chip analyst at UBS Securities, told Nikkei. Even without an official trade blacklisting, "SMIC's clients will have to start looking elsewhere to build their chips to avoid risks of unstable supplies," he added.
SMIC relies heavily on foreign semiconductor machine suppliers, including Applied Materials, Lam Research, KLA, and Taradyne, of the US, as well as ASML of the Netherlands and Japan's Tokyo Electron.
US suppliers are especially dominant, controlling more than 80% of the market in several specialized equipment segments, such as conductor etching machines, chemical vapor deposition, and wafer inspection tools — all essential processes in building advanced chips — according to Bernstein Research.
SMIC has been investing aggressively in advanced chip manufacturing technology in hopes of closing the technology gaps with market leaders such as Taiwan Semiconductor Manufacturing Co. and Intel. At the same time, the chipmaker is also attempting to cut its reliance on American suppliers. The company aims to strip US equipment out of one of its 40-nanometer chip production lines before the end of this year and aims to build more advanced 28-nm chips on the same basis in three years. The smaller the nanometer size, the more cutting edge the chips, and thus more challenging to develop such chips.
However, TSMC and Intel introduced 40-nm chip production about a decade ago, and such technology is already too old to produce the most cutting-edge chips for computer, smartphone, and server processors. It is also not suitable for high-performance computing needs.
SMIC recently began small-scale production of 14-nm chips, the most advanced by a homegrown Chinese chipmaker and only one to two generations behind the two market leaders. This was only possible, however, with foreign chipmaking equipment and supplies.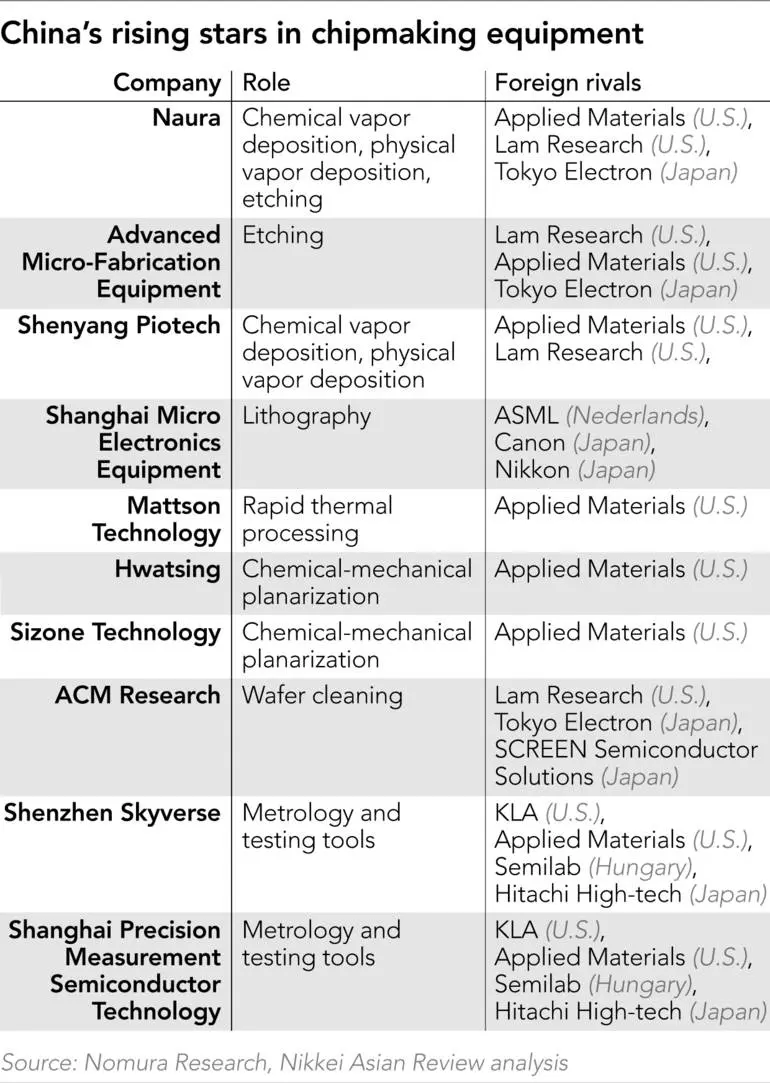 "Although Chinese substitutes [for foreign equipment] have emerged in parts of the supply chain, their specifications are typically two to three generations behind," Morningstar Equity Analyst Phelix Lee said in a report on Monday. "We believe a ban on SMIC is only part of a greater Sino-American technological war and more Chinese companies in the supply chain are at risk of being banned."
Mark Li, a veteran semiconductor analyst with Bernstein Research, said the US export restriction, once implemented, will severely damage SMIC's existing and future manufacturing capabilities, and customer trust.
"Though short-term disruptions are unavoidable, we expect a settlement eventually and restrictions will be at least partially lifted. Customers' trust in SMIC, however, may never fully restore and rival foundries will benefit in the long run," Li said.
"Meanwhile, the U.S. has dominated in some indispensable parts of manufacturing equipment for years. We don't think China can build a production line with only domestic technologies, either."
China's own semiconductor equipment sector, which has grown rapidly over the past few years, still accounts for just 2% or so of the global market, while China's overall self-sufficiency rate for the overall chip equipment sector is currently 10% at most, Li estimated.
SMIC did not respond to Nikkei's requests for comment.
This article first appeared on Nikkei Asia. It's republished here as part of 36Kr's ongoing partnership with Nikkei.