Shanghai-based 1Yaowang (医药网), an online retail drugstore and healthcare platform, is seeking up to $200m in an initial public offering (IPO) at the New York Stock Exchange (NYSE). J.P Morgan, Citibank, and CICC are the underwriters and joint bookrunners for this IPO.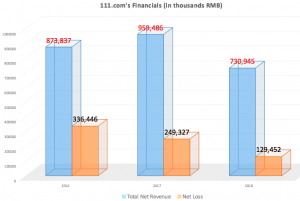 111.com.cn's most recent financials posted a revenue of US$182m over the past 12 months for the year ended June 2018. Information in its prospectus highlighted its pre-profit state, with revenues growing against a backdrop of decreasing net losses. This financial state of affairs is unlike the common losses faced by the likes of Meituan, Xiaomi and Pinduoduo, amongst others.
Founded in 2010, the company's main business lines include 1 Drugstore, an online B2C pharmacy platform; 1 Clinic, a digital-first hospital; and 1 Drug Mall – an online B2B pharmacy platform.
111 Inc.'s subsidiary 1 Drugstore has closed five financing rounds. It closed a US$50m Series E round from 6 Dimensions Capital in April 2018, as well as an undisclosed Series D in 2016 and US$65m Series C round in 2015.  No details are available for its seed and Series A investment rounds.
Data from Analysys, a Beijing consultancy, indicates that close to 3 million Chinese purchase their medication online, driven mainly by the growing expenditure on healthcare alongside China's e-commerce wave. Major shareholders of the firm include the likes of Yu Gang and Liu Junling, each owning 24.5% of the total number of shares respectively.
The startup's unique "B2B2C" model (the platform that connects the main participants of China's healthcare industry) has grown into one of China's major healthcare marketplace player, offering more than 400,000 nutritional products and medicine.
This is in addition to online consultations serviced by the company's physician team. The firm's monthly active users by 2017 have reportedly surpassed the 1.34 million mark.
The public listing in New York highlights the growing interest in China's healthcare tech. Last week, Tencent expanded its ambition in the medical tech sector – combining Tencent DoctorWork and Trusted Doctor – to launch an online marketplace for a multisite license medical practice.
Currently, China's pharmaceutical sector is subject to significant fragmentation and inefficiencies that policymakers and entrepreneurs are seeking to address. Market researcher Frost & Sullivan estimated China's healthcare market value at around RMB10 trillion (US$1.5 trillion) in 2017 and forecasts that it will grow to over RMB 17 trillion (US$2.5 trillion) by 2022.
Editor: Shiwen Yap, Ben Jiang