The world's largest mobile game market China is projected to reach RMB 201 billion (USD 30 billion) annual revenue by the end of 2020, according to Beijing-based data consultancy Analysys.
In its new report on the Chinese gaming industry published on Monday, Analysys predicts the country's mobile game industry to continue on a moderate growth path for the upcoming three years – 14.3%, 10% and 8.4% respectively.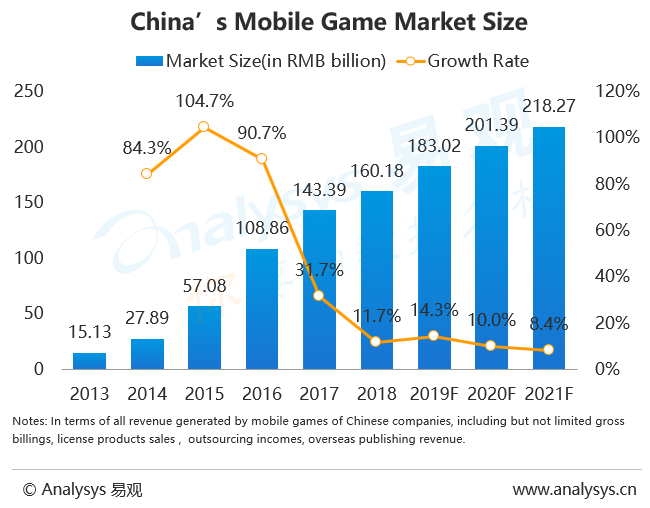 The Chinese mobile gaming industry's annual revenue grew 11.7% in 2018 to RMB 160.2 billion, according to the report. It was much slower than before – the industry's annual revenue grew nearly tenfold from RMB 15.1 billion in 2013 to RMB 143.4 billion in 2017.
The slowdown last year was mostly attributable to the government's 9-month freeze of new game approvals, the author of the report, Liao Xuhua, told KrASIA.
"Other factors include the decline of new players, loss of user attention and a huge chunk of gamers being drawn to PUBG Mobile," Liao said. Tencent's PUBG Mobile is one of the top grossing games worldwide but has failed to monetize in China so far.
The number of China's mobile gamers, meanwhile, is projected to grow from 601 million in 2018 to more than 700 million by the end of 2021.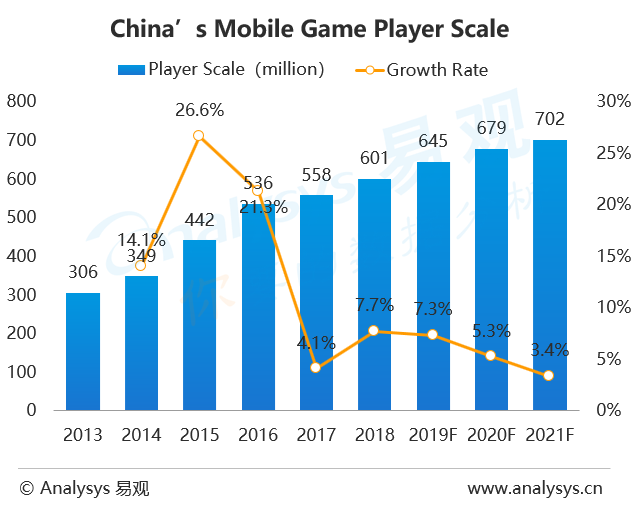 Chinese gaming companies troubled by slowing growth at home have turned their attention overseas. Yesterday, the biggest player of China's gaming industry, Tencent, launched a gaming platform, WeGame X, for global players.
Editor: Nadine Freischlad
Write to Luna Lin at [email protected]