Hangzhou-based imToken, a creator of digital currency wallet apps for the Ethereum(ETH) blockchain, announced the launch of Tokenlon, an in-house decentralized exchange, and the complete decentralized application browser (DApp) ecosystem, in addition to the firm's newly created venture arm imToken Venture in Singapore yesterday.
This development comes a month after raising $10m from IDG Capital. The launch of imToken 2.0 International version and its venture arm – which saw it shift its headquarters to Singapore in June – is part of its internationalisation efforts. The company plans to build a fully decentralized ecosystem for the issuance, management, and trading of cryptocurrencies.
In an official statement, Ben He, founder & CEO of imToken, said, "We believe that the future of blockchain technology lies in complete decentralization and it's an approach that we will fully invest in".
Incepted in 2016, imToken took just a short six months to release its first version (imToken 1.0) on the Appstore. By early 2017, the startup also released its imToken ICO DApp (initial coin offering project for its decentralized applications) and off-line signature transactions to set the groundwork for a secure asset management system.
imToken's growth trajectory has been rapid. Since the launch of its first version, it reported surpassing the million user mark in February 2018 and has reached 6 million users. It forecasts that it will reach 10 million users by the end of 2018.
This latest imToken 2.0 International  is jointly developed by imToken, Kyber Network & Ox Protocol targeted at improving the user experience both for people who buy crypto to hold or trade and also for developers.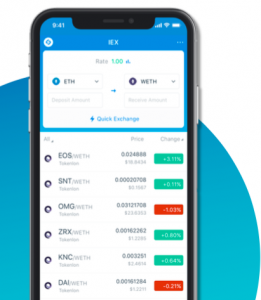 Self-held private keys and enhanced privacy protection will allow users to take custody of their own assets, without the need to trust third-parties – the basic essence of a decentralized system. Users can trade their cryptocurrencies on the same screen, unlike the version 1.0.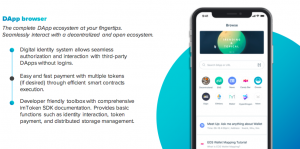 A digital identity system for third-party DApps to connect without logins and a developer-friendly imToken SDK documentation (a set of tools, libraries & documentation to develop a software application to help a programmer to develop an application targeted at the imToken platform) is also available to encourage interested developers to help build the system in a more seamless fashion. Currently, mainland Chinese users constitute  70 per cent of its user base.
Editor: Shiwen Yap