Kr-Asia is all about actionable insights for entrepreneurs. And through this post, you're about to find out:
1. How can a traditional storytelling app please the Generation Z?
2. How do Hooked and Kuaidianyuedu use a creative and immersive way to keep users reading on?
Writer: Mo Xiaoli
Pleasing the Generation Z is hard. Well, of course, they are die-hard fans of social media, video games, and quality contents. Still, they are on a constant search for products that could deliver more fun and unique experience.
That's probably one of the reasons why Hooked had grabbed their attention and took off.
The U.S.-based Hooked redefines fiction for the Snapchat generation by presenting stories in the form of text messages. Every time a user taps on the screen, a new message appears.
As the messages roll on, the story becomes more gripping. At one point, Hooked even rose to the top of Apple's top free apps chart for its inventive form.
[Screen video recorded from Hooked app]
Kuaidianyuedu (快点阅读), China's Hooked, debuted in China in early May in 2017.
Like Hooked, the stories on Kuaidianyuedu unfold through back-and-forth message conversations, which are like real conversations between people on WeChat or QQ. Well, indeed, the conversations are presented on WeChat or QQ in a bid to create an immersive reading experience for Chinese readers.
Most recently, Kuaidianyuedu introduced a new feature that enables the stories to be told in the form of audio messages. Unlike Hooked, which erects a paywall for its audiobooks, the audiobooks on Kuaidianyuedu are all free of charge.
[Screen video recorded from Kuaidianyuedu app. Subtitle available when enabled]
The audio conversations for its books are all recorded by professional voice actors and edited by professional teams, the team told KrAsia. Therefore, the readers will find its audiobooks more alluring than other ordinary audiobooks. As the story advances, the tone also changes. The mimicking is so real that it's almost impossible for the readers to drift away.
A reader's riveting fiction journey begins as soon as he or she taps to play the very first audio message. Taking the form of audio messages, it's like "eavesdropping on" the conversations between the characters in the novels. As the messages roll on, the story becomes more gripping.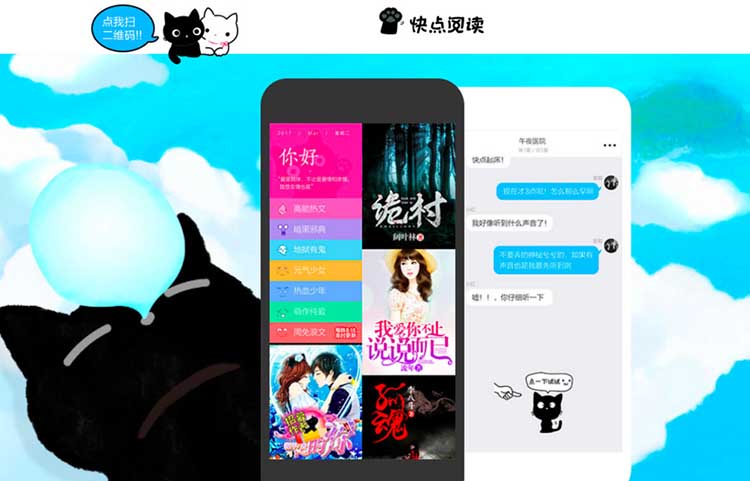 The team is now planning to launch its dubbing feature after the Chinese Lunar New Year so that readers can dub for their favorite novels or characters.
According to the team, it now has 200,000 daily active users on its app and it has brought onto its app 100,000 novels. Its users stay on the app, on average, 30 to 45 minutes a day.
Its team now has 20 staff, and it had completed a $5 million A plus financing round in September 2017. The investors include GGV, Morningside Venture Capital, and Blue Lake Capital.