Over the past few weeks, there has been a new kid on the block on Chinese social media feeds. Users have been posting screenshots showing 3D avatars of themselves decked out in hip outfits, hanging out in virtual "apartments." The images were taken from a metaverse app called Jelly (or "Zheli" in Chinese). Despite allegations of copyright infringement and subpar user data security, Jelly is the next big thing for China's Gen Z users, who are increasingly forgoing WeChat's static experience for a more interactive, animated environment.
Jelly launched in mid-January, and has since taken Chinese cyberspace by storm. On February 11, it topped the free app category in the Apple App Store—the first time WeChat was bumped from the highest ranking in China since 2019. Jelly's popularity largely depends on its cartoonish visuals—oversized heads, sleek looks, and cute gestures.
"I downloaded Jelly because I saw my friends making memes with it. My friends and I couldn't resist dressing up our avatars with fashionable clothes," said Wenjing Chen, a Jelly user who works at a video game company in Beijing. Users like Chen can post images of their characters on WeChat, and these posts contain links to download Jelly, encouraging people to join their friends on the app.
"Even though there are similar games with character customization, like Zepeto, I think Jelly's characters and clothes look better. The 3D characters are very cute and eye-catching," Chen said.
If Xiaohongshu is the archetypal Chinese millennial fashion and lifestyle platform, shaping the aesthetic sense of a generation whose lives are moving into virtual space, then Jelly takes this a step further for Gen Z. The platform's attitude is less about purchasing new garments or beauty products and more about sculpting a virtual presence from scratch. Plus, Jelly's social features take place in "apartments," a user-generated space where up to 50 people (more precisely, their avatars) can mingle and communicate through text chats.
At the heart of Jelly's popularity is an air of authentic self-expression. The app is described by its developers as "a 'friendship apartment' that belongs only to you and your best friends. You and your best friends can be your true selves together."
This private "apartment" where users can control who they share the space with is important for a generation who grew up online. "Jelly allows me to see and show the 'real' side of us," said Lu, a 22-year-old Jelly user in Beijing. "On WeChat, I'm generally adding colleagues and customers from work, restaurant owners, and rental agents. So I always think twice before I post anything," said Lu. "I don't have the motivation to share private things because of interpersonal relationship concerns."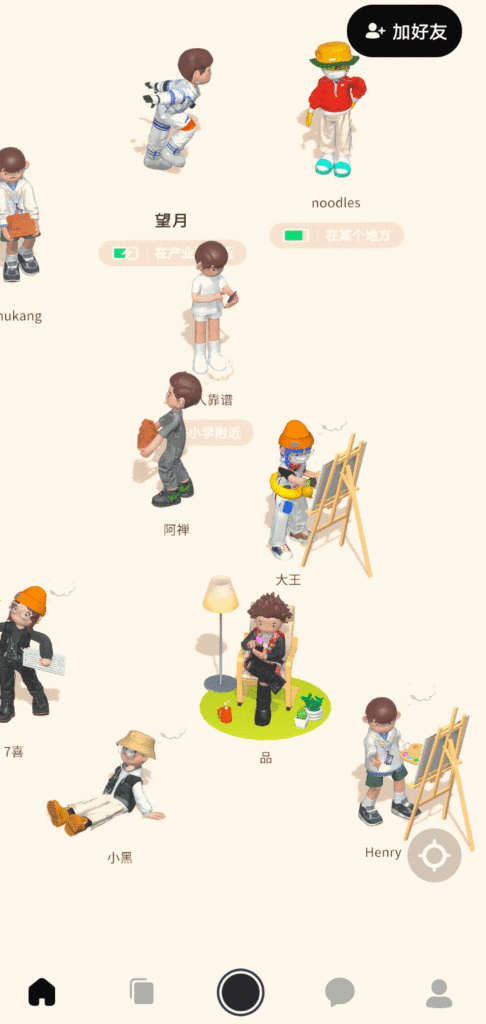 Lu signed up to use Jelly so she could keep her social activities separate from other aspects of her life. She uses the app with her three closest friends "because we can post things freely."
Jelly fits into the lives of Gen Z because it gives individuals a way to express their individuality, even if it is in a cartoonish setting. This fits the expectations of users in this demographic who seek services and platforms that reflect their desire for freedom of expression, according to a research report on Gen Z characteristics published by McKinsey.
The shift is clearly observable. Currently, Gen Z users are sharing fewer posts and content on WeChat compared to people who are in their mid-20s or older. According to industry data provider Jiguang, only 15% of users born after 2000 post content on WeChat on a daily basis. With older demographics, the share rate increases significantly: for people born in the 1960s, 57% update their WeChat moments every day.
That means WeChat is viewed by younger users as a utilitarian app, rather than one that meshes with their lives. The app has more than 1.2 billion monthly active users, roughly 85% of the country's population. As a super app, its functions span payments, food orders, medical appointment bookings, and much more. But the social element—if it is blended with other facets of people's lives—simply doesn't hold appeal.
But all of these factors have come short of cementing Jelly as the next place where China's young people will mingle. Within the span of one month, Jelly became available for public download, rose to the top of app store charts, then became the subject of intense controversy. Allegations of plagiarism and copyright infringement surfaced, with independent fashion designers and bloggers pointing out that wardrobe items available for Jelly avatars were identical to their designs and were used without their consent.
On February 13, Jelly's publisher removed the app from app stores after it came under fire for breaching copyright and failing to secure its users' data privacy. Even so, many Jelly fans are eager for the app to be relaunched. On its Weibo feed, the most liked comment read, "I hope Jelly can return with a better user experience. Looking forward to a better version. Come on, Jelly!"