Chinese electric vehicle battery company CATL has recently teamed up with the Commercial Aircraft Corporation of China (COMAC), a state-owned plane manufacturer, to delve into the possibilities of electric airplanes. Through a joint venture named COMAC Times Aviation, and with the backing of the Shanghai Jiao Tong University Enterprise Development group, the two companies are exploring this new frontier.
CATL's revolution in battery technology: Introducing solid-state batteries
CATL recently unveiled its new condensed matter battery technology at the 2023 Shanghai International Auto Show. CATL chairman, Robin Zeng, shared the core benefits of its new battery technology during the event, outlining its ability to be mass-produced more quickly, and with a higher energy density while improving safety.
Energy density—the amount of energy a battery can store per unit of volume—is a key factor in determining a battery's range. Liquid lithium batteries, the type commonly used in electric vehicles, can reach an energy density of 200–300Wh/kg in high-end models, translating to a range exceeding 500 kilometers.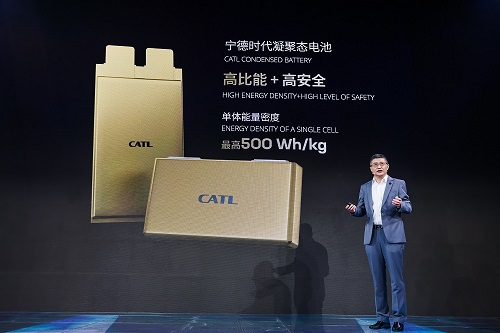 According to CATL, its newly released battery can hold an energy density of around 500Wh/kg. This figure is 1.6–2.5 times higher than current lithium battery limits, and such a significant increase in energy density could pave the way for the development of electric aircraft. CATL's pursuit of solid-state battery technology can be traced back to 2022, underscoring the company's commitment to leading the charge in battery innovation.
Bridging the gap: The global race in aviation battery development
CATL made a profound statement at the 2023 Shanghai International Auto Show by asserting that its latest battery development heralds a new era for the electrification of manned aircraft. As per an SDReports projection, the total market size for global electric aircraft could total RMB 199 billion (USD 27.7 billion) by 2030. However, the domain of aviation batteries remains a nascent industry, with advancements just beginning to emerge.
Looking back, notable progress in this field was first made public in April 2021. NASA's MG Aeronautics and Space Administration revealed that they were investigating a novel "solid-state architecture battery" with a view to surpassing the energy levels of conventional lithium batteries. Its research bore fruit in 2022 when they developed a solid-state battery with an energy density of 500Wh/kg, aligning with the results published by CATL in April of the same year.
While CATL's approach to battery technology may differ from NASA's, its progress in R&D trails by less than a year, marking a competitive stride in the field. According to a Reuters report, the race is heating up with Northvolt, a Swedish battery manufacturer, announcing that its US subsidiary has initiated the development of lithium batteries for electric aircraft since April this year.
This article was adapted based on a feature originally written by Ai Yu and published on Pencil News (WeChat ID: pencilnews). KrASIA is authorized to translate, adapt, and publish its contents.